Get ready for Spring Break, Summer Fun, and Soaring Humidity Levels with the MakeupBonuses.com roundup of Waterproof Beauty Products!
Whether you want swim-proof, sweat-proof, or weepy-wedding-proof products, this Waterproof Beauty Guide has hundreds of options arranged by product type. Find foundations, highlighters, mascaras, and more from over 70 top brands!
Additionally, there are also dozens of Cruelty-Free and Vegan waterproof formulas available (look for the blue & green indicators next to the product price).
Waterproof EYE Product Types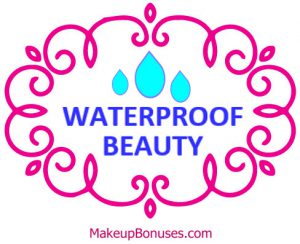 Waterproof FACE Product Types
Waterproof LIP Product Types
BONUS CATEGORY: CLEANSERS
Click here to visit this timely Waterproof Beauty Guide. Other resources provided by MakeupBonuses include:
Thank you for your support of MakeupBonuses.com!