Now through 1/28/2018 (or while supplies last) at Bergdorf Goodman:
With your $275 Multi-Brand purchase, receive a free 15-piece gift: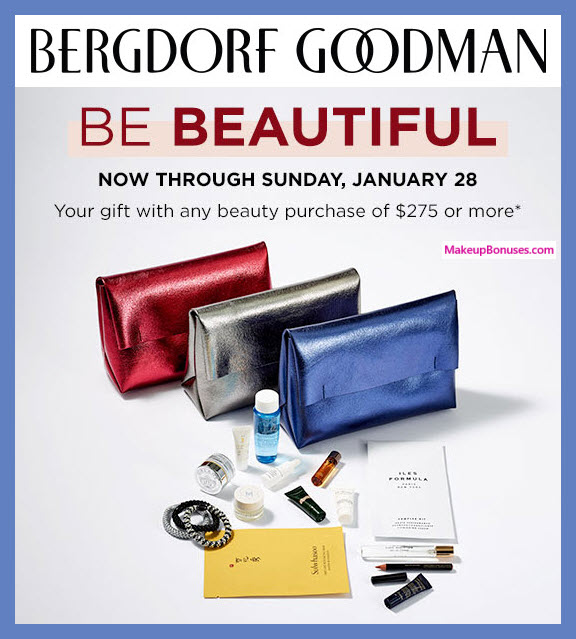 pouch plus sample selection
Vintage Essence, 5 mL
MOISTURE BOUND Skin Energy Hydration Delivery System, 30 mL
MOISTURE BOUND Refreshing Hydra-Gel Oil Free, 8 mL
MOISTURE BOUND Rejuvenating Eye Treatment Gel, 3 mL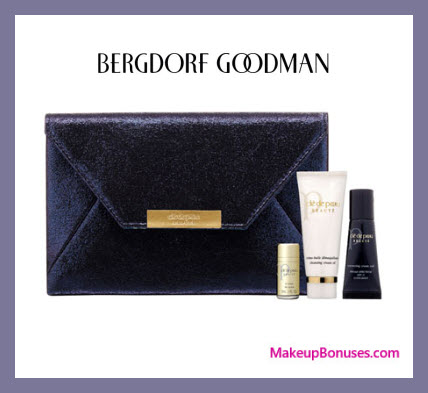 NEW Le Serum 3 mL
Cleansing Cream Oil, 20 mL
Correcting Cream Veil, 7 mL
pouch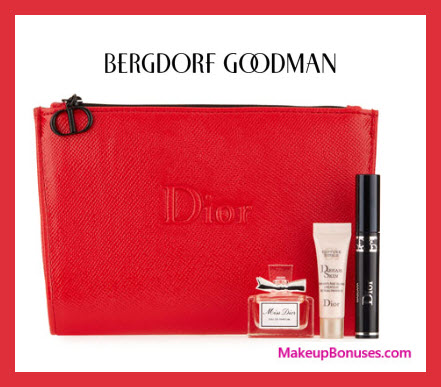 Mini Diorshow Mascara, 1.5 mL
Mini Dreamskin, 3 mL
Miss Dior Mini Eau de Parfum, 5 mL
Red Dior Trapeze Pouch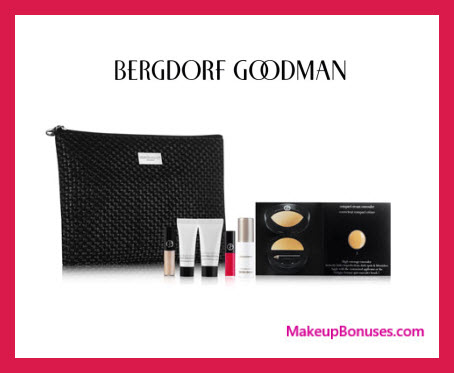 Eye Tint, 0.05oz.
Prima Smart Moisture Serum, 0.16 oz.
Lip Maestro 504, 0.05 oz.
Crema Nera Eye Serum, 0.10 oz.
Crema Nera Light Cream, 0.16 oz.
Compact Cream Concealer Sample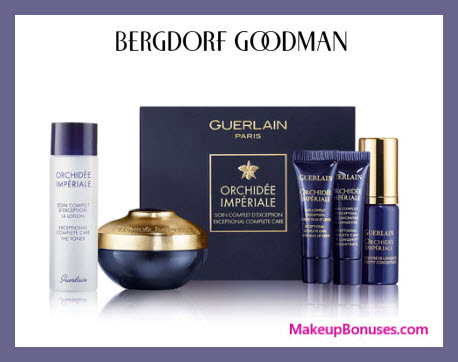 Orchidée Impériale Toner, 0.5 oz.
Mini Orchidée Impériale Cream, 0.2 oz.
Orchidée Impériale Eyes & Lips Cream, 0.07 oz.
Orchidée Impériale Rich Cream, 0.1 oz.
Orchidée Impériale Serum, 0.17 oz.
Moisturizing Soft Cream, 0.24 oz.
Illuminating Eye Gel, 0.17 oz.
Intensive Revitalizing Mask, 0.5 oz.
Cleansing Micellar Water, 1 oz.
La Mer Pouch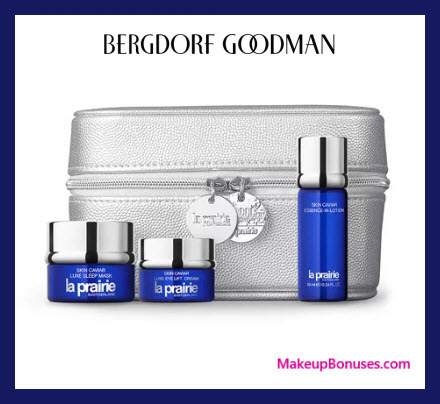 silver bag is Skin Caviar Essence-in-Lotion (10 mL; Allure Best of Beauty Award winner)
Skin Caviar Luxe Eye Lift Cream (3 mL)
Skin Caviar Luxe Sleep Mask (5 mL)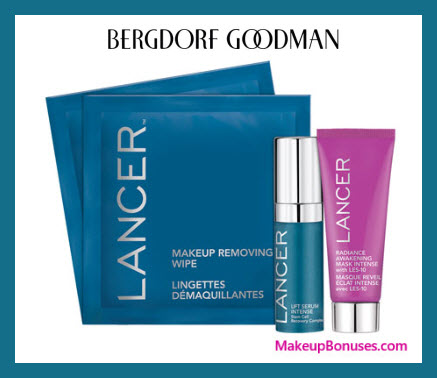 Lift Serum, 0.17 oz.
2 Makeup Removing Wipes
Radiance Awakening Mask Intense, 0.25 oz.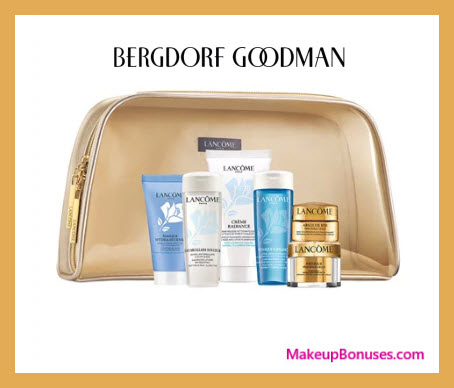 CRÈME RADIANCE Clarifying Cream-to-Foam Cleanser
TONIQUE RADIANCE Clarifying Exfoliating Toner
HYDRA-INTENSE MASQUE Hydrating Gel Mask with Botanical Extract
EAU FRAÎCHE DOUCEUR Micellar Cleansing Water
ABSOLUE PRECIOUS CELLS Revitalizing Night Ritual Mask
ABSOLUE PRECIOUS CELLS EYE Repairing and Rejuvenating Eye Cream
COSMETICS BAG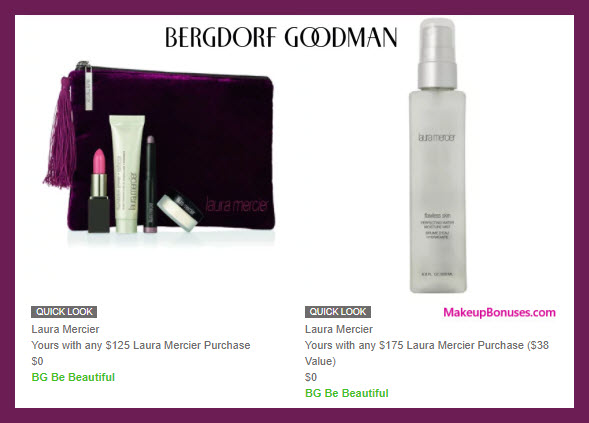 Translucent Loose Setting Powder
Foundation Primer – Radiance
Caviar Stick Eye Colour
Velour Lovers Lip Colour
Laura Mercier signature bag
With your $175 Laura Mercier purchase

, add:

Full-Size Perfecting Water, 6.8 oz.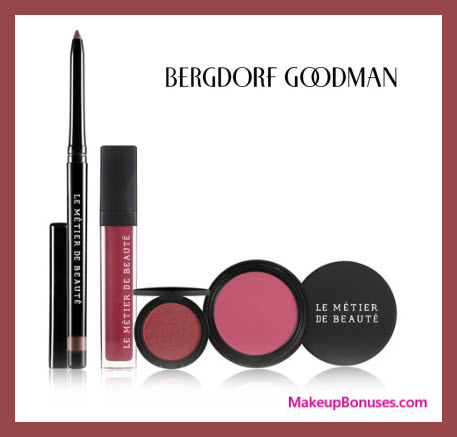 Crème Fresh Tint in shade Zinnia
Precision Lip Liner in shade Hypnotique
Moisture Matte Lip Creme in shade Aura
True Colour Eyeshadow in shade Fire Lily
Petite Velvet Noir Major Volume Mascara in Noir
Petite Highliner Gel Crayon in Blacquer
Petite Le Marc Lip Crème in Boy Gorgeous
Black half moon pouch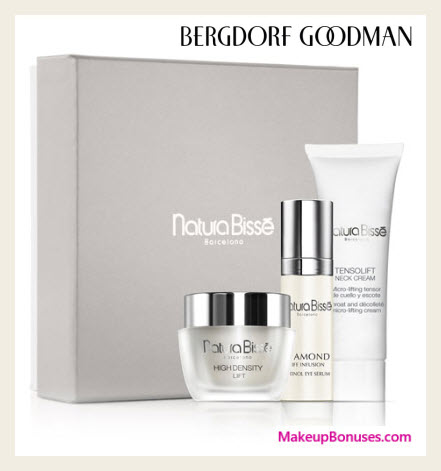 Diamond Life Infusion Retinol Eye Serum, 0.2 oz. Pump
High Density Lift, 0.33 oz. Jar
Tensolift Neck Cream, 0.7 oz. Tube
Currently (while supplies last) at Bergdorf Goodman:
With your $350 RéVive purchase, receive a free 5-piece gift: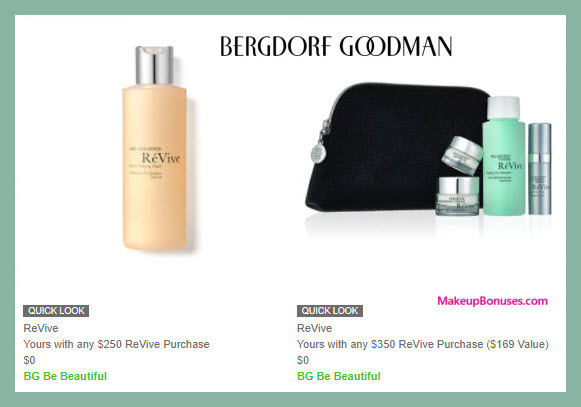 with $250:

Full-Size Gentile Purifying Gel Cleanser, 2.0 oz./ 60 mL

with $350 add:

Fermitif Neck Cream
Intensite Volumizing Serum
Intensite Les Yeux
Tonique
With your 
$300 SK-II purchase
, receive a free 4-piece gift:
With your $650 SK-II purchase, receive a free 7-piece gift:
SK-II Mesh Bag
Facial Treatment Mask
RNA Power Cream Sample
Eye Sign Mask
with $650 add:

Ultimate Glow Set
Deluxe Facial Treatment Essence, 30 mL
1 Brightening Derm Mask
SK-II Red Pouch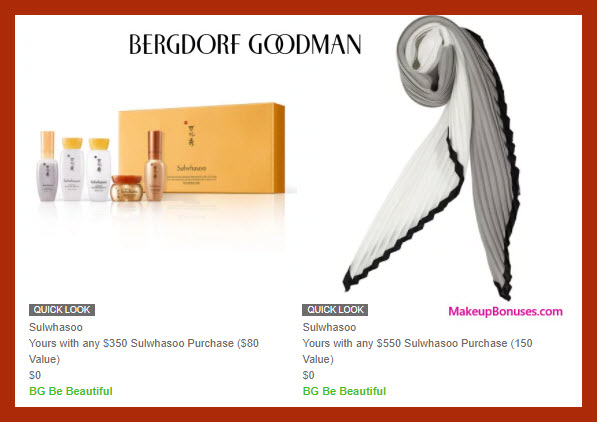 First Care Activating Serum (0.27 oz.)
Essential Balancing Water EX (0.5 oz.)
Essential Balancing Emulsion EX (0.5 oz.)
Concentrated Ginseng Renewing Cream EX (0.16 oz.)
Capsulized Ginseng Fortifying Serum (0.27 oz.)
With your $550 Sulwhasoo purchase

, add:

exquisite silk scarf with an intricate design of grey and white hues for the perfect transitional weather accessory
Supersmile Travel Bag
Travel-size Professional Whitening Floss
Travel-size Ultimate Lip Treatment
Travel-size Professional Whitening System
Bergdorf Goodman offers Free Shipping on all purchases. Bergdorf Goodman offers ShopRunner 2-day Shipping on select items for ShopRunner members. Bergdorf Goodman offers Free Returns within 15 days (of delivery).
*** Visit TODAY'S CURRENT OFFERS page for CURRENT LIST of ALL OFFERS ***