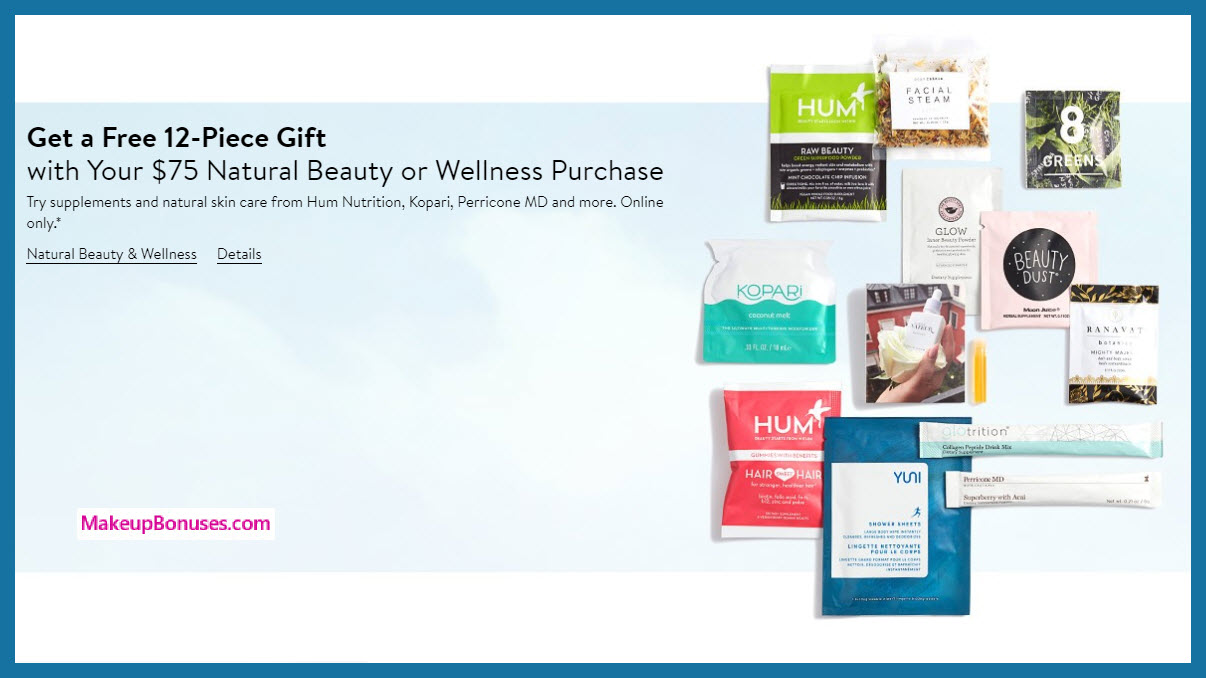 8G Greens Dietary Supplement (1 tablet)
Agent Nateur Holi Oil Youth Serum (0.03 oz.)
Glotrition Collagen Peptide Drink Mix (0.25 oz.)
Hum Nutrition Hair Sweet Hair Gummies with Benefits (4 supplements)
Hum Nutrition Raw Beauty Powder (0.28 oz.)
Kopari Coconut Melt (0.33 oz.)
Moon Juice Beauty Dust (0.11 oz.)
Perricone MD Super Berry with Acai Dietary Supplement Powder (0.21 oz.)
Ranavat Botanics Mighty Majesty Hair and Body Serum (0.17 oz.)
Soap Chérie Detox Facial Steam (0.5 oz.)
The Beauty Chef Glow Advanced Formula Inner Beauty Powder (0.17 oz.)
YUNI Shower Sheets (1 biodegradable wipe)
NOTE: This offer can be combined with the other great Free Gift Offers now at Nordstrom!
Nordstrom offers Free Shipping on all purchases. Nordstrom offers Free Returns on all purchases.
*** Visit TODAY'S CURRENT OFFERS page for CURRENT LIST of ALL OFFERS ***