TODAY for 4 HOURS ONLY at Ulta:
With your $60 Multi-Brand purchase, receive your choice of 6-piece gift: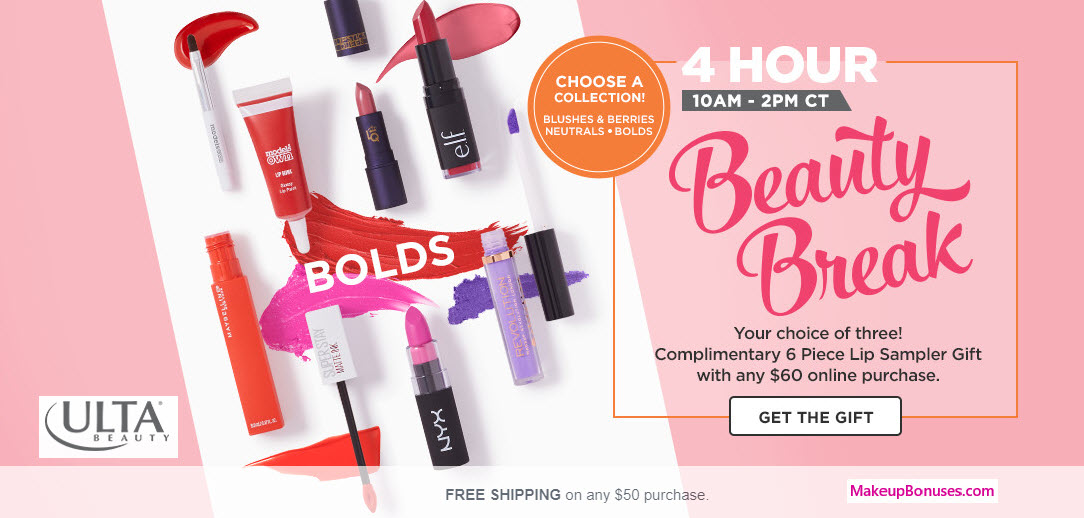 BEAUTY BREAK (4 hours only / until 3pm ET)
Pick your choice of a 6-piece free Lip Set!
Neutral Set:

Anastasia Lip Gloss in Fudge (0.07 oz.)
Nudestix Gel Color Lip + Cheek Balm in Pulse (0.088 oz.)
Ulta Matte Lip Cream in Tender (0.12 oz.)
Note Hydra Color Lip Gloss in Truffle Nude 03 (0.16 oz.)
L.A. Girl Metal Liquid Lipstick in Smolder (0.24 oz.)
L'Oréal Infallible Paints/Lips Matte in Skinny Dip (0.27 oz.)

Blushes and Berries Set:

Tarte Lippie Lingerie Matte Tint in Envy (0.06 oz.)
Too Faced Melted Liquified Long Wear Lipstick in Chihuahua (0.16 oz.)
Essence Nude Longlasting Lipstick in Cool Nude 05 (0.13 oz.)
Revlon Ultra HD Matte Lip Color in Infatuation (0.2 oz.)
BH Cosmetics Color Lock Long Lasting Matte Lipstick in Faithful (0.11 oz.)
Vice Lipstick Comfort Matte sample in Backtalk

Bold Set:

Lipstick Queen Sinner – Opaque Lipstick in Mauve Sinner (0.05 oz.)
Models Own Gloss Lip Gunk Kit in Wild (0.41 oz.)
NYX Professional Makeup Velvet Matte Lipstick in Unicorn Fur VMLS03 (0.14 oz.)
Maybelline SuperStay Matte Ink Lip Color in Heroine 25 (0.17 oz.)
Makeup Revolution Salvation Velvet Lip Lacquer in Depravity (0.06 oz.)
e.l.f. Cosmetics Velvet Matte Lipstick in Bold Berry (0.14 oz.)
Ulta offers Free Shipping on purchases of $50 or more.
*** Visit TODAY'S CURRENT OFFERS page for CURRENT LIST of ALL OFFERS ***