Delight someone special with these beautiful, premium advent calendars, from a wide range of top beauty brands. Offers are sorted below by price (high to low). Click to jump ahead to offer details: AMOREPACIFIC, Ciaté London, Feel Unique, NYX Cosmetics, QVC, Sephora Collection, Sleek MakeUP, & The Body Shop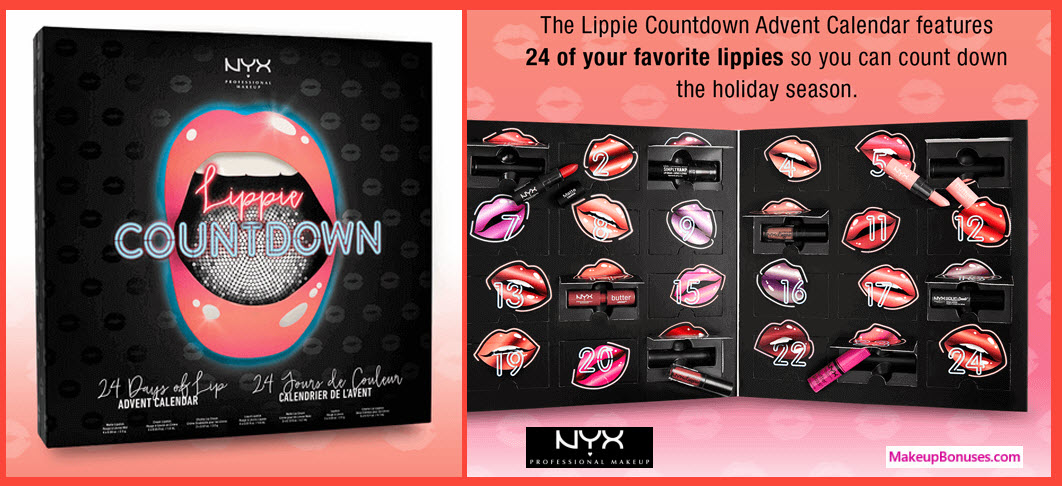 Lippie Countdown Advent Calendar (24 pieces / $65) NYX Cosmetics (back in stock), ASOS, Ulta (now on sale for $45.50), Selfridges ($58), Look Fantastic ($68), & Feelunique ($67.50) – sold out at crossed out stores
Pucker up for 24 days of bright, bold color! The Lippie Countdown Advent Calendar is here with fan faves behind every door:
3 Butter Glosses in:

Crème Brulee (0.15 oz)
Sugar Cookie (0.15 oz)
Raspberry Tart (0.15 oz)

3 Butter Lipsticks in:

Root Beer Float (0.09 oz)
Ripe Berry (0.09 oz)
Seashell (0.09 oz)

2 Intense Butter Glosses in:

Berry Strudel (0.15 oz)
Tres Leches (0.15 oz)

4 Lip Lingerie Liquid Lipsticks in:

Embellishment (0.05 oz)
Push-Up (0.05 oz)
Corset (0.05 oz)
Exotic (0.05 oz)

3 Liquid Suede Cream Lipsticks in:

Stone Fox (0.05 oz)
Soft-Spoken (0.05 oz)
Vintage (0.05 oz)

4 Matte Lipsticks in:

Shocking Pink (0.08 oz)
Indie Flick (0.08 oz)
Eden (0.08 oz)
Up the Bass (0.08 oz)

3 Soft Matte Lip Creams in:

San Paulo (0.15 oz)
Copenhagen (0.15 oz)
Paris (0.15 oz)

Simply Red Lip Cream in:

Russian Roulette (0.07 oz)

Simply Vamp Lip Cream in:
Click to browse recent STORE offers at NYX Cosmetics or to browse BRAND offers from NYX Cosmetics
Beauty Christmas Advent Calendar (24 pieces / $63.96) QVC, $63.96.
makeup, skin care, fragrance, and more:
0.17-fl oz Algenist Power Advanced Wrinkle Fighter 360 Eye Serum
0.1-fl oz Amazing Cosmetics AmazingConcealer
0.34-fl oz Clark's Botanicals Age-Defying Radiance Cream
0.06-fl oz Doll 10 High Shine Liquid Lip
0.5-floz ELEMIS Pro-Collagen Marine Cream
0.14-oz Farmacy Sleep Tight Firming Night Balm
1-oz First Aid Beauty Ultra Repair Cream
0.23-fl oz IT Cosmetics(R) Confidence in a Cream
Julep Konjac Cleansing Sponge
2-fl oz Kopari Coconut Melt
1-oz L'Occitane Shea Butter Hand Cream
0.5-oz LXMI 100% Pure Nilotica Melt
0.06-oz Mally Shadow Stick Extra
0.2-fl oz NEST EDP
0.1-oz NUDESTIX Gel Color Lip & Cheek Balm
0.68-oz Obliphica Seaberry Mask
1-fl oz Paula's Choice 2% BHA Liquid
2-fl oz philosophy purity made simple
Two Pinrose Fragrance Petals
1-fl oz Peter Thomas Roth Cucumber Gel Mask
0.35-fl oz Skinfix Lip Repair Balm
0.005-oz Stowaway Effortless Eyeliner
0.25-fl oz StriVectin TL Advanced Light Neck Cream
0.07-oz Wander Beauty Wanderout Lipstick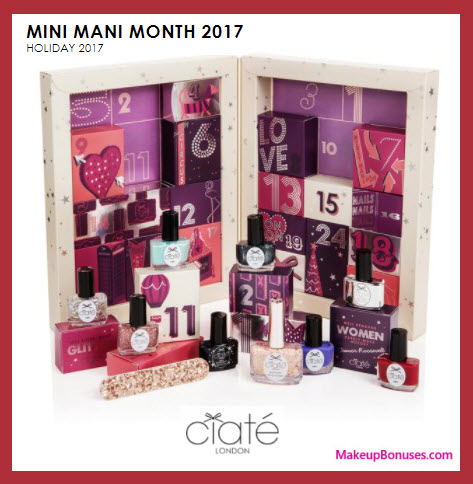 This year's set includes 19 minis and one full-size pot of the new and improved, long-wearing, GELOLOGY formulation. Five of these are new and exclusive shades. The set also features a mini treatment base coat and a magical top coat so you can dazzle through the party season. Each product is tucked into its own box for the ultimate unwrapping experience (Paraben-free / Vegan Friendly / Gluten-free)
19 x 0.17 oz/ 5 g Mini Nail Polishes

After Party
Moonlit Whispers
House of Mirrors
Champagne Kisses
Roll up Roll up
Mostly a Minx
Midnight in Paris
Cabaret
Locket
Part Time Mermaid
Big Top
Moondust
Beach Please
Palm Springs
Desert Lights
The Naked Truth
Reign Supreme
What the Shell
Cosmic Love
Maybe Baby

0.17 oz/ 5 g Mini Nail Super Hero Base
0.17 oz/ 5 g Mini GELOLOGY Top Coat
0.46 oz/ 13.5 Nail Polish in Showtime
1x magical nail topper
1x special limited edition surprise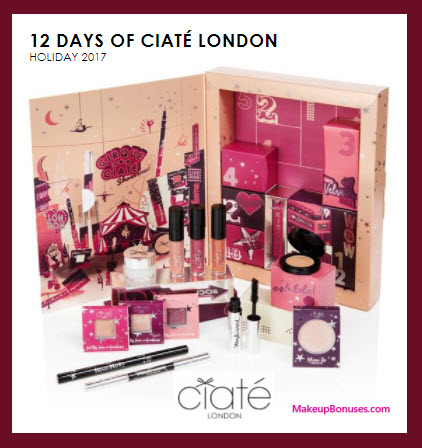 Give your holiday makeup a sprinkle of Ciaté London magic with this epic 12 piece beauty countdown. Inside you'll find a collection of the brand's bestselling beauty superheroes, including Liquid Velvet for a super pigmented and long-wearing matte lip, uber-volumizing Wonderwand Mascara, buttery-smooth eyeshadows, fearlessly fierce Wonderwand eyeliner, and much more. With a mixture of eight minis and four full-size products, this countdown of Ciaté's bestselling products is the ultimate way to treat your favorite beauty junkie (as well as yourself) this holiday season. Formulated WITHOUT Parabens, Sulfates, or Phthalates. Ciaté London products are cruelty-free.
3 x 0.067 fl oz/ 2 mL Liquid Velvet in Pin Up, Delight, and Oh Honey!
3 x 0.035 oz/ 1 g Pretty, Fun & Fearless Eyeshadow in Dainty, Unconditional, and Fierce
0.077 oz/ 2.2 g Mini Bamboo Bronzer in Palm Island
0.052 oz/ 1.5 g Mini Glow To Highlighter in Moondust
0.194 oz/ 5.5 g Mini Makeup Melter
0.118 fl oz/ 3.5mL Mini Wonderwand Mascara in Black Magic
0.028 oz/ 0.8 g Mini Wonderwand Liner in Black
0.06 fl oz/ 1.8 mL Fierce Flicks Liner in Black
Click to browse STORE offers at Ciaté London or to browse BRAND offers from Ciaté London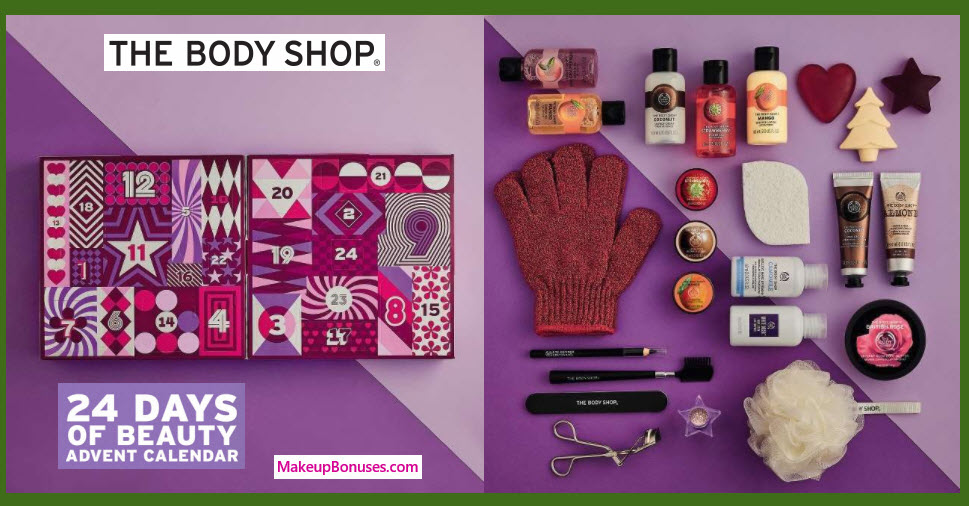 24 Days Of Beauty Advent Calendar (24 pieces / $55) The Body Shop, $55, &  Ulta ($85)
Lip Butter Mango .34 FL OZ
Shower Gel Mango 2 FL OZ
Soap Frosted Plum 1 Piece
Shower Gel Coconut 2 FL OZ
Nail File
Shower Gel Pink Grapefruit 2 FL OZ
Soap Frosted Berries 1 Piece
Hand Cream Coconut 1 FL OZ
Eyelash Curler
Body Lotion Mango 2 FL OZ
Bath Lily White
Soap Vanilla 1 Piece
Eye Definer Black .038 OZ
Facial Cleansing Sponge
Shower Gel Strawberry 2 FL OZ
Lip Butter Shea .34 FL OZ
Gentle Eye Make Up Remover Camomile 2 FL OZ
Hand Cream Almond 1 FL OZ
Gloves Bath Red
Body Butter British Rose 1.69 FL OZ
Brush Brow/Lash Comb
Born Lippy™ Lip Balm Strawberry .34 FL OZ
Body Lotion White Musk 2 FL OZ
Glitter Dust Gold .035 OZ
Click to browse STORE offers at The Body Shop or to browse BRAND offers from The Body Shop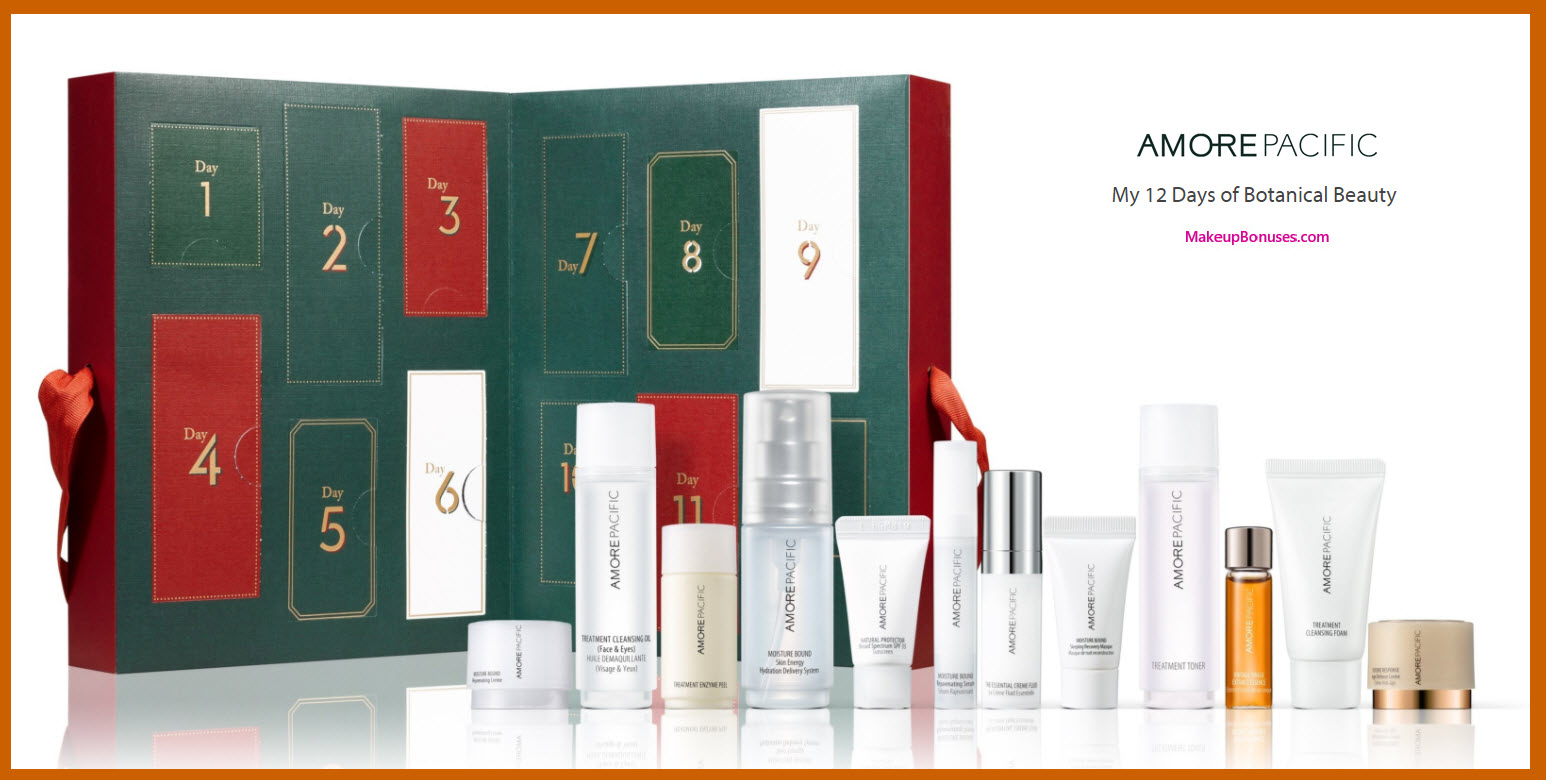 My 12 Days of Botanical Beauty (12 pieces / $55) AMOREPACIFIC, $55, Sephora 
A collection of 12 mini must-have's from AMOREPACIFIC to give you glowing skin as you count down the Holiday season. Formulated WITHOUT Parabens, Sulfates, Phthalates. Collection Includes:
Treatment Cleansing Oil (7g)
Treatment Cleansing Foam (30ml)
Treatment Enzyme Peel (15ml)
Treatment Toner (30ml)
The Essential Creme Fluid (5ml)
MOISTURE BOUND Skin Energy Hydration Delivery System (30ml)
MOISTURE BOUND Rejuvenating Creme (3ml)
MOISTURE BOUND Sleeping Recovery Masque (5ml)
MOISTURE BOUND Rejuvenating Serum (3ml)
FUTURE RESPONSE Age Defense Creme (3ml)
VINTAGE SINGLE EXTRACT ESSENCE (5ml)
NATURAL PROTECTOR Broad Spectrum 35 Sunscreen (5ml)
Click to browse STORE offers at AMOREPACIFIC or to browse BRAND offers from AMOREPACIFIC
12 Days of Beauty Calendar by Feelunique (12 pieces / $47.25) Feel Unique, $47.25.
Christmas really has come early this year in the form of our annual beauty calendar. Every morning in the countdown to Christmas you can wake up and open one of the glittery doors to reveal a beauty treat. From lip creams and palettes to moisturisers and eye liners the calendar is crammed full with some our favourite brands (NYX Professional Makeup, Elizabeth Arden we're looking at you!). 12 Days of Beauty Calendar by Feelunique contains:
NYX Professional Makeup Soft Matte Lip Cream 8ml 
Inika Certified Organic Light Reflect Cream 8ml
Elizabeth Arden Superstart Skin Renewal Booster Mini 5ml
PHB Ethical Beauty Eye Liner Pencil 4g in Black
Roger&Gallet Fleur de Figuier Shower Gel 50ml
The Organic Pharmacy Lip & Eye Cream 10ml
invisibobble The Traceless Hair Ring 3 Pack ORIGINAL
Gatineau – Perfection Ultime Retexturizing Beauty Cream 15ml
Jurlique Rose Moisture Plus Moisturising Cream 11ml
Revlon Professional Uniq One Hair Treatment Mini 9ml
Palmer's Coconut Oil Formula Shampoo 50ml
Rimmel Magnifieyes Eye Palette 7g in Grunge Glamour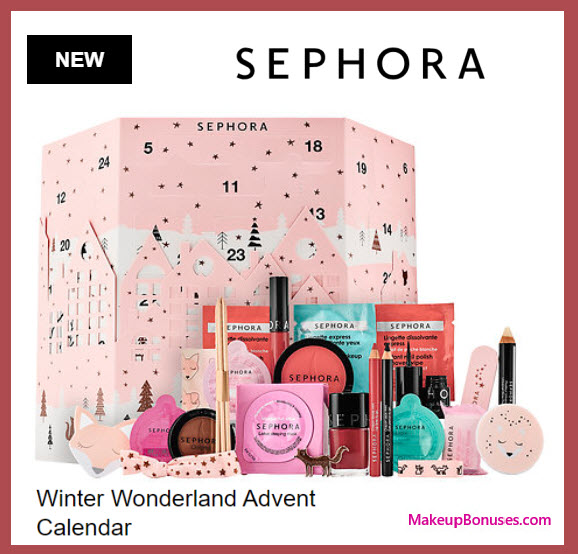 SEPHORA COLLECTION Winter Wonderland Advent Calendar (0 pieces / $45) Sephora, $45.
A captivating advent calendar with 24 exclusive Sephora Collection makeup, skincare, and bath and body products and accessories—giving you a new surprise every day until Christmas. Treat yourself to a Sephora Collection must-have makeup, skincare, bath and body, or accessory gift every day with this festive advent calendar. From a Sleeping Mask to fizzing bath cubes, eyeliner to shadows, and lip stains to nail polish, this set has everything you need to look primped and prepped for the holidays and beyond. Open all 24 palace doors and find a surprise hidden behind each one. This set contains:
0.27 oz/ 8 mL Sleeping Mask in Lotus
3 x 0.26 oz/ 7.9 mL Creamy Body Wash Capsule in Cotton Flower, Lagoon, Peony
0.63 oz/ 18 g Fizzing Cube in Cotton Flower
2 x 0.0101 oz/ 1.87 g Express Eye Makeup Remover Wipes
0.06 oz/ 2 mL Fingertip Eyeliner in 01 Smart Black
0.025 oz/ 0.73 g Eye Pencil Liner to go in N09 Intense Black
0.07 oz/ 2 g Removable Eyeshadow Pan in N298 Tiramisu
0.089 oz/ 2.5 g Universal Brow Freeze in 01 Clear
0.12 oz/ 3.5 g Blush in N05 Sweet On You
0.025 oz/ 73 g Lip Pencil to go in N03 Classic Red
0.169 oz/ 5 mL Cream Lip Stain Lipstick in 01 Always Red
0.16 oz/ 5 mL Nail Polish in L43 It-Girl
4 x 0.09 oz/ 2.63 g Instant Nail Polish Wipes
Ribbon hair tie
Pocket mirror
Ribbon
Post-it stickers
Badges
Nail file
Sleek MakeUP A Gift A Day (25 pieces / $40) Walgreens, $40.
#advent   #adventcalendars
See more 2017 beauty advent calendars:
#christmas2017   #holidaygifts2017