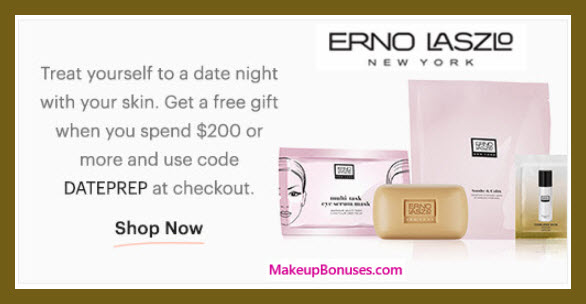 Soothe & Calm Hydrogel Mask: (single) Calms, smooths and evens sensitive skin for an unrivaled complexion. An innovative-delivery gel mask bestows potent hydrating, anti-inflammatory actives deep into pores for a finish that positively gleams.
Multi-Task Eye Serum Mask: (single) All-in-one hydrogel eye patch formulated with a powerhouse of ingredients to tackle the major signs of under eye dark circles, puffiness, fine lines and wrinkles.
Phelityl Cleansing Bar: (5ml pump) Gently cleansing without drying, this moisturizing bar takes its skin-nourishing powers from our exclusive plant oil complex to help bind moisture to skin—and keep it there—for a softer, smoother appearance.
Timeless Skin: (5ml packette) This breakthrough serum is a daily source of targeted prevention for maturing skin.
Erno Laszlo offers Free Shipping on all purchases.
*** Visit TODAY'S CURRENT OFFERS page for CURRENT LIST of ALL OFFERS ***