Mark your calendar – for the next 3 Friday afternoons (6/8, 6/15, 6/22), receive a free hair style + haircare samples from Ulta! The Ulta HAIR HAPPY HOUR is 3 DAYS ONLY (Next 3 Fridays) and includes ONE-ON-ONE HAIR STYLE CONSULTATIONS, a complimentary style, plus a FREE GIFT of haircare products that you can take home!
What are your hair hopes? How about challenges? Your designer will listen to your needs and preferences, then create a style that's uniquely you. See below for details on how to get your free hair style and haircare samples.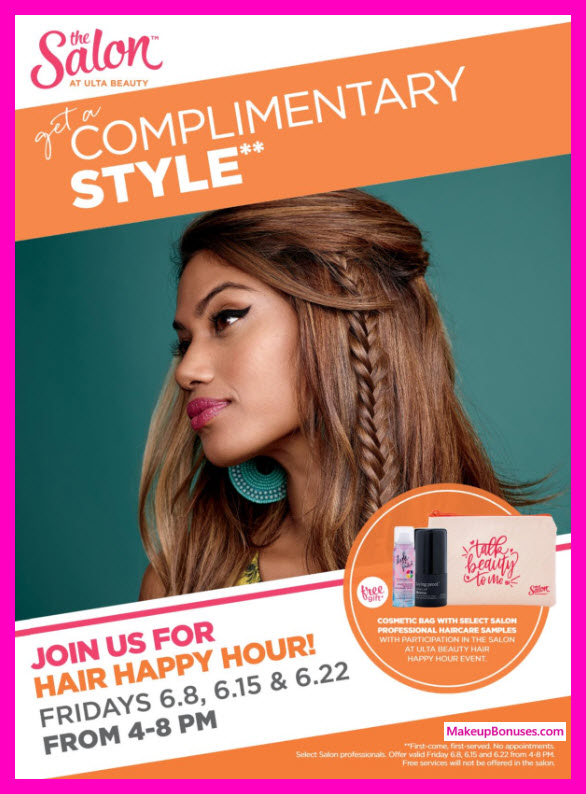 Ulta is giving away free hair styles plus a FREE cosmetic bag with select salon professional haircare samples with participation in the event.
No purchase required – view the online ad for more details
Complementary hair style!

First-come, first-served (no appointments)
Offer is vaild on 6/8, 6/15, 6/22 (next 3 Fridays)
4 pm – 8 pm only
Note that these services will not be offered in the salon
Mark your calendar now!
Call to confirm availabilty at your local ULTA

Browse more promotional offers at ULTA (the store)
+++ Plus, while you are in the store for your free hair style, take advantage of a Free Makeup Sample from MAC Cosmetics!
While supplies last, receive a free makeup (foundation) sample from MAC Cosmetics. MAC Cosmetics has the #1 powder foundation in the USA (Feb 2018). See below for details on how to receive your free makeup sample.
MAC Cosmetics is giving away free samples of their foundation. Get free foundation shade matching and take home a free 3-day product sample!
***Explore more FREE BEAUTY on MakeupBonuses.com ***
***Visit TODAY'S CURRENT OFFERS page for a CURRENT LIST OF ALL BEAUTY OFFERS ***