While supplies last, receive a free sample from Nordic Care. Nordic Care is giving away free samples of The Swedish Secret to Foot Health. The Swedish Foot Care Cream is extremely effective in the control of dry skin and cracked heels. It combines the skin's own natural moisturizer, Urea with the water-binding properties of Lactic Acid and Glycerin to leave skin feeling soft and supple. Excellent for softening and reducing the appearance of calluses and soothing the uncomfortable itch associated with dry skin. Antiseptic and soothing Eucalyptus Oil provides a subtle, natural fragrance. Hypoallergenic and Lanolin-free. Safe for Diabetics.
See below for details on how to request this free sample.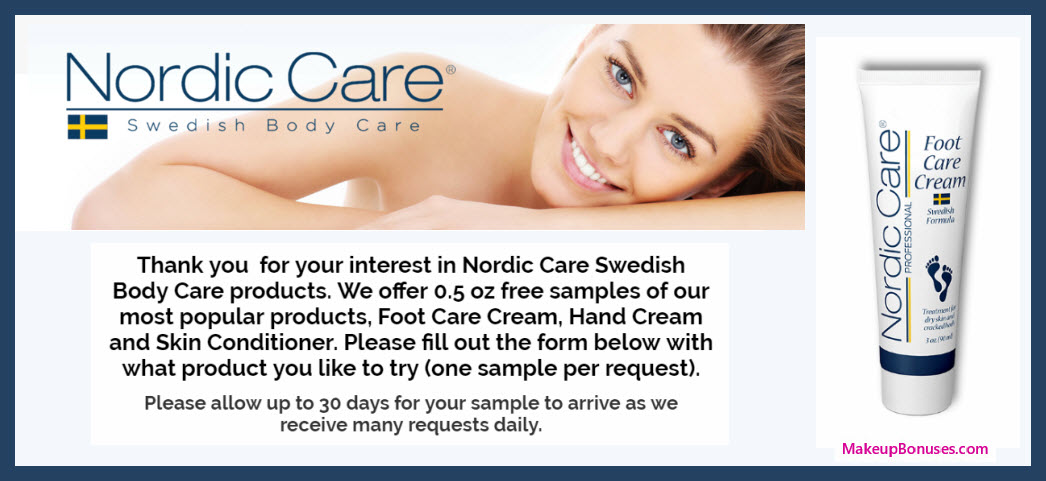 Nordic Care The Nordic Care Products were developed to hydrate, treat and prevent dry skin. The Swedish formula blends together exclusive Scandinavian extracts, moisturizing vitamins and marine based botanicals. All products are free of Parabens.
No purchase required plus shipping is free!
Complete the online sample request form with your mailing address details

note that form mentions you may get a choice of free sample, but at posting time, this is only valid for a free sampe of the Foot Care Cream

USA addresses only
Act fast as offer is only available while supplies last
Be sure to share with your friends so that they can also receive this great free foot care cream sample!
***Explore more FREE BEAUTY on MakeupBonuses.com ***
***Visit TODAY'S CURRENT OFFERS page for a CURRENT LIST OF ALL BEAUTY OFFERS ***