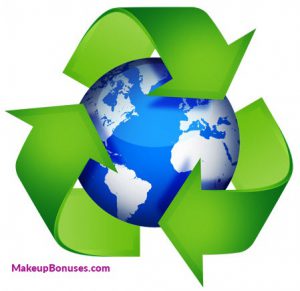 Whether you want to earn free products, help those in need, or protect the environment, there are many reasons to to use cosmetics recycling programs!
Find out below how you can return old containers for free products, send old mascara wands to help wildlife, or donate gently used products to women-in-need (perfect for things that didn't work out, color experiments gone wrong, or free samples you just don't want).
Recycle Empty Containers
Your old mascara wands can help wildlife when used to remove fly eggs and larva from the fur of animals (they work great because the bristles are so close together). Learn more about #smallbrushbigimpact at AppalachianWild.org and mail your cleaned mascara wands to: Appalachian Wild, P.O. Box 1211, Skyland, NC 28776
Any Aveda packaging not accepted curbside (e.g. makeup brushes, various bottles, jars, tubes, pumps) can be brought into any Aveda Experience Center retail store in the United States and placed in the Full Circle recycling bin. Also accepts caps from any brand.
Recycle full-size Kiehl's products to receive a stamp (deluxe samples & complimentary products can be returned for recycling but do not warrant a stamp). Customers will also receive one recycle count when using a Kiehl's tote bag while shopping in a Kiehl's retail location. Ten (10) stamps earn a Free 2.5oz Travel-size Product.
Lip Ink – earn free liquid lip color
Send in any four (4) empty full sized LIP-INK® vials and you can choose any one (1) LIP-INK® Liquid Lip Color for FREE along with FREE domestic shipping. Limit 1 per customer per year (must purchase an additional item). Note that you may to send in any number of vials for recycling but only 4 vials will be credited towards free LIP-INK® lip color.
Lush USA – earn free face masks
Bring back 5 empty, clean black LUSH pots to your local shop for recycling and receive a Free Fresh Face Mask
MAC Cosmetics recycling program is called the Back To M·A·C Program – return six (6) M·A·C primary packaging containers to a M·A·C counter or M·A·C Cosmetics Online, and receive a Free M·A·C Lipstick of Your Choice (VIVA GLAM Lipsticks and Lipglass can be recycled but do not count towards free gift)
All Malin + Goetz packaging is recyclable and most is biodegradable. Empty products can be dropped at a recycling center or brought into either of their NYC stores.
Origins recycles cosmetic empties from any brand, everyday (you may get a free sample in exchange). Program is currently available in North America and Origins is exploring ways to expand to other regions.
Pacifica has partnered with Preserve to create an easy to use recycling program. All you need to do is send your empty and rinsed out products using our pre-paid shipping label in an envelope, box or bag of your choice (try and grab it out of your recycle bin). The BEST news is that now your product moves from being garbage to having a new life! Check out Preserve's products here!
Schmidt's – earn free products
Schmidt's Naturals has an easy recycling program that rewards you with a free product! RECYCLE 5, GET 1 FREE. Simply, empty five of their sustainable glass jars, ship them back for free, receive a free deodorant of your choice!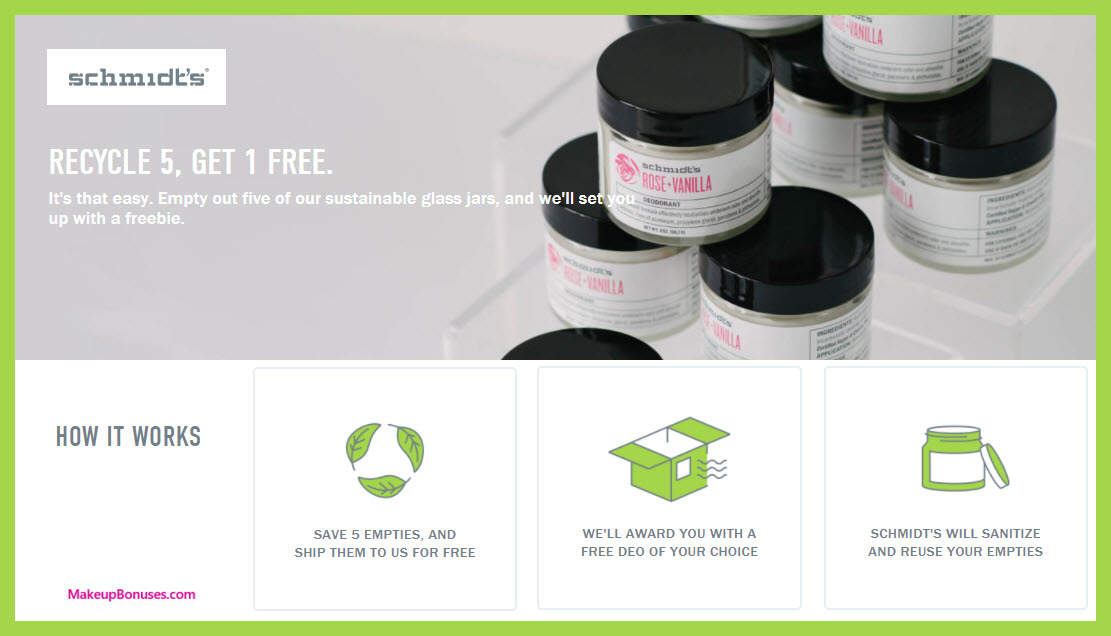 Stowaway Cosmetics provides prepaid shipping labels to send them your finished products for recycling. Plus, you will receive $5 in Stowaway credit for every 3 products you return!
Eliminating the Idea of Waste® by recycling the "non-recyclable." Whether it's coffee capsules from your home, pens from a school, or plastic gloves from a manufacturing facility, TerraCycle can collect and recycle almost any form of waste. We partner with individual collectors such as yourself, as well as major consumer product companies, retailers, manufacturers, municipalities, and small businesses across 20 different countries. See website for specific programs from these brands and more:
Donate Gently Used Items
Project Beauty Share accepts the following gently used items to support efforts to help women-in-need. Mail donations to: Project Beauty Share, 216 N. Bernard, Spokane, WA 99201
Barely Used Makeup
Facial Cleansers & Moisturizers
Body Lotion & Sunscreen (more than 1/2 full)
Shampoo & Conditioner (more than 1/2 full)
Clean or New Makeup Brushes
Perfume & Body Sprays
Hair Styling Products
Hair Styling Tools
Clean Makeup Bags