Currently at Lancôme, with a $60 Lancôme purchase, receive this free customizable 7-piece bonus gift: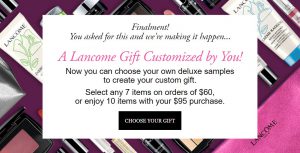 Choose 7 samples with a $60 purchase, plus pick 3 additional samples with a $95 purchase:
Silver Clutch
Pink Clutch
Hypnose Drama Mascara
Cils Booster
Definicils Mascara in Black
Le Crayon Hohl in Black Ebony
Le Crayon Kohl in Black Coffee
La Base Pro
Blush Subtil in Rose Fresque
Blush Subtil in Aplum Color
Design 5 Pan Palette in Bronze Amour
Color Design 5 Pan Palette in Taupe Craze
Color Design Lipstick in the New Pink
Color Design Lipstick in Red Addiction
Color Design Lipstick in Intense Fuchsia
Juicy Tubes in Simmer
Visionnaire Serum 0.23 oz
Advanced Genifique
Renergie Lift Mult-Action SPF 15 Day
Absolue Eye Premium Bx 0.2 oz
Renergie Multi-Lift Eye Cream
Absolue Premium Bx Cleanser – 2 oz
Creme Mousse Confort 2 oz
Tonique Confort in 1.7 oz
Bi-Facil
Lancôme offers Free Shipping with a $49 minimum purchase. ShopRunner 2-day Shipping is available for ShopRunner members. Auto-Replinish orders also receive Free Shipping.