This exclusive Darphin Skincare Set is ideal for any skin type experiencing lack of hydration. These formulas quench and relieve parched, tight-feeling skin by replenishing and protecting vital moisture reserves (set value $127):
Hydraskin Intensive Skin-Hydrating Serum (30ml)
Hydraskin Light Gel Cream (15ml)
Hydrating Kiwi Mask (15ml)
Rose Aromatic Care (4ml)
Face Towel
Algenist's GENIUS Ultimate Anti-Aging Regimen is the best of anti-aging biotechnology, delivering unparalleled benefits through a combination of Alguronic Acid and Microalgae Oil. This skincare system is designed to restore skin resiliency and elasticity and minimize the appearance of fine lines and deep wrinkles to unveil skin's youthful radiance ($118 value):
GENIUS Ultimate Anti-Aging Melting Cleanser 1.5 US fl. oz. / 45 ml
GENIUS Ultimate Anti-Aging Cream 1 US fl. oz. / 30 ml
GENIUS Ultimate Anti-Aging Eye Cream 0.17 US fl. oz. / 5 ml
plus free shipping with $50 purchase and choose 3 samples at checkout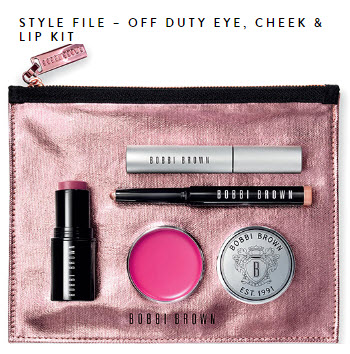 A quick, no-mirror routine from Bobbi Brown that's as relaxed as your weekend. Just swipe on for that perfectly done but undone look. A $140 value, yours for $95.
Golden Pink Long-Wear Cream Shadow Stick (.05 oz./1.6 g)
Sheer Lilac Sheer Color Cheek Tint (.21 oz./6g)
Black Smokey Eye Mascara (.17 oz./ 5ml)
Raspberry Tinted Lip Balm (.5oz/ 15g)
Rose Gold Nylon Cosmetics Bag
A giftable set of three Burberry candles from the United Kingdom, fragranced with woody and herbal scents, uniquely capturing the British countryside. Each expertly crafted candle is presented in a glass holder and honey-coloured twill paper gift box (inspired by the unique gabardine texture of the Burberry Heritage Trench Coat):
Black Amber: A luxuriously relaxing fragrance, reminiscent of a sweet, flower-filled courtyard on a warm evening. Enveloping notes of vanilla and patchouli blend with the evocative scent of white musk (70g/2.5oz)
Dewy Grass: Crisp, leafy notes capture the fragrance of freshly cut grass on a summer's morning. A scent reminiscent of a dewy lawn that refreshes and awakens the day ahead (70g/2.5oz)
Cedar Wood: Complex layers of warmth complement this refined candle blend. Burn to discover a rich mix of unusual, invigorating and intense precious wood (70g/2.5oz)
Lightweight, compact, engraveable facial cleansing brush from Clarisonic with 2 speeds ('Delicate' and 'Universal'). Ultra-effective sonic cleansing removes dirt, oil and makeup 6 x better than hands alone! With varying levels of sonic speed, you can customize the Clarisonic Mia 2® cleansing experience to address specific concerns. Speed 1 'Delicate' was designed for compromised or fragile skin and is gentle enough to cleanse skin that's very sensitive, while the 'Universal' setting is for all skin types and is developed for normal daily use (enhances cleansing by 26% compared to Speed 1).
1-Minute Pulsing T-Timer – For even and thorough sonic cleansing, Clarisonic Mia 2 features a T-Timer® that pulses momentarily to indicate it is time to move the facial brush to another part of your face
Interchangeable Facial Brush and Body Brush Heads – Choose from a variety of interchangeable facial brush heads for your Clarisonic Mia 2, each uniquely designed and engineered for specific skin types or conditions. Visit our Brush Head Comparison Chart for more information
2 Year Warranty – Clarisonic Mia 2 comes with a warranty covering any manufacturer defect-related problems resulting from everyday use of the product
Rechargeable, Waterproof and also comes with the Radiance Brush Head, Cleanser 1 oz., & Universal Voltage USB Charger
To receive an ENGRAVED DEVICE in time for Mother's Day, order by 5/3/2017 (Ground Shipping), 5/8/2017 (2-day Shipping), or 5/9/2017 (Next Day Shipping).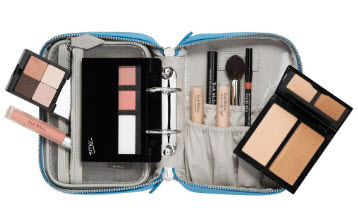 bluemercury exclusive – Trish McEvoy Kalahari Sky Makeup Planner® includes all the essentials needed for a day or night look in one convenient planner:
Eye Base Essentials Bare
Refillable Double-Decker Makeup Wardrobing® Compact
Eye Shadow Shell
Glaze Eye Shadow Orchid
Glaze Eye Shadow Topaz
Eye Definer Paris Nights
Lash Curling Mascara
Instant Eye Lift®
Brush 48 Sculpt and Blend
Light & Lift Face Color Duo
Makeup Wardrobing® Page
Blush Easy Going
Blush Pink Glow
Translucent Finishing Powder
Liquid Lip Color Nude
Long-Wear Lip Liner Barely There
When Christian Louboutin was asked what woman can wear his Rouge Louboutin Lip Colour, he replied simply, yet definitively, "every woman." After all, the iconic colour was formulated to complement women of all skin tones and comes in three different finishes to suit any occasion. Not satisfied with just bringing Rouge Louboutin to lips, he created collectible packaging inspired by fine jewelry. The Rouge Louboutin Lip Colour Collection collection includes Full-Size Rouge Louboutin Lip Colours in three finishes: Silky Satin, Velvet Matte and Sheer Voile. The jewelry inspiration comes to life with a gunmetal chain to complement the silver, gold and black finishes of each piece:
Rouge Louboutin Silky Satin Lip Colour
Rouge Louboutin Velvet Matte Lip Colour
Rouge Louboutin Sheer Voile Lip Colour
Chain
Three Reusable Silk Pouches
Click here to browse BRAND offers from Christian Louboutin
Another great set of La Mer favorites that deliver deep soothing and radiance to your skin. Set includes:
The Eye Concentrate (0.17 oz.): a deeply conditioning cream formulated with hematite, a magnetically charged mineral, to help dramatically dissolve the appearance of dark circles, surface discoloration and unevenness
The Concentrate (0.5 oz.): a savior of the skin that complements its natural healing process with the restorative power of the sea
Crème de la Mer Moisturizing Cream (1 oz.): born from the sea, the legendary Crème de la Mer has the power to transform the skin, rejuvenating and renewing even the driest complexions
Discover the Tatcha complete ritual for normal to dry skin that is non-comedogenic, non-irritating, & non-sensitizing. The full-size skincare ritual treasures arrive gift wrapped in a handmade kiribako, a traditional Japanese wooden box used to protect treasured items such as silk kimonos and precious gifts. The box was custom made for Tatcha in the Asakusa district of Tokyo by an artisan shop that has created these keep sake boxes since the 1800's. Box dimensions: 32.5 x 20.5 x 8cm. $648 value.
One Step Camellia Cleansing Oil
Classic Rice Enzyme Powder
The Essence
The Silk Cream
Deep Brightening Serum
Ageless Revitalizing Eye Cream
also Free US Shipping and choose 3 samples with every order