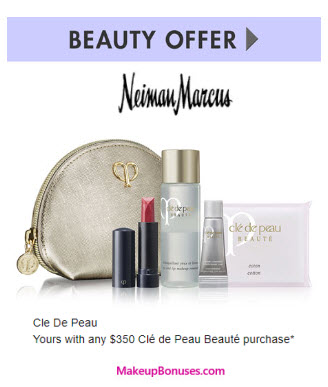 Extra Rich Lipstick in 203, 2.4 mL
Eye and Lip Makeup Remover, 30 mL
Concentrated Brightening Eye Serum, 2 mL
Cotton, 4 sheets
Capture Totale Dream Skin, 7 mL
Lip Maximizer, 2 mL
Dior bag
Cosmetic Bag
Ecstasy Lacquer Shade 402
Eye Tint Shade 12
Luminous Silk Foundation Shade 5.5
Crema Nera Extrema Serum, 5 mL
Lip Maestro Shade 504 (not pictured)
Crema Nera Eye Serum, 3 Ml
With your $125 Gucci purchase, receive a free 4-piece gift: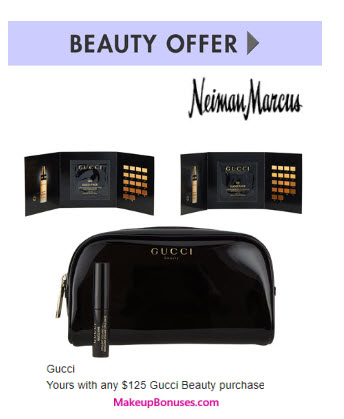 Luster Glow Foundation in 060, 0.8 mL.
Luster Glow Foundation in 100, 0.8 mL.
Infinite Length Mascara in 010 Black, 3 mL.
Gucci Pouch
Honey Nectar Toning Lotion, 15 mL
Daily Repair Age-Defying Serum, 5 mL
Repairing Honey Gel Mask, 10 mL
The Moisturizing Soft Cream, 7 mL
The Perfecting Treatment, 7 mL
The Hand Treatment, 30 mL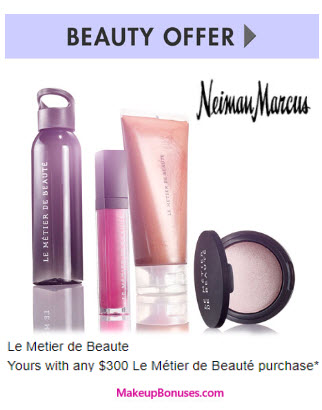 Le Métier de Beauté Water bottle, 22 oz.
Liquid Bronze in Soleil Glow, 6.0 oz.
Highlighter in Epic, 0.13 oz.
Lip Creme in Statement, 0.22 oz.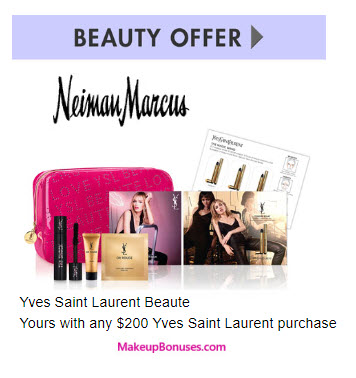 Yves Saint Laurent Makeup Bag
Or Rouge Fluide Sample
Or Rouge Cream Fine Sample
The Shock Mascara Sample
Touche Éclat Sample
Volupté Tint-in-Balm Sample
Neiman Marcus offers Free Shipping on all purchases. Neiman Marcus offers ShopRunner 2-day Shipping on select items for ShopRunner members. Neiman Marcus offers Free Returns on all purchases.
*** Visit TODAY'S CURRENT OFFERS page for CURRENT LIST of ALL OFFERS ***