Treatment Cleansing Foam, 1.0 oz./ 30 mL
Treatment Enzyme Peel, 7 g
Luminous Effect Brightening Serum, 0.1 oz./ 3.0 mL
Intensive Vitalizing Eye Essence, 0.1 oz./ 3.0 mL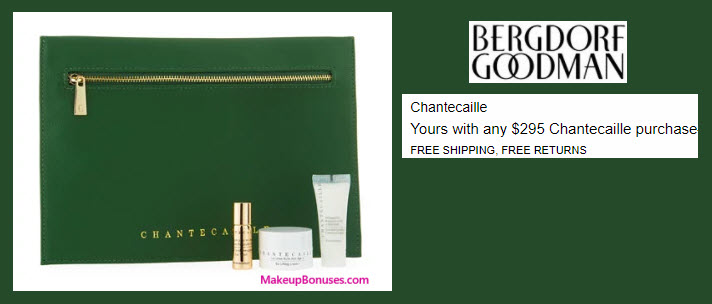 Nano Gold Energizing Eye Serum, 0.3 oz./ 3.0 mL.
Bio Lifting Cream Plus, 0.3 oz./ 10 mL.
Rice and Geranium Foaming Cleanser, 0.3 oz./ 8.0 mL.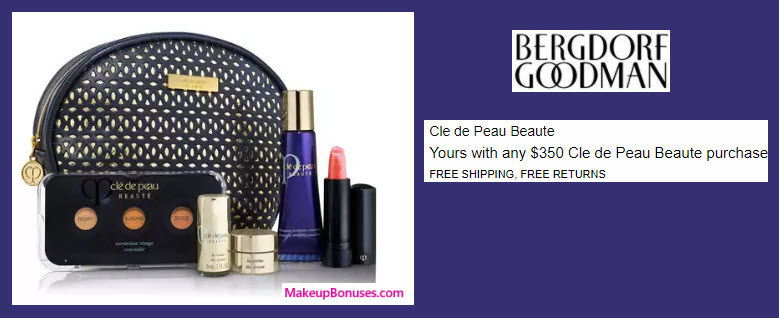 NEW Le Serum, 0.1 oz./ 3.0 mL
NEW the Lipstick in 10 Replica
La Crème, 0.1 oz./ 2.0 mL
Intensive Fortifying Emulsion, 0.4 oz./ 12 mL
NEW Concealer Blister (ivory, beige, almond)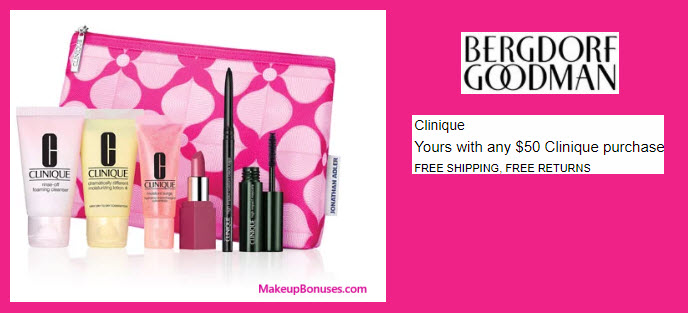 Jonathan Adler Cosmetics Bag
Rinse-Off Foaming Cleanser, 1.0 oz./ 30 mL
Dramatically Different Moisturizing Lotion+, 1.0 oz./ 30 mL
Moisture Surge Hydrating Supercharged Concentrate, 0.5 oz./ 15 mL
Pop Lip Colour + Primer
High Impact Custom Black Kajal in Blackened Black
High Impact Mascara in Black

Signature travel bag
2 DERMAFLASH single use Edges.

Diorshow Mascara in Black, 1.5 mL.
Dreamskin, 3 mL.
J'adore Eau de Parfum, 5 mL.
Dior Oval Pouch

Pink Cosmetic Bag
Gold Compact with Eyeshadow
Double Wear Stay in Place Pencil
Sumptuous Extreme Mascara
Advanced Night Repair, 15 mL/ 0.5 oz.
Bergdorf Goodman offers Free Shipping on all purchases. Bergdorf Goodman offers ShopRunner 2-day Shipping on select items for ShopRunner members. Bergdorf Goodman offers Free Returns within 15 days (of delivery).
*** Visit TODAY'S CURRENT OFFERS page for CURRENT LIST of ALL OFFERS ***