There are a lot of fun (yet practical) grooming gifts available for men this year!
Any quality soap makes a classic gift, but you could also kick it up with Caffeinated Soap. And while a toothbrush could be a simple stocking stuffer, it could also be the luxurious, sonic pulsing Foreo ISSA silicone toothbrush. Gaming fans will enjoy styling their hair with the Limited Edition Super Mario Bros products at Shu Uemura Art of Hair. Room fragrance can be the bar-worthy Sabon Aroma Cocktail diffusers, or a unique scented Massage Candle for special romantic moments together.
Here are 23 unique ways you can gift the men in your life this holiday season (sorted by price High to Low):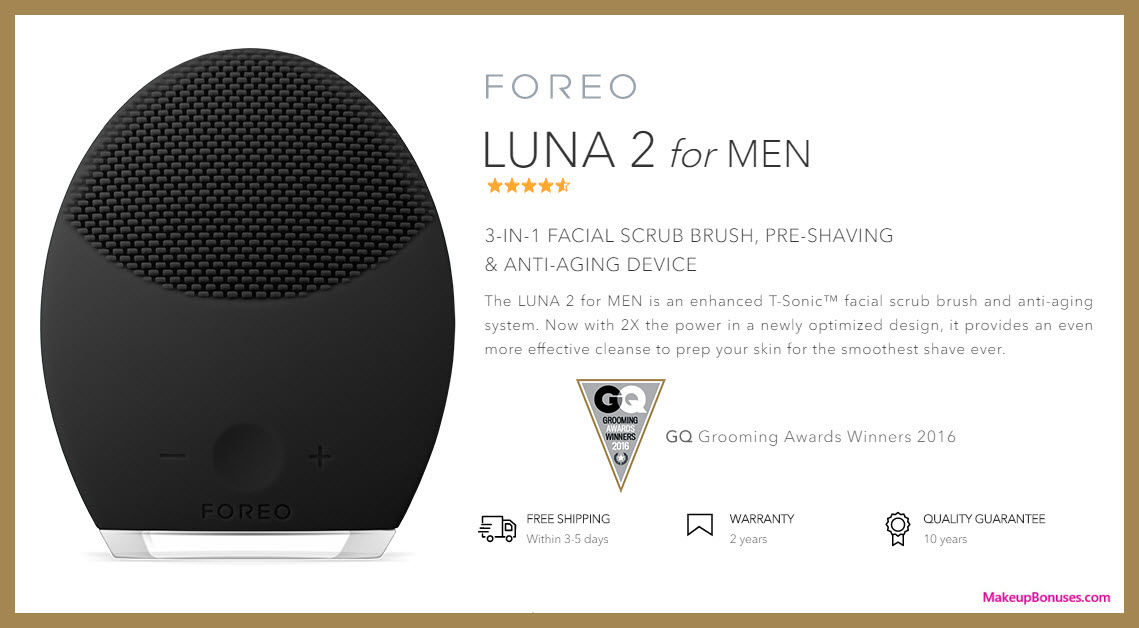 LUNA 2 for MEN – $199 at Foreo
GQ Grooming Awards Winners 2016
3-IN-1 FACIAL SCRUB BRUSH, PRE-SHAVING, and ANTI-AGING DEVICE: The LUNA 2 for MEN is an enhanced T-Sonic™ facial scrub brush and anti-aging system. With a newly optimized design (2X the power), it provides an even more effective cleanse to prep your skin for the smoothest shave ever.
RAZOR BLADES LAST 2X LONGER: When using the LUNA 2 for MEN T-Sonic face brush before shaving, razor blades retain their sharpness and resist damage, resulting in blades that last up to twice as
long – over $100 in savings per year!
Click to browse STORE offers at Foreo or to browse recent BRAND offers from Foreo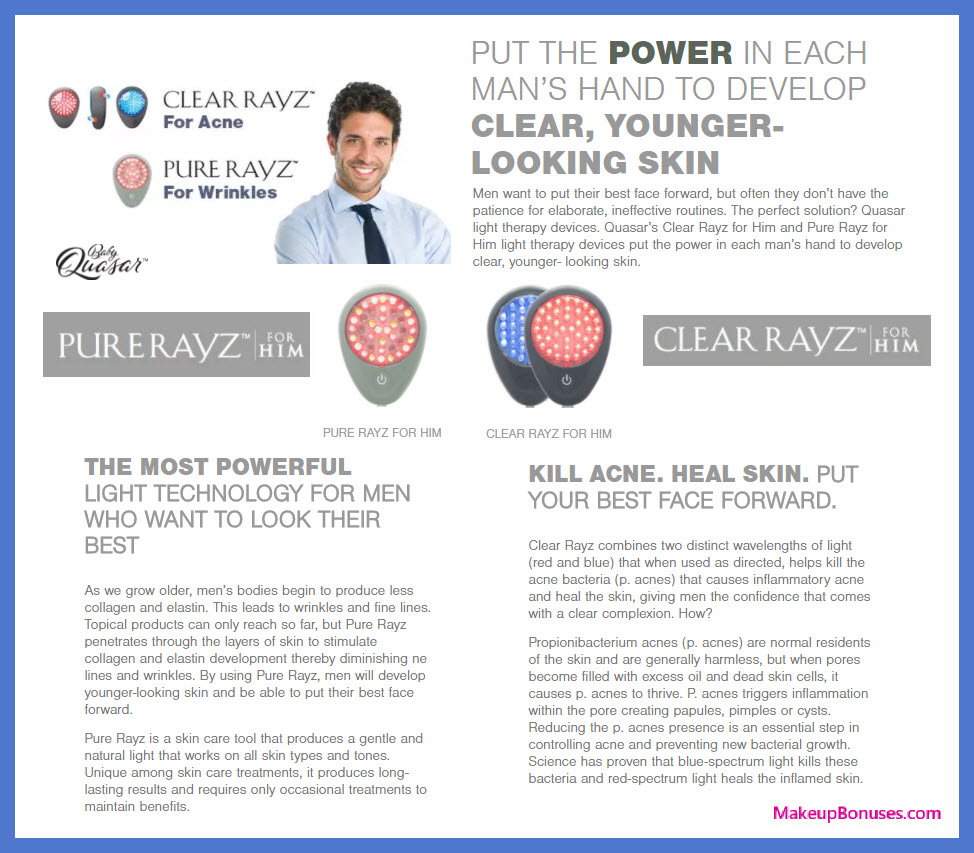 Pure Rayz for Him – $199 at Baby Quasar
PUT THE POWER IN EACH MAN'S HAND TO DEVELOP CLEAR, YOUNGER-LOOKING SKIN: Men want to put their best face forward, but often they don't have the patience for elaborate, ineffective routines. The perfect solution? Quasar light therapy devices. Quasar's Clear Rayz for Him and Pure Rayz for Him light therapy devices put the power in each man's hand to develop clear, younger- looking skin.
THE MOST POWERFUL LIGHT TECHNOLOGY FOR MEN WHO WANT TO LOOK THEIR BEST: As we grow older, men's bodies begin to produce less collagen and elastin. This leads to wrinkles and fine lines. Topical products can only reach so far, but Pure Rayz penetrates through the layers of skin to stimulate collagen and elastin development thereby diminishing ne lines and wrinkles. By using Pure Rayz, men will develop younger-looking skin and be able to put their best face forward.
Pure Rayz is a skin care tool that produces a gentle and natural light that works on all skin types and tones. Unique among skin care treatments, it produces long-lasting results and requires only occasional treatments to maintain benefits.
Click to browse STORE offers at Baby Quasar or to browse recent BRAND offers from Baby Quasar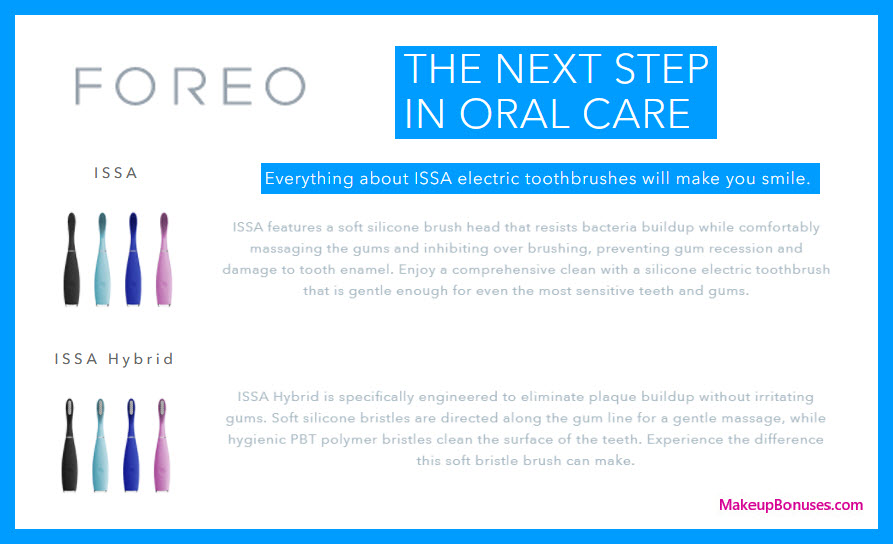 ISSA and ISSA Hybrid – $149 at Foreo
ISSA: MORE THAN JUST AN ELECTRIC TOOTHBRUSH: A complete oral care solution, ISSA combines Sonic Pulse Technology and a revolutionary silicone design for a brushing experience unlike any other. Get a whiter, brighter smile while massaging your gums with silicone bristles that are incredibly soft and ultra-hygienic.
ISSA Hybrid: THE SONIC TOOTHBRUSH WITH A DYNAMIC DESIGN: ISSA Hybrid incorporates durable PBT polymer and ultra-soft silicone into one remarkable sonic toothbrush. This innovative cross-design offers an invigorating clean that is strong on plaque, but gentle on gums, for the perfect brushing experience.
Click to browse STORE offers at Foreo or to browse recent BRAND offers from Foreo
LIMITED EDITION WINTER MEN'S – $100 at PopSugar
The special man in your life deserves items to keep him dapper this holiday season. From easy to use self care products to stylish accessories, he'll be thrilled to receive these handy gifts he would never think to buy for himself, delivered right to his door. Quantities are limited, so don't delay! Boxes will ship by Dec 1
First 2017 box spoilers just announced: All boxes will include a stylish Poker Set from Wild & Wolf! Box includes 7 items total worth over $270.
Click to browse STORE offers at PopSugar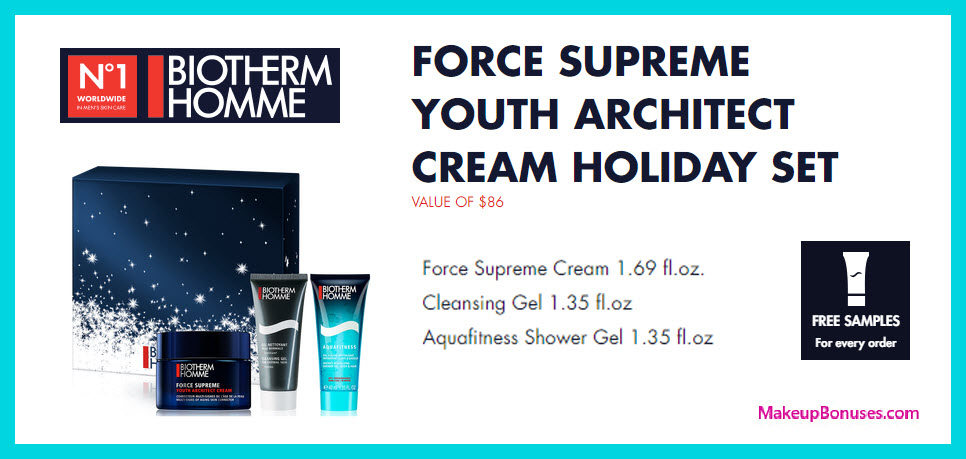 FORCE SUPREME YOUTH ARCHITECT CREAM HOLIDAY SET – $67 at Biotherm
Force Supreme Cream 1.69 fl.oz.
Cleansing Gel 1.35 fl.oz
Aquafitness Shower Gel 1.35 fl.oz
Click to browse STORE offers at Biotherm or to browse recent BRAND offers from Biotherm
Uppercut Deluxe Toiletry Bag Gift Set (Black) – $64 at ASOS
Everyday Shampoo – An invigorating cleanser infused with Liquorice and Menthol
Everyday Conditioner – Hydrates and protects the hair whilst leaving a fresh feel and scent
Body Wash – Cleanses and refreshes the skin
Deluxe Pomade – A strong-hold pomade to style hair and keep in place
Also contains a tooth brush, flip comb, and toiletry bag
Click to browse STORE offers at ASOS
Men's Essentials Collection – $61 (value $108) at Shiseido
Shiseido Men Deep Cleansing Scrub 125mL Full Size
Shiseido Men Moisturizing Emulsion 100mL Full Size
Urban Environment UV Protection Cream Broad Spectrum SPF 40 Sunscreen 15mL
Ultimune Power Infusing Concentrate 10mL
Shiseido Men Total Revitalizer Eye 5mL
Click to browse STORE offers at Shiseido or to browse recent BRAND offers from Shiseido
Hydration Collection – $59 (value $96) at Clarins
Four plant-powered grooming essentials to keep him looking head-to-toe handsome:
ClarinsMen Revitalizing Gel Full-Size, 1.7 Oz. Energizing anti-wrinkle gel fights a man's first lines and wrinkles. Leaves skin toned, revitalized, matte and refreshed. Helps shield his skin with Clarins' Anti-Pollution Complex
ClarinsMen Exfoliating Cleanser Full-Size, 4.4 Oz. Deep-cleansing micro-beads gently remove embedded sweat, oil and spent surface cells. The ultimate pre-shave prep.
ClarinsMen Anti-Fatigue Eye Serum 0.3 Oz. Net Wt. Gentle tightening action de-puffs, visibly minimizes dark circles and smoothes the look of lines and wrinkles.
ClarinsMen Shampoo & Shower 1.06 Oz. Invigorating 2-in-1 wash cleanses hair and body in one time-saving step. Just lather, rinse and go!
ClarinsMen Pouch
Click to browse STORE offers at Clarins or to browse recent BRAND offers from Clarins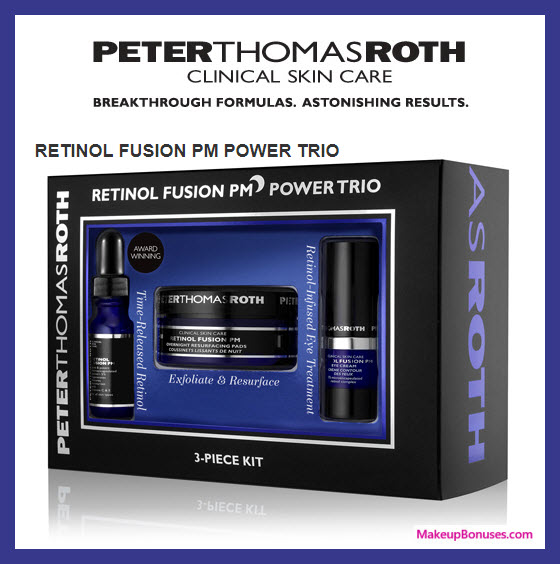 RETINOL FUSION PM POWER TRIO – $58 (value $112) at Peter Thomas Roth
RETINOL FUSION PM NIGHT SERUM 12ml 1.5% Microencapsulated Retinol – sustained release over eight hours to help improve the look of skin smoothness, reduce the appearance of fine lines and wrinkles and enhance the look of skin tone and texture. Vitamins C & E – provide anti-oxidant benefits.
RETINOL FUSION PM OVERNIGHT RESURFACING PADS (20 count) Retinyl Palmitate – a clinical dose of this powerful yet non-irritating form of Retinol helps resurface and renew the look of skin. Glucosamine – acid-free exfoliator works throughout the night to help gently exfoliate, renew and smooth the appearance of skin from application to removal without overdrying. Vitamin C – a high-performance stabilized form of Vitamin C helps visibly brighten and even the look of skin tone. Ceramides – help replenish moisture with essential lipids. Bisabolol, Allantoin, Aloe Vera & Chamomile – help soothe and calm the appearance of skin.
RETINOL FUSION PM EYE CREAM 7ml Microencapsulated Retinol – sustained release over eight hours to help improve the look of skin smoothness, reduce the appearance of fine lines and wrinkles, and enhance the look of skin tone and texture. Shea Butter – helps to condition and moisturize. Vitamins C & E – provide anti-oxidant benefits. Caffeine – helps tone and condition the appearance of skin and reduce the look of under-eye puffiness.
Click to browse STORE offers at Peter Thomas Roth or to browse recent BRAND offers from Peter Thomas Roth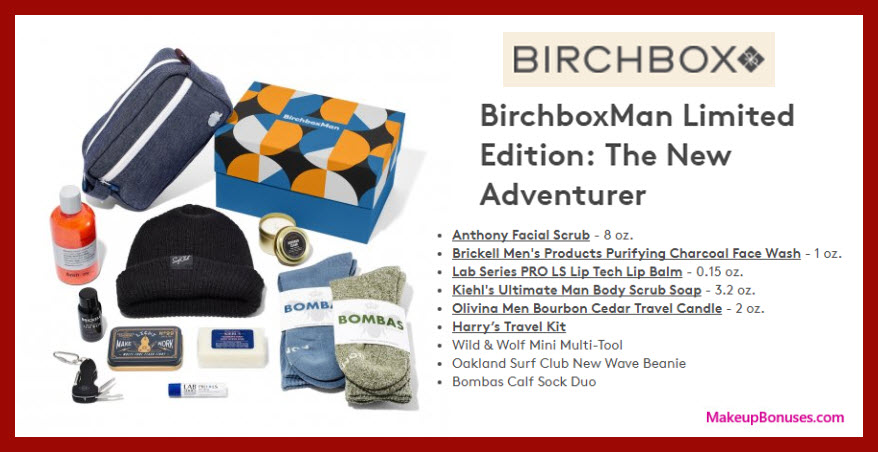 BirchboxMan Limited Edition: The New Adventurer – $55 (value $164) at Birchbox
We get that there's nothing better than being on the open road or discovering new places. So to celebrate your next adventure, we've put together our must-haves for the well-groomed man on the go—a selection of essentials ranging from skincare to stylish accessories. Each box includes:
Anthony Facial Scrub – 8 oz.
Brickell Men's Products Purifying Charcoal Face Wash – 1 oz.
Lab Series PRO LS Lip Tech Lip Balm – 0.15 oz.
Kiehl's Ultimate Man Body Scrub Soap – 3.2 oz.
Olivina Men Bourbon Cedar Travel Candle – 2 oz.
Harry's Travel Kit
Wild & Wolf Mini Multi-Tool
Oakland Surf Club New Wave Beanie
Bombas Calf Sock Duo
Click to browse STORE offers at Birchbox
Aroma Cocktail – $49 at Sabon NYC
Highlight the scents of Sabon with mini Aroma Reed Diffusers, packaged in the limited edition holiday design:
Soft Whispers, Musk, 100 ML
Green Rose, 100 ML
Celebration Wishes Essence, 100 ML
Click to browse STORE offers at Sabon NYC or to browse recent BRAND offers from Sabon NYC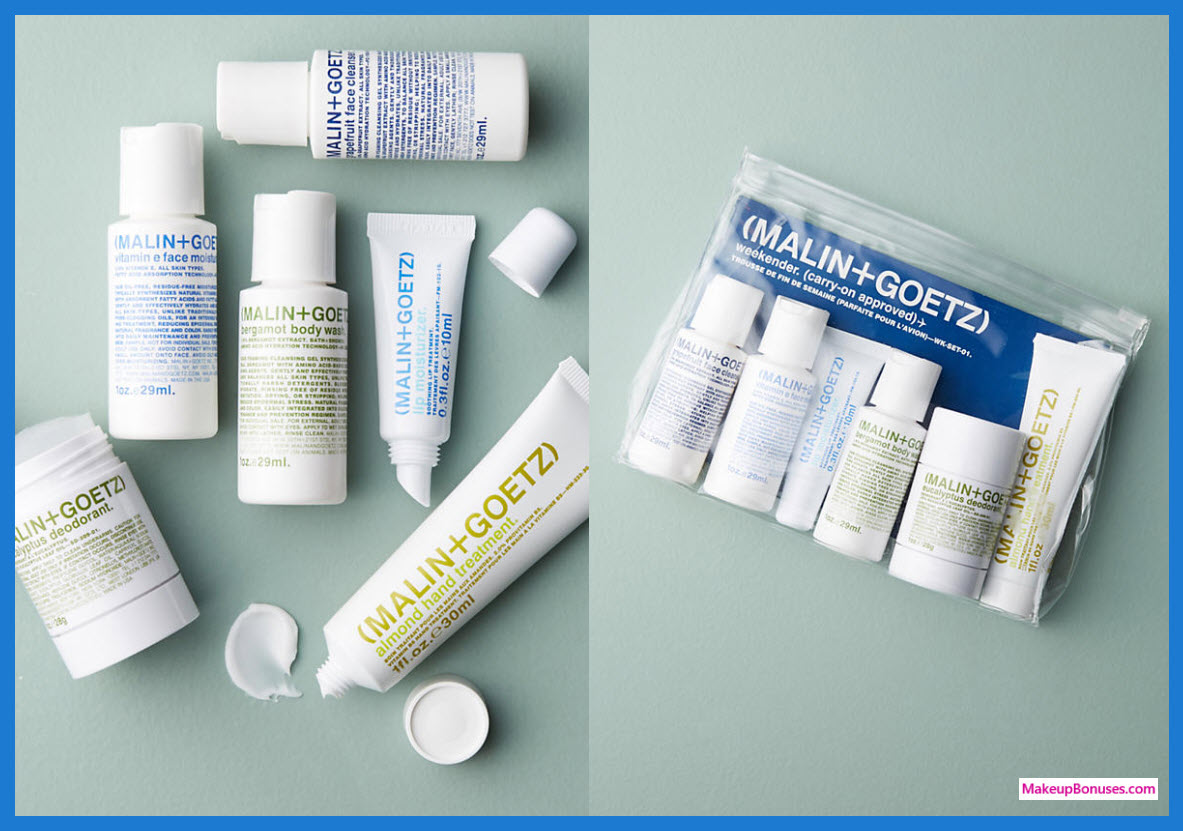 Malin + Goetz Weekender Set – $45 at Anthropologie
Bergamot body wash: 1 oz
Grapefruit cleanser: 1 oz
Eucalyptus Deodorant: 1 oz
Vitamin E face moisturizer: 1 oz
Almond hand creme: 1 oz
Lip moisturizer: 0.3 oz
Click to browse STORE offers at Anthropologie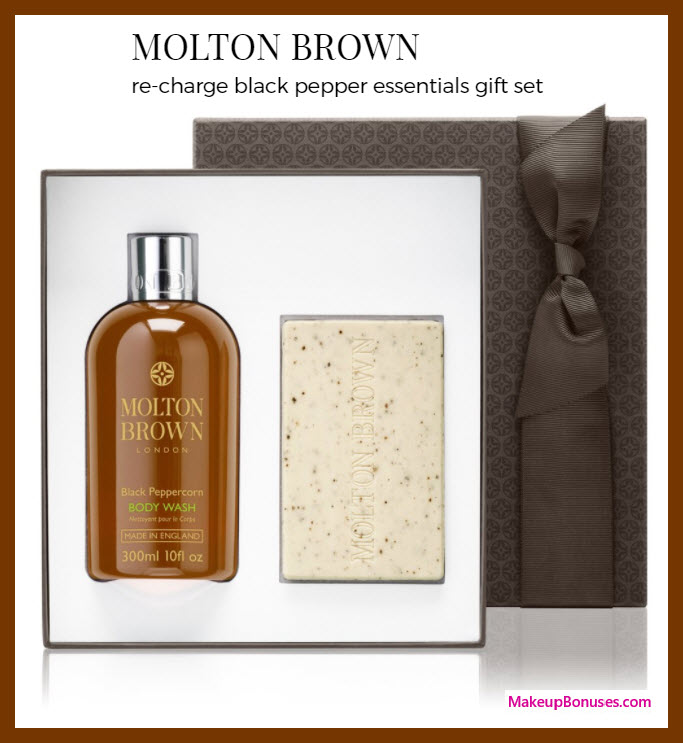 MOLTON BROWN re-charge black pepper essentials gift set – $45 at bluemercury
LONDON VIA MADAGASCAR Piquant black peppercorn oil, fresh coriander and herbaceous basil. Re-charge his daily ritual with our iconic masculine fragrance. Hot. Spicy. Adventurous.
Click to browse STORE offers at bluemercury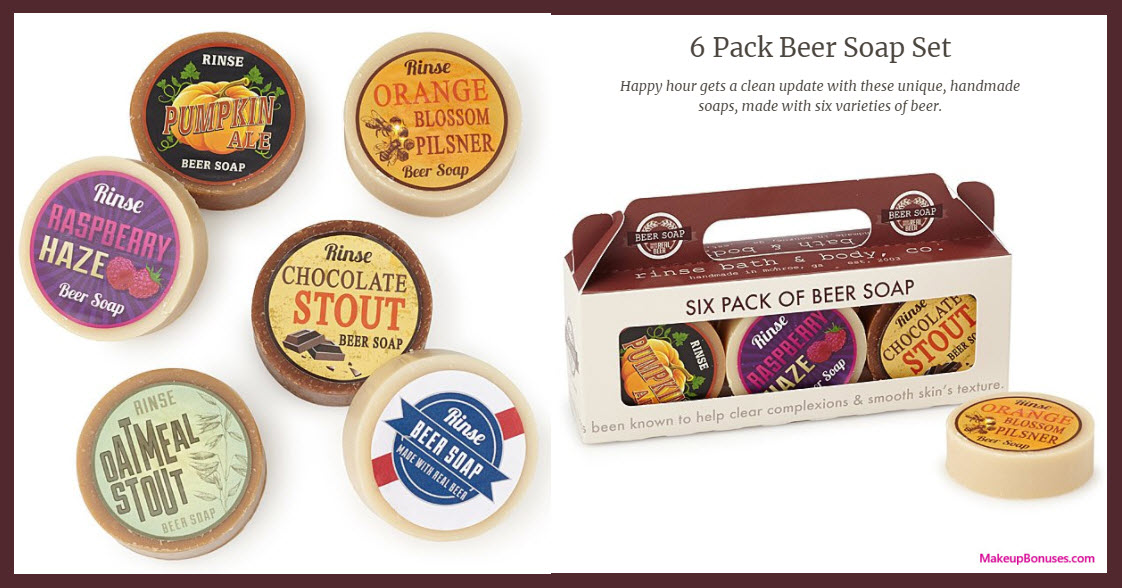 6 Pack Beer Soap Set – $42 at Uncommon Goods
Happy hour gets a clean update with these unique, handmade soaps, made with six varieties of beer. If you've ever dreamed of bathing in beer, now you can. Well, we're not suggesting filling your bathtub with lager… this set of six, handmade soaps is made with real beer, plus a tempting array of botanicals, oils, and fragrances.
From chocolate stout to pumpkin ale, each variety is made from scratch with pure, traditional ingredients (with a hoppy twist).
Applied topically, beer has anti-inflamatory qualities, and lends a luxurious lather to these gentle soaps.
The cleverly-designed labels of this "six pack" offer nods to popular brands of beer.
Handmade in Monroe, Georgia by Heather Swanepoel. 1″ H x 3″ Dia
Ingredients: Beer, Shea & Cocoa Butters, Olive, Refined Sweet Almond, High Oleic Sunflower, Coconut & Palm Kernel Oils along with Fragrance Oils.
Because these soaps are made the old fashioned way, each bar retains the glycerin that is naturally produced in the soap making process.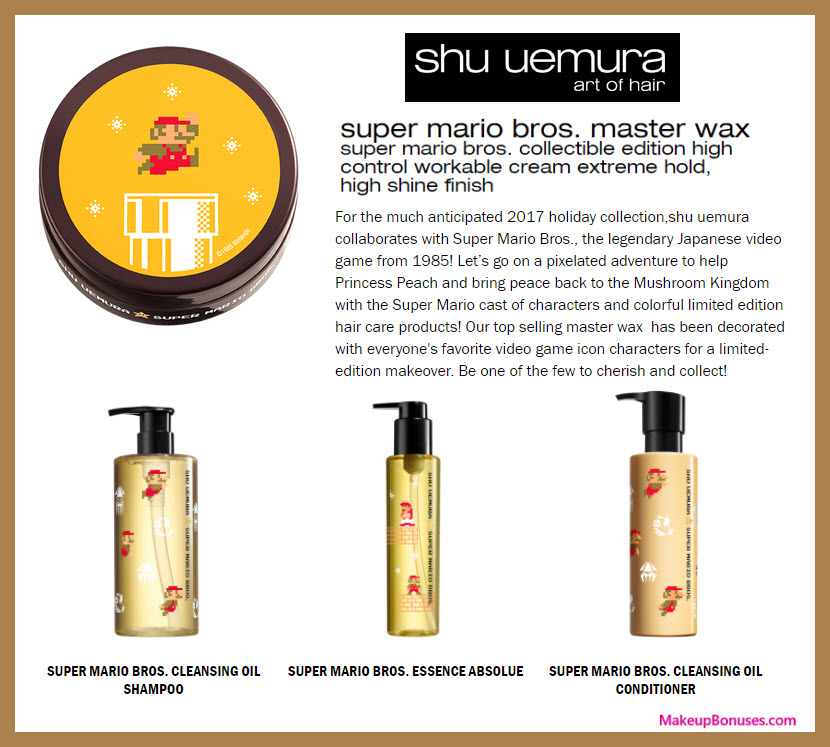 For the much anticipated 2017 holiday collection, shu uemura collaborates with Super Mario Bros., the legendary Japanese video game from 1985! Let's go on a pixelated adventure to help Princess Peach and bring peace back to the Mushroom Kingdom with the Super Mario cast of characters and colorful limited edition hair care products! Our top selling master wax has been decorated with everyone's favorite video game icon characters for a limited-edition makeover. Be one of the few to cherish and collect!
CREATE YOUR MASTERPIECE: Cream to wax formula that offers powerful high hold styling with a high shine finish. The innovative texture allows for styling simplicity; easy to work and rework through the hair to achieve multiple styles and looks. Never stiff or greasy. Suitable for all hair types
Click to browse STORE offers at Shu Uemura Art of Hair or to browse recent BRAND offers from Shu Uemura Art of Hair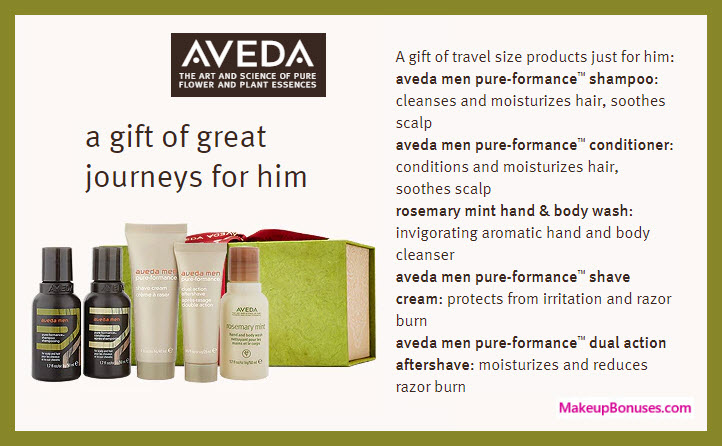 a gift of great journeys for him – $36 (value $45) at Aveda
A gift of travel size products filled with two favorite aromas among men (aveda men pure-formance™ aroma with certified organic spearmint, vetiver, lavender and other pure flower and plant essences & rosemary mint aroma with certified organic rosemary and peppermint with other pure flower and plant essences):
aveda men pure-formance™ shampoo: cleanses and moisturizes hair, soothes scalp
aveda men pure-formance™ conditioner: conditions and moisturizes hair, soothes scalp
rosemary mint hand & body wash: invigorating aromatic hand and body cleanser
aveda men pure-formance™ shave cream: protects from irritation and razor burn
aveda men pure-formance™ dual action aftershave: moisturizes and reduces razor burn
Click to browse STORE offers at Aveda or to browse recent BRAND offers from Aveda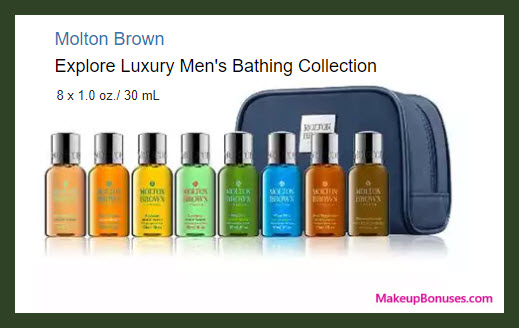 Explore Luxury Men's Bathing Collection – $35 at Neiman Marcus
LONDON VIA THE WORLD Let him explore our body wash icons. With ingredients sourced from across the globe, introduce him to his new favorites, packed in a handy bag. Bold. Bright. Adventurous. Set Includes:
Japanese Orange Body Wash
Suma Ginseng Body Wash
Bushukan Body Wash
Eucalyptus Body Wash
Silver Birch Body Wash
Water Mint Body Wash
Black Peppercorn Body Wash
Click to browse STORE offers at Neiman Marcus or to browse recent BRAND offers from Molton Brown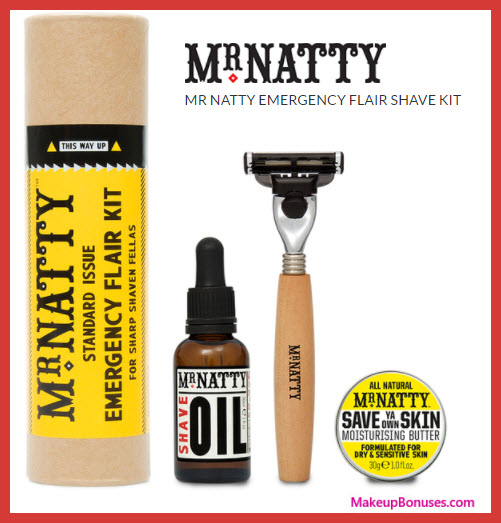 MR NATTY EMERGENCY FLAIR SHAVE KIT – $33 at SkinStore.com
Mr Natty's Emergency Flair Shave Kit combines everything you need to achieve a sleek, beardless look. Featuring a razor, shave oil and a 100% natural moisturizer; hirsute guys, prepare to be softened, smoothed and conditioned. Housed in flare-inspired, cylindrical packaging. The Set Contains:
Razor: A sleek razor with beechwood handle and removable blades. Simply replace the blades and use over and over again.
Shave Oil (30ml): A lightweight formula that allows your razor to glide effortlessly over skin with minimised friction, for a clean, comfortable shave. Infused with a blend of Peppermint, Olive and Bergamot, the scented oil soothes, protects and hydrates skin, whilst softening facial hair to prepare for a smooth shave. Prevents nicks and burns and leaves you feeling revitalised all day long.
Save Ya Own Skin Moisturizer (30g): Utilising 100% natural ingredients (so it's safe for sensitive skin), the hydrating moisturizer combines shea butter with olive oil and beeswax (a natural anti-allergenic) to nourish, soothe and relieve itchy, dry skin. Its anti-inflammatory properties help calm nicks after shaving and leave skin feeling soft, moisturized and conditioned. Infused with patchouli and bergamot oil to create a zesty, oody scent.
Click to browse STORE offers at SkinStore.com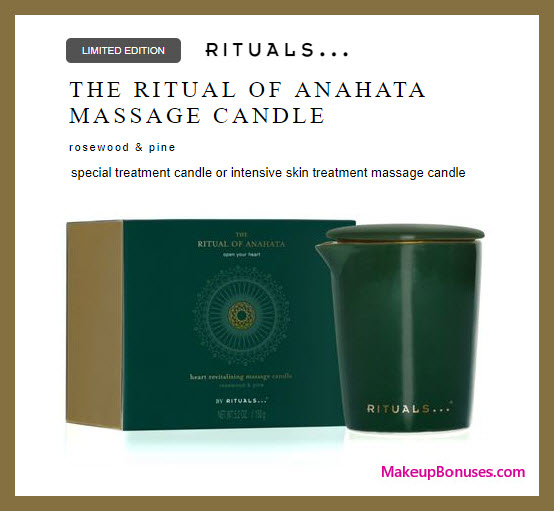 RITUAL OF ANAHATA MASSAGE CANDLE – $29 at Rituals

 

(sold out online – scroll down for additional Massage Candle)
Nourishing, moisturising massage candle which helps to open your heart and relax body and mind
A relaxing and soothing massage candle which contains wonderful ingredients and essential oils to treat dry, stressed skin in need of extra nourishment and care
Rosewood is well known for its beautiful smell and calming properties while Pine helps to reduce stress levels and is an excellent mood elevator
Enjoy a moment of love and relaxation with this special treatment candle
Instructions for use:

Light the candle for 15-20 minutes allowing it to form enough oil
Blow out and let the oil cool down for 2 minutes
The oil is ready to use and warmed up to the perfect temperature for application to the skin
Click to browse STORE offers at Rituals or to browse recent BRAND offers from Rituals
Bonny Doon Farm Hand Salve & Soap – $23 at Beautyhabit
Made entirely by hand in small batches with pure natural oils spruce with – pure first cold pressed extra virgin olive oils, confectioners grade coconut oil, and the farm's own deep well water.
Soap of the Lodge: Double tissue wrapped, labeled with art by renowned illustrator Maryjo Koch. The best! 1.5oz $6
Lodge Salve: Opening the container is like you are entering an evergreen forest. Take it with you on that next day hike. 4oz $17
Click to browse STORE offers at Beautyhabit
Bourbon Scented Afterglow Massage Candle – $18 at Amazon
Proprietary Formulation – Includes Jojoba, Shea Butter, Vitamin E, Soy and Aloe
Body-Safe and Paraben-Free – No phthalates, sulfates, petrochemicals, animal products or animal testing
Multi-Use – For scent, illumination, massage and skincare
Perfect Melting Point – Liquefies into a luxuriant massage oil at body temperature
Burn Time – Up to 32 hours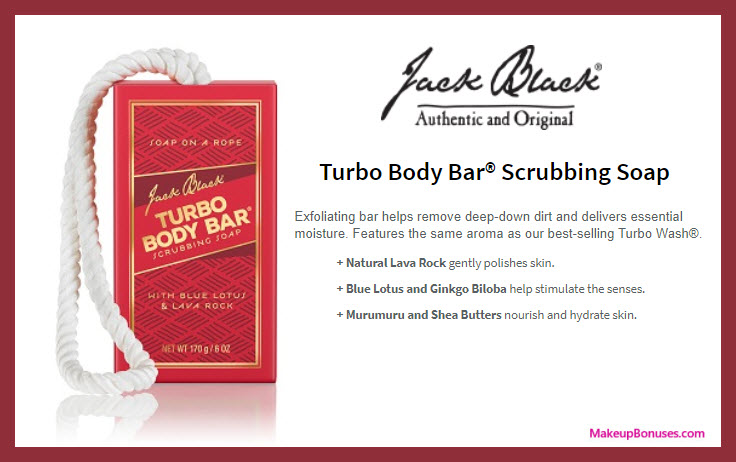 Turbo Body Bar® Scrubbing Soap – $15 at Jack Black
Exfoliating Turbo Body Bar® Scrubbing Soap helps remove deep-down dirt and delivers essential moisture. Features the same aroma as our best-selling Turbo Wash®.
Natural Lava Rock gently polishes skin
Blue Lotus and Ginkgo Biloba help stimulate the senses
Murumuru and Shea Butters nourish and hydrate skin
Click to browse STORE offers at Jack Black or to browse recent BRAND offers from Jack Black
Limited Edition Body Scrub Soap Bar – $12 at Kiehl's
This limited-edition indulgent bar soap effectively cleanses while gently exfoliating to remove dead skin cells leaving skin velvety smooth. Available in three customer-favorite scents:
Gently Exfoliating Body Scrub Soap (5oz) in:

Lavender
Coriander
Grapefruit
Click to browse STORE offers at Kiehl's or to browse recent BRAND offers from Kiehl's
Shower Shock Caffeinated Soap – $6.99 at Think Geek
MORNINGS HAVE NEVER BEEN SO INVIGORATING! Tired of waking up and having to wait for your morning java to brew? Introducing Shower Shock, the original and world's first caffeinated soap.
Shower Shock is an all vegetable based glycerine soap which does *not* contain any harsh ingredients like ethanol, diethanolamine, polyethylene glycol or cocyl isethionate. It's a gently invigorating soap, scented with peppermint oil and infused with caffeine anhydrous. Each bar of Shower Shock contains approximately 12 servings/showers per 4 ounce bar with 200 milligrams of caffeine per serving.
Vegetable-based glycerine soap with caffeine
Smells like delicious peppermint
Wake up before you've had your first cup of coffee
See more beauty & grooming themed gift ideas:
#christmas2017   #holidaygifts2017