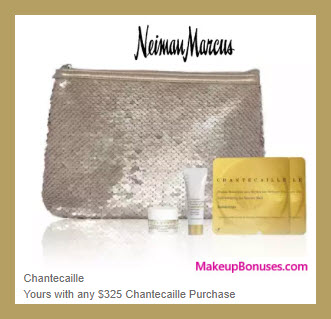 2 Gold Energizing Eye Recovery Mask 0.17 fl. oz
Nano Gold Energizing Eye Cream 3 ml
Nano Gold Energizing Face Cream 5 ml
Sequin pouch

Chantecaille is a Cruelty Free brand.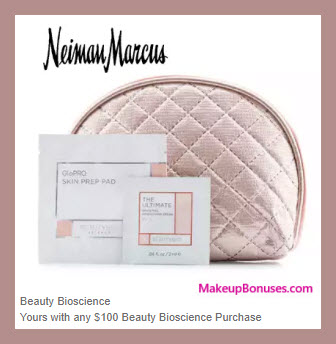 Beauty Bioscience Cosmetic Bag
GloPRO® Skin Prep Pad Packette
THE ULTIMATE Hydrating Hypervitamin Cream Packette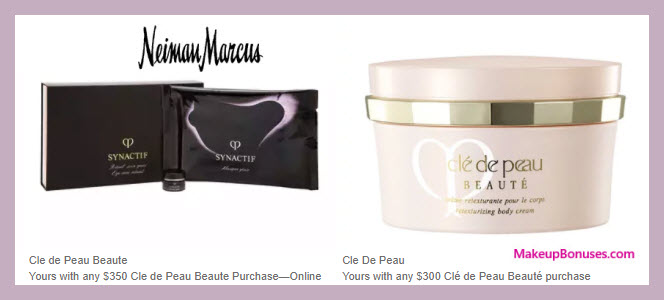 with $300:
with $350 add: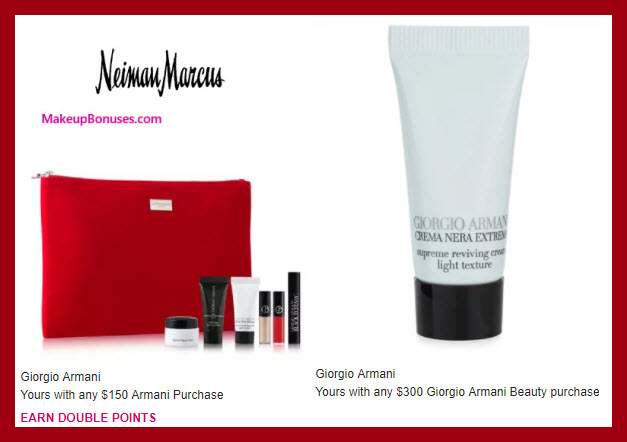 Cosmetic Bag
Mini Eye Tint #12
Mini Crema Nera Eye Cream
Mini Crema Nera Extrema Crème Legere, 5 mL
Mini Ecstasy Lacquer #402
Mini Black Ecstasy, 2 mL
with $300 add:

Crema Nera Extrema Light Cream, 15 mL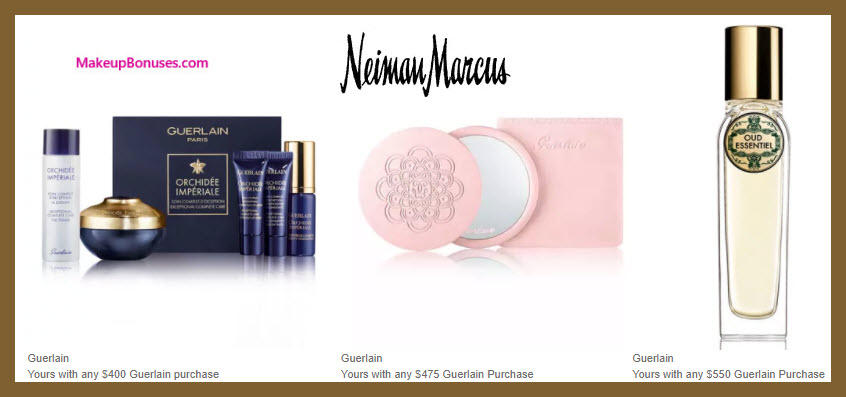 Orchidée Impériale Toner, 0.5 oz.
Mini Orchidée Impériale Cream, 0.2 oz.
Orchidée Impériale Eyes & Lips Cream, 0.07 oz.
Orchidée Impériale Rich Cream, 0.1 oz.
Orchidée Impériale Serum, 0.17 oz.
With $475 add:
with $550 add:
The Moisturizing Soft Cream
The Cleansing Micellar Water
The Intensive Revitalizing Mask
The Illuminating Eye Gel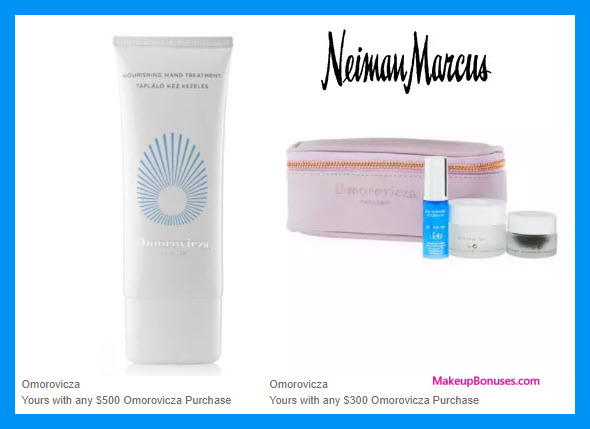 bag
Firming Neck Cream, 15 ml
Thermal Cleansing Balm, 5 ml
Blue Diamond Concentrate, 5 ml
With your $500 Omorovicza purchase, ADD:

Nourishing Hand treatment, 100 ml
B21 Extraordiniare Crème Jeunesse Absolue trial size, 7.5 ml
B21 Extraordiniare Youth Reset 7.5ml, B21 Lotion Extraordiniare, 15 ml
B21 Extraordiniare Absolute Youth Eye Sample, 1 ml
Orlane logo cosmetic bag
With your $450 SK-II purchase, receive a free 11-piece gift: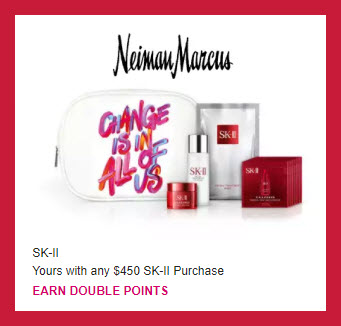 Change is in All of Us Cosmetic Bag
RNA Cream Sample
7 RNA Essence Samples
Facial Treatment Mask
Facial Treatment Essence, 1.0 oz./ 30 mL
Currently (while supplies last) at Neiman Marcus:
With your $350 Sulwhasoo purchase, receive a free 5-piece gift:
First Care Activating Serum (0.27 oz.)
Essential Balancing Water EX (0.5 oz.)
Essential Balancing Emulsion EX (0.5 oz.)
Concentrated Ginseng Renewing Cream EX (0.16 oz.)
Capsulized Ginseng Fortifying Serum (0.27 oz.)
With your $550 Sulwhasoo purchase

, ADD:
With your $175 Yves Saint Laurent purchase, receive a free 7-piece gift:
Red Embossed Cosmetic Pouch
Mini Rouge Pur Couture 19
Touche Eclat 3 Shade Card
Forever Youth liberator Y-Shape Concentrate, 5mL
Forever Youth liberator Serum Yeux, 1 mL
Mascara Volume Effet Faux Cils, 2 mL
Mini Powder Brush
Neiman Marcus offers Free Shipping on all purchases. Neiman Marcus offers ShopRunner 2-day Shipping on select items for ShopRunner members. Neiman Marcus offers Free Returns on all purchases.
*** Visit TODAY'S CURRENT OFFERS page for CURRENT LIST of ALL OFFERS ***