Now through 6/30/2018, receive a free skincare sample from Dermalogica. 
For over 25 years, Dermalogica has been turning heads with the products, education and treatments that deliver your best skin ever. It starts with cruelty free, award-winning products formulated free of ingredients known to cause skin sensitization. It results in a lifetime of skin health. See below for details on how to request this generous free 7-day dermalogica skincare sample.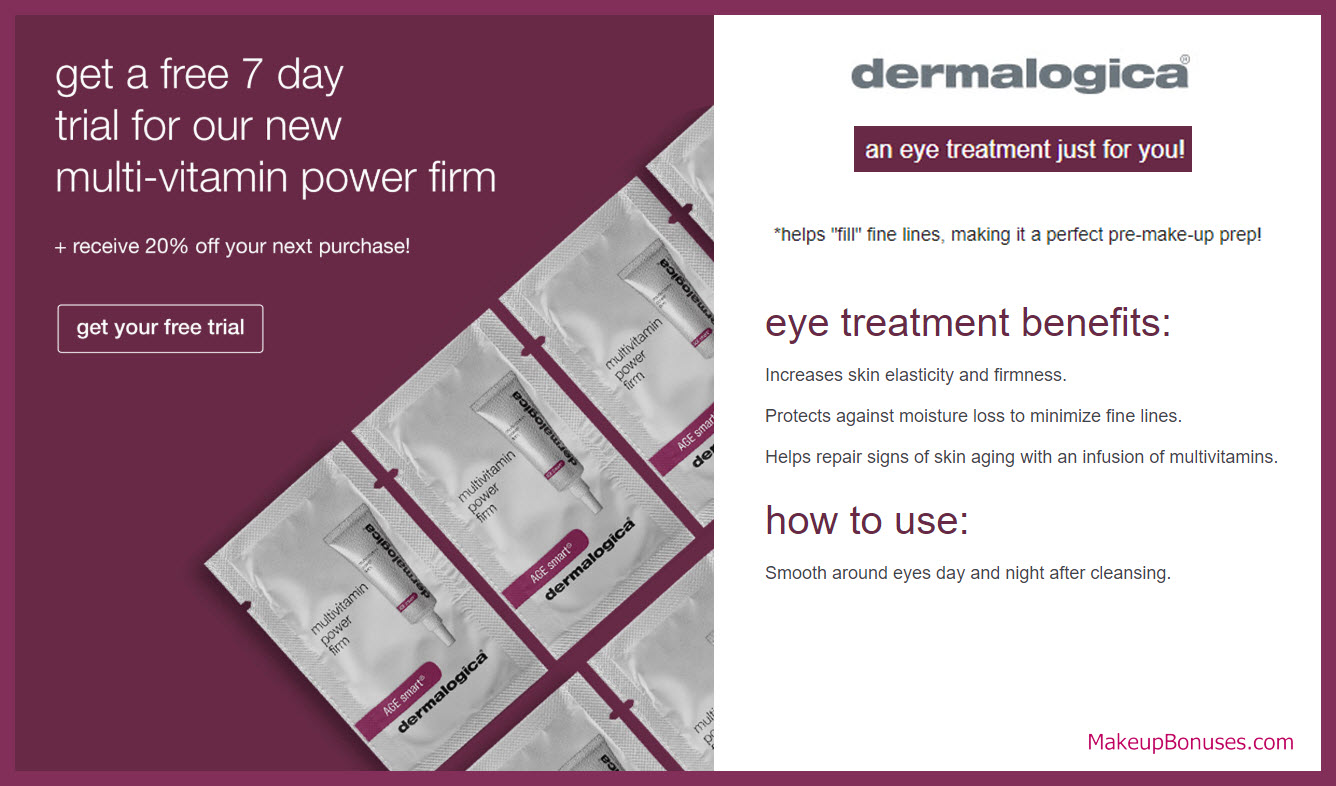 Dermalogica is giving away free samples of Multivitamin Power Firm (7 foil samples). This eye treatment provides benefits including an increase in skin elasticity and firmness, protection against moisture loss to minimize fine lines, and helps repair signs of skin aging with an infusion of multivitamins. This treatment helps "fill" fine lines, making it a perfect pre-make-up prep! Simply smooth around eyes day and night after cleansing.
No purchase required plus shipping is free!
Complete the online sample request form with your mailing address details

Open to residents of the United states who are 18 years of age or older
Please allow up to 3 weeks from date of entry for shipping and handling

Offer is vaild through 6/30/2018 (or while supplies last)
Browse more promotional offers from Dermalogica (the brand) or at Dermalogica (the store).
***Explore more FREE BEAUTY on MakeupBonuses.com ***
***Visit TODAY'S CURRENT OFFERS page for a CURRENT LIST OF ALL BEAUTY OFFERS ***
*** UPDATE ***
The samples and coupon arrived on 6/19/2018 – about 2.5 weeks after they were requested. These dermalogica multivitamin power firm samples may be one of my new favorites! The product goes on smoothly, smells like Vitamin C powder (slightly citrus) and feels so luxurious on the eye area! The sample packettes hold enough product for 3-4 uses each! Here's a photo of what I received:
Make sure to request your freebie while supplies last!