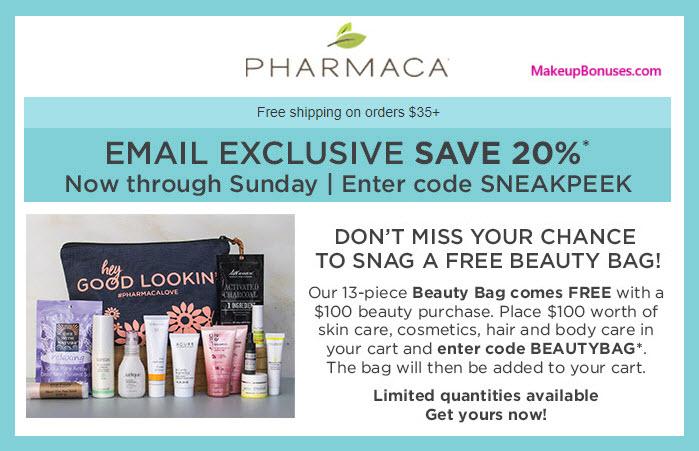 bag + 12 beauty samples
PLUS, choose 2 samples at checkout from:

Aura Cacia Organic Argan Oil 3ml
Aura Cacia Organic Rosehip Oil 3ml
Boiron Camilia Teething Relief 5 doses
Desert Essence Anti-Breakage Shampoo & Conditioner 7ml
Don't See a That Catches Your Eye? Let Us Surprise You!
Dr. Mercola Magnesium L-Threonate 12 capsules
Eminence Citrus Exfoliating Wash 3ml
Goddess Garden Everyday Sunscreen SPF 30 6ml
Goddess Garden Face the Day Sunscreen & Firming Primer SPF 30 3g
Goddess Garden Sport Sunscreen SPF 30 6ml
Goddess Garden Under the Sun Hydrating Vitamin Serum 3ml
Himalaya MindCare 8 vcaps
MDSolarSciences Kid Creme Mineral Sunscreen SPF 40 1.5g
MDSolarSciences MD Creme Mineral Beauty Balm SPF 50 – Light/Medium 1.5g
MDSolarSciences MD Creme Mineral Beauty Balm SPF 50 – Medium/Dark 1.5g
MDSolarSciences Mineral Moisture Defense SPF 50 1.5g
MDSolarSciences Mineral Tinted Creme SPF 30 1.5g
MegaFood Daily Turmeric Nutrient Powder Boost 1.97g
Motherlove Nipple Cream 1.8ml
MyChelle Bio-Firm Hydrogel Concentrate 0.5ml
MyChelle Fruit Enzyme Cleanser 3.5ml
MyChelle Perfect C PRO Serum 25% 1.2ml
MyChelle Remarkable Retinal Night Cream 0.9ml
MyChelle Ultra Hyaluronic Hydrating Serum 1.2ml
Mystery Beauty & Skin Care
Mystery Sanitas sample
Mystery Vitamins & Supplements
Nubian Heritage African Black Soap Body Lotion 15ml
Paula's Choice Skin Perfecting 2% BHA Liquid Exfoliant 3ml
Skin Authority Vitamin A Cell Renewal 1ml
Trilogy Active Enzyme Cleansing Cream 2ml
Weleda Almond Soothing Facial Lotion 7ml
Weleda Stretch Mark Massage Oil 10ml
Pharmaca offers Free Shipping on purchases of $35 or more.
*** Visit TODAY'S CURRENT OFFERS page for CURRENT LIST of ALL OFFERS ***