Hair Happy Hour is back at Ulta in July!! Mark your calendar for the next 3 Friday afternoons (7/6/2018, 7/13/2018, and 7/20/2018) from 4pm – 8pm to receive free dry hair styles! With this service, you will also receive 3 free products to take home! No purchase is necessary.
No appointments are available, and the services are provided on a first-come, first serve basis.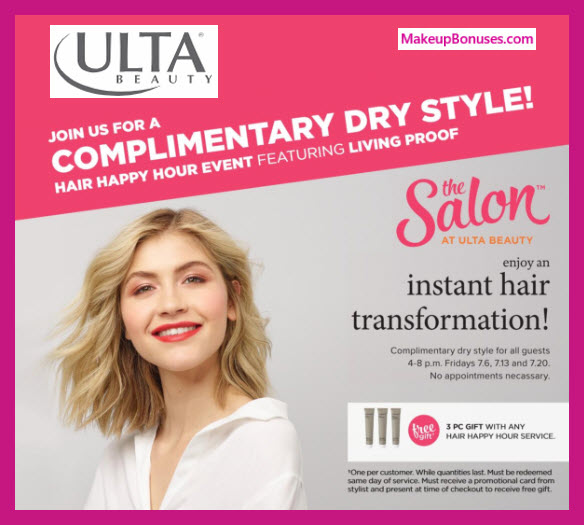 Ulta is giving away free hair styles plus a FREE 3-piece gift with participation in the event.
No purchase required – view the online ad for more details
Complementary dry hair style!

First-come, first-served (no appointments)
Offer is vaild on 7/6, 7/13, and 7/20 (next 3 Fridays)
4 pm – 8 pm only
Note that these services will not be offered in the salon
Mark your calendar now!
Call to confirm availabilty at your local ULTA

Browse more promotional offers at ULTA (the store)
***Explore more FREE BEAUTY on MakeupBonuses.com ***
***Visit TODAY'S CURRENT OFFERS page for a CURRENT LIST OF ALL BEAUTY OFFERS ***