While supplies last, receive a free Pure-Clay Mask / Skincare sample from L'Oreal. See below for details on how to request this free skincare sample.
L'Oreal is giving away free samples of L'Oreal Paris Pure Clay Clarify & Smooth Face Mask loaded with 3 pure clays and Yuzu lemon. Draw out the build-up of impurities, dirt, pollution and shed rough, dead skin cells. L'Oréal Paris Skin Experts created a range of clay-mud masks to beautify your skin in minutes. Each mask is powered by 3 different clays in their pure form. Formulated in indulgent creamy textures that turn your mask into a multi-sensorial experience with every use. Daily wear and tear – makeup and improper care – can leave skin uneven with roughness and imperfections. Often times a cleanser isn't enough to solve this problem. Pure Clay Face Mask Clarify & Smooth addresses your skin concerns for smooth, even and resurfaced skin. Pure Clay Face Mask Yuzu Lemon Mask is formulated with 3 pure clays: Kaolin Clay, Montmorillonite Clay and Moroccan Lava Clay plus it is enhanced with Yuzu Lemon extract to clarify & smooth skin. Suitable for all skin types.
No purchase required plus shipping is free!
Complete the online sample request form with your mailing address details

Your mailing address (USA only)
Date of birth (must be 18 years old)

USA addresses only
Act fast as offer is only available while supplies last
Be sure to share with your friends so that they can also receive this great free skincare sample!
Browse more promotional offers from L'Oreal (the brand).
UPDATE: This sample was received 5.5 weeks after submitting the request. It's a single-use sample on card, plus it includes a $2 off coupon for purchase. Photo includes quarter for scale.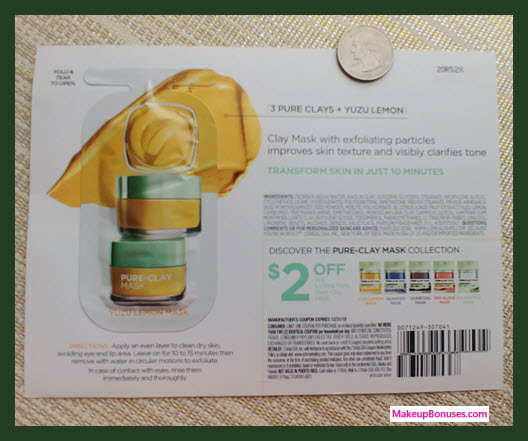 ***Explore more FREE BEAUTY on MakeupBonuses.com ***
***Visit TODAY'S CURRENT OFFERS page for a CURRENT LIST OF ALL BEAUTY OFFERS ***