While supplies last, receive a free African Black Soap Mud Mask sample from SheaMoisture. SheaMoisture produces natural, organic, sustainably-produced goodness that are made with love for you and your body. Pioneering fair trade through Community Commerce at home and abroad, they also strive to be sulfate free, paraben free and more, whenever possible. Tested on family for four generations. Never on animals. 10% of SheaMoisture Community Commerce sales go to women-led businesses, to support communities that supply ingredients for our products, or to support The Sofi Tucker Foundation.
See below for details on how to request this free African Black Soap Mud Mask sample.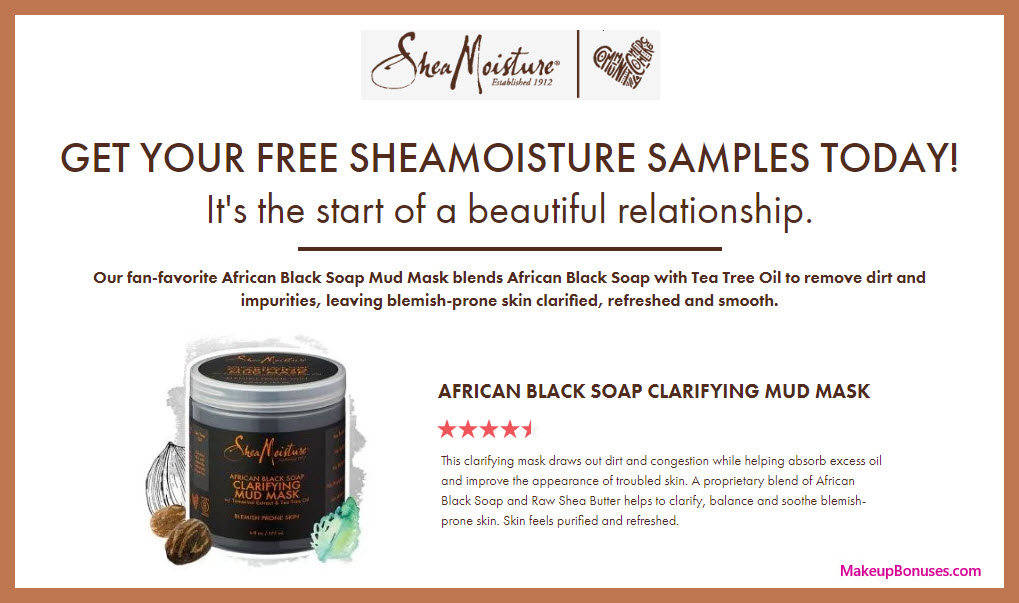 Get your SheaMoisture free sample of fan-favorite African Black Soap Mud Mask. This mask's proprietary blend combines African Black Soap and Raw Shea Butter with Tea Tree Oil to remove dirt and impurities, leaving blemish-prone skin clarified, refreshed and smooth.
Browse more promotional offers from SheaMoisture (the brand) or at SheaMoisture (the store).
***Explore more FREE BEAUTY on MakeupBonuses.com ***
***Visit TODAY'S CURRENT OFFERS page for a CURRENT LIST OF ALL BEAUTY OFFERS ***