For a limited time, receive 45 free credits / 1 month of free ClassPass membership from ClassPass! Find your ideal way to stay fit with a new class or a new fitness studio.
ClassPass is a monthly fitness membership that gives you access to thousands of different classes at studios and gyms in any of many ClassPass cities. Book classes ranging from yoga to barre to pilates to cycling to martial arts – the options are endless! See below for details on how to request your free 45 credits / 1 month ClassPass membership.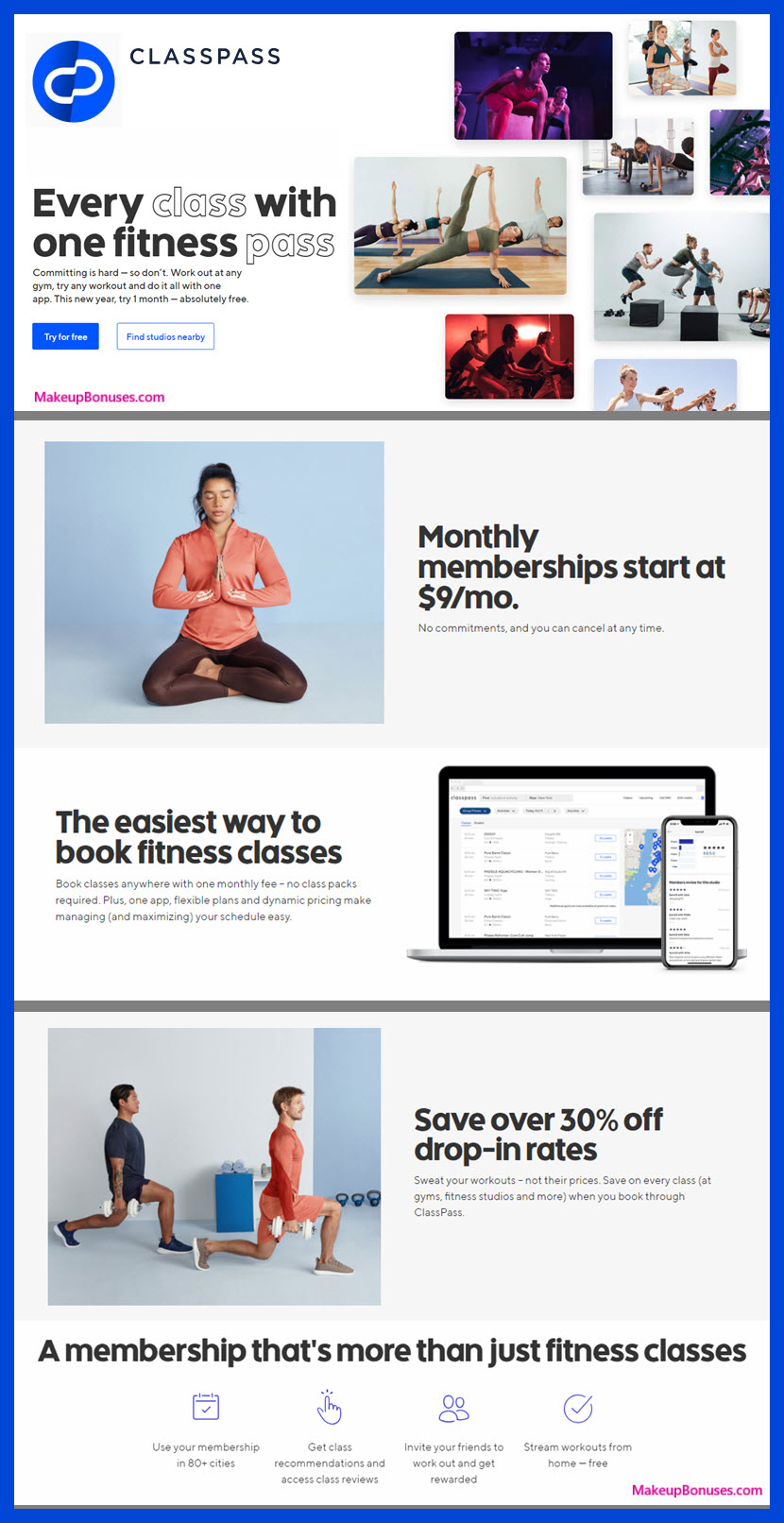 ClassPass is giving away free trials of their monthly fitness membership. Discover the best workouts around, search gyms and studios near you, then book a spot and get moving. Try a new workout routine, on the house! Choose from a variety of workouts including: Yoga, Cycling, Barre, Pilates, Strength Training, Dance, Martial Arts, Boxing, Rowing, Gym Time, Outdoors, Running, Sports, & more!
No purchase required!
Get a month free (45 credits) to take up to 8 classes
Cancel anytime – the trial is completely free but note that you will be enrolled in the recurring subscription plan ($79 / month)
You may cancel anytime or switch to other plans which range in cost / benefits:

$49 for 27 credits (3-4 classes)
$79 for 45 credits (5-8 classes)
$139 for 85 credits (10-15 classes)
$94 for 45 credits (5-8 classes + YouFit)
$154 for 85 credits (10-15 classes + YouFit)

Complete the online signup form with your personal details

Credit card required
Phone number required (must validate new accounts with 4-digit code sent to mobile phone)

Act fast as offer is only available for a limited time / may be pulled at any time
NOTE that this offer is for one FREE month of service but that there is a recurring monthly charge if the subscription is not cancelled before the end of the free trial month
***Explore more FREE BEAUTY on MakeupBonuses.com ***
***Visit TODAY'S CURRENT OFFERS page for a CURRENT LIST OF ALL BEAUTY OFFERS ***