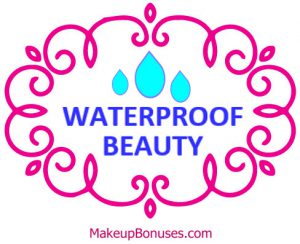 Whether you're enjoying a day at the beach, heading to Spring Break, or hoping to look fresh in humidity, these waterproof and water-resistant beauty picks will keep you looking fresh through everything!
Click below to jump ahead
to specific product types:
EYES: Brows, EYES: Eye Liners, EYES: Eye Shadows & Bases, EYES: Mascaras, EYES: Mascara Topcoats, FACE: Blushes & Bronzers, FACE: Concealers, FACE: Foundations & BB Creams, FACE: Highlighters, FACE: Moisturizers, FACE: Sunscreens, FACE: Setting Powders, Setting Sprays, & Sealants, LIPS: Lip Liners & Colors, and CLEANSERS: Makeup Removers.

EYES: Waterproof Brows
Anastasia Beverly Hills Dipbrow Pomade (11 shades) $18
Bobbi Brown Waterproof Brow Shaper $28
Cargo Cosmetics Swimmables Longwear Brow Pencil $20 cruelty free
CHANEL Stylo Sourcils Waterproof Defining Longwear Eyebrow Pencil $33
Chantecaille Waterproof Brow Definer $36 cruelty free
IT Cosmetics Brow Power Waterproof $24
IT Cosmetics BUILD-A-BROW™Waterproof 5-in-1 Crème Gel Stain $24
Jane Iredale Retractable Brow Pencil $22
Kat Von D Signature Brow Precision Pencil $20 cruelty free & vegan
Kevyn Aucoin The Brow Gel Pencil $28
Lancôme Sourcils Gel Waterproof Eyebrow Gel-Cream $24
MAC Cosmetics Pro Longwear Waterproof Brow Set $18
Milk Makeup Gel Brow $18 cruelty free
Smashbox Brow Tech To Go $28
Stila Stay All Day Waterproof Brow Color $21
Tarte Amazonian clay waterproof brow mousse $29 vegan
Tarte Amazonian clay waterproof brow pencil $21 vegan
Thrive Causemetics Infininty Waterproof Eyebrow Liner $23 cruelty free & vegan
EYES: Waterproof Eye Liners
Anastasia Beverly Hills Darkside Waterproof Gel Liner $18
Antonym Cosmetics Certified Natural Eye Pencil Brown $19
Benefit Cosmetics They're Real Push-Up Liner $24
Benefit Cosmetics BADgal Waterproof Eyeliner $20
Blinc Life Proof Eyeliner Pencil $22
Bobbi Brown Long-Wear Waterproof Liner $32
Bronx Colors Urban Line Beauty Stamp & Eyeliner $12
Burberry Effortless Kohl Eyeliner $29

Cargo Swimmables Eye Liners

Cargo Cosmetics Swimmables Eye Pencil $18 cruelty free
Cargo Cosmetics Swimmables Eye Pencil Kit (4 shades) $25 cruelty free
CHANEL Stylo Yeux Waterproof Long-Lasting Eyeliner $33
Chantecaille 24 Hours Waterproof Eye Liner $27 cruelty free
Charlotte Tilbury 'Rock 'n' Kohl' Iconic Liquid Eye Pencil $27
Cherry Blo oms Extreme Waterproof Liquid Eyeliner $25
CLARINS waterproof eye pencil $26.50
Dior Crayon Eyeliner – Waterproof $30
Dior Waterproof Pro Liner $33
ESTÉE LAUDER doublewear infinite waterproof eyeliner $25
EYEKO eye do liquid eyeliner $22
EYEKO sport waterproof eyeliner $22
Giorgio Armani Beauty Waterproof Smooth Silk Eye Pencil $30
GIVENCHY Khol Couture Waterproof Retractable Eyeliner $27
GUERLAIN La Petite Robe Noire Roll'Ink Eyeliner $32 unique roll-on liner
HOURGLASS Voyeur Waterproof Liquid Liner $34
Inglot AMC Eyeliner Gel $15
IT Cosmetics Liner Love™ Waterproof Anti-Aging Crème Gel Eyeliner with No-Tug™ Technology and Lash Enhancing Peptide Serum $24
IT Cosmetics No-Tug™ Waterproof Anti-Aging Gel Eyeliner Waterproof Automatic Pencil $22
Jillian Dempsey Khol Eyeliner $20
Kat Von D Ink Liner $20 cruelty free
Kevyn Aucoin The Precision Eye Definer $32
Lancôme Le Stylo Waterproof Eyeliner (31 shades!) $27
Laura Geller I-Care Waterproof Eyeliner (19 shades) $20
LORAC 'Front of the Line PRO' Eye Pencil $20 
MAC Cosmetics Chromaline $21
Marc Jacobs Beauty Magic Marc'er Precision Pen Waterproof Liquid Eyeliner $30
MAKE UP FOR EVER Aqua XL Eye Pencil Waterproof Eyeliner (20 shades!) $21
Mineral Fusion Waterproof Mascara $19
Pixi by Petra Eye Define Waterline $14
Pretty Vulgar Writing on the Wall Eyeliner Pencil $22
Sisley Paris Phyto Kohl Star Sparkling Waterproof Stylo Liner $55
Smashbox Always Sharp Waterproof Kohl Eyeliner $21 cruelty free
Smashbox Jet Set Waterproof Eye Liner $22 cruelty free
Smashbox Limitless Liquid Liner $22 cruelty free
Smith & Cult B-Line Eye Pen $26
Stila Stay All Day Waterproof Liquid Eye Liner $22
Stila Smudge Stick Waterproof Eye Liner $22
Tarte sex kitten eyeliner $20 vegan
Tarte Clay Pot Waterproof Liner (multi-tasker doubles as shadow) $21 vegan
Tarte Clay Pot Waterproof Shadow Liner $21 vegan
Too Faced Sketch Marker Liquid Art Eyeliner $20
Urban Decay Perversion Waterproof Fine-Point Eyeliner $22
Yves Saint Laurent Dessin Du Regard Waterproof High Impact 16-Hour Wear Color Eye Pencil $30
EYES: Waterproof Eye Shadows & Bases
Anastasia Beverly Hills Waterproof Creme Color $18
BH Cosmetics Eyelights – Waterproof Eye Toppers $8 cruelty free & vegan
BURBERRY Eye Colour Contour Smoke & Sculpt Pen $29.50
By Terry Stylo Blackstar (multi-tasker 3-in-1 eyeshadow, eyeliner or eye contour stick) $30
Cargo Cosmetics Swimmables Longwear Eye Shadow Stick $20 cruelty free
Eyeko 'Me & My Shadow' Waterproof Eyeshadow & Eyeliner (multi-tasker is both Shadow + Liner) $25
GIVENCHY Ombre Couture Cream Eyeshadow $26
Lancôme Aquatique Waterproof Eyecolour Base $27
MAKE UP FOR EVER Aqua Black Waterproof Cream Eye Shadow $23
Sisley Paris Phyto-Eye Twist All in One Eyeshadow, Pencil & Eyeliner $50
SKINN "DON'T BUDGE" Waterproof Cream EYEshadows $32
EYES: Waterproof Mascaras
bareMinerals Flawless Definition Waterproof Lengthening Mascara $19
Benefit Cosmetics BADgal Waterproof Mascara $19
Blinc Water-Resistant Mascara $26
BUXOM Lash Waterproof Mascara $20
BY TERRY mascara terrybly waterproof $48
Cargo Cosmetics Swimmables Waterproof Mascara Top Coat $22 cruelty free
CHANEL Inimitable Waterproof Mascara Volume Length Curl Separation $32
CHANEL Le Volume De Chanel Waterproof Mascara $32
Clinique High Impact Waterproof Mascara $18
Clinique Lash Power Mascara Long-Wearing Formula $18
ESTÉE LAUDER pure color envy lash waterproof multi effects mascara $28
ESTÉE LAUDER sumptuous extreme waterproof lash multiplying volume mascara $27.50
EYEKO sport waterproof mascara $26
EYEKO yoga waterproof mascara $26
GUERLAIN cils d'enfer' waterproof mascara $32
IT Cosmetics Tightline™ Waterproof 3-in-1 Black Primer – Eyeliner – Mascara $24
Lancôme Monseiur Big Waterproof Mascara $25
Lancôme Grandiose Waterproof $32
Lancôme Definicils Waterproof $27.50
Lancôme Hypnose Drama Waterproof $27.50
Lancôme Hypnose Waterproof $27.50
MAC Cosmetics False Lashes Waterproof Mascara $23
MAC Cosmetics In Extreme Dimension Waterproof Mascara $23
MAKE UP FOR EVER Aqua Smoky Extravagant Waterproof Mascara $24
NYX Professional Makeup Doll Eye Mascara $9.50
Shiseido Full Lash Multi-Dimension Waterproof Macara $27
Smashbox Full Exposure Waterproof Mascara $23 cruelty free
Tarte lights, camera, splashes™ waterproof mascara $23 vegan
TOM FORD Waterproof Extreme Mascara $45
Too Faced Better Than Sex Waterproof Mascara $23
Yves Saint Laurent Beaute Volume Effet Faux Cils Waterproof $32
EYES: Waterproof Mascara Topcoats
Cargo Cosmetics Swimmables Waterproof Mascara Top Coat $22 cruelty free
CLARINS double fix mascara double fix mascara waterproof topcoat $25
NYX Professional Makeup Proof It! Waterproof Mascara Top Coat $7
FACE: Waterproof Blushes & Bronzers
BECCA Beach Tint water-resistant $25 cruelty free
Cargo Cosmetics Swimmables Water Resistant Blush $26 cruelty free
Cargo Cosmetics Swimmables Water Resistant Bronzer $29 cruelty free
IT Cosmetics Ombré Radiance Bronzer™ Anti-Aging Color Correcting Bronzing Veil $34
Kevyn Aucoin The Sculpting Contour Powder $44
Tarte Amazonian clay matte waterproof bronzer $30 vegan
Tarte Amazonian clay waterproof bronzer $30 vegan
FACE: Waterproof Concealers
bareMinerals BAREPRO 16-HR Full Coverage Concealer $24
Benefit Cosmetics Boi-ing Airbrush Concealer $20
Bobbi Brown Creamy Concealer $23
Clinique beyond perfecting™ super concealer camouflage + 24-hour wear $19.50
ESTÉE LAUDER double wear waterproof all day extreme wear concealer $28
IT Cosmetics Bye Bye Under Eye (Regular & Illumination™) Full Coverage Anti-Aging Waterproof Concealer $24
Kevyn Aucoin The Sensual Skin Enhancer (multi-tasker that can be used as concealer, all-over foundation, highlighter, contour, & body foundation!) $48
Lancôme Effacernes Waterproof Protective Undereye Concealer $31
Smashbox Studio Skin 24 Hour Waterproof Concealer $25 cruelty free
Tarte Maracuja Creaseless Concealer $26 vegan
Tarte Amazonian clay waterproof 12-hour concealer $25 vegan
Urban Decay All Nighter Waterproof Full-Coverage Concealer $29
FACE: Waterproof Foundations & BB Creams
Bronx Colors Waterproof Foundation $12.99
Cargo Cosmetics Swimmables Longwear Foundation $34
COLORESCIENCE Natural Finish Pressed Foundation SPF 20 $55 Water Resistant (80 min)
COOLA Organic Face SPF 30 Rosilliance BB+ Cream $52 Water Resistant (80 min) cruelty free
Cover FX Power Play Foundation $44
Hourglass Vanish Seamless Finish Foundation Stick $46
Lancôme Dual Finish Foundation $40
Lancôme Teint Idole Ultra 24H Long Wear Foundation $47
Laura Mercier Smooth Finish Foundation Powder $48 water-resistant
MAC Pro Longwear Nourishing Waterproof Foundation $35
MAKE UP FOR EVER Water Blend Face & Body Foundation $43
Shiseido Sports BB WetForce SPF 50+ $38
Smashbox Studio Skin 15 Hour Wear Hydrating Foundation $42 cruelty free
Tarte Amazonian Clay Full Coverage Airbrush Foundation $36 vegan
Tarte Double Duty Beauty Shape Tape Matte Foundation $39 vegan
Tom Ford Waterproof Foundation / Concealer $85
Urban Decay Full Coverage All Nighter Liquid Foundation $40
FACE: Waterproof Primers
COLORESCIENCE Perfector Face Primer SPF 20 (Brightening, Bronzing, Calming, or Mattifying formulas) $49 Water Resistant (40 min)
COOLA Daydream™ Mineral Primer SPF 30 $42 Water Resistant (40 min) cruelty free
COOLA Dawn Patrol™ Classic Makeup Primer SPF 30 $42 Water Resistant (40 min) cruelty free
Cover FX Mattifying Primer with Anti-Acne Treatment $38
FACE: Waterproof Highlighters
Kevyn Aucoin The Celestial Skin Liquid Lighting $52
FACE: Waterproof Moisturizers
COOLA Sport SPF 50 Fresh Mango Moisturizer $32 cruelty free
COOLA Mineral Face SPF 30 Matte Tint $36 Water Resistant (40 min) cruelty free
Jane Iredale Dream Tint® Tinted Moisturizer $41 Water Resistant (40 min)
Lancôme Bienfait UV SPF 50+ $39
FACE: Waterproof Setting Powders, Setting Sprays, & Sealants
FACE: Waterproof Sunscreens
LIPS: Waterproof Lip Liners & Colors
Beauty Bakerie Lip Whip $20
Cargo Cosmetics Swimmables Lip Pencil $18 cruelty free
Cargo Cosmetics Swimmables Longwear Matte Liquid Lipstick $18 cruelty free
Cle Cosmetics Melting Lip Powder $20
HUDA BEAUTY Lip Contour Matte Pencil $19
IT Cosmetics Your Lips But Better™ All-Day Waterproof Lip Liner Stain $20
Gerard Cosmetics Hydra Matte Liquid Lipstick $19
Givenchy Waterproof Lip Liner $29
Jouer Cosmetics Long-Wear Creme Lip Liner $16
Lancôme Le Lip Liner Waterproof Lip Liner with Brush $26
Laura Geller New York Pout Perfection Waterproof Lip Liner $18
Lipstick Queens Lip Liner $18
MAKE UP FOR EVER Aqua Lip Waterproof Lipliner Pencil $20
Pacifica Magical Multi-Pencil Prime & Line Lips Eyes & Face (multi-tasker works as natural eye liner, over blemishes as a primer before concealer, or on lips as liner & primer) $11 vegan
Pat McGrath PERMA PRECISION Liquid Eyeliner $28
RODIAL xxl lip liner $22
Stila Stay All Day® Lip Liner $20
Urban Decay Vice Liquid Lipstick $18
Urban Decay 24/7 Glide-On Lip Pencil $20
Winky Lux Kiss Proof Kits (Candy Kiss or Cherry Kiss) $17 cruelty free
CLEANSERS: Waterproof Makeup Removers
HAIR: Waterproof Color & Sealant
Color WOW Dream Coat Supernatural Sealant $28 pre-order
Transform damaging effects of color-treated hair into sleek, silky strands that you'll need to see to believe. The Dream Coat Supernatural Sealant is a ground-breaking sealant inspired by advanced textile technology featuring heat-activated polymers that work to compress, coat, and seal each strand with an invisible, waterproof cloak; restoring healthy shine and silky, smooth texture to processed hair. Weightless, non-greasy, no-residue formula, lasts up to 2-3 shampoos, Paraben free.
***
Found some great waterproof beauty options?
Now find a great deal!
Browse today's beauty offers either: