Now through 10/28 (or while supplies last) at Lancôme:
With your $85 Lancôme purchase & coupon code FLASH, receive this free 5-piece bonus gift: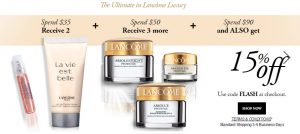 Tiered GWP and Discount:
spend $35 get 2 samples
spend $85 get 5 samples
spend $90 get 5 samples + 15% off

ABSOLUE PREMIUM BX SPF 15 DAY
Absolue Eye Premium βx 0.2 OZ
Absolue Premium Bx Night 0.5 oz
La Vie Est Belle Body Lotion 2 OZ
LA VIE EST BELLE
Lancôme offers Free Shipping on purchases of $49 or more. Lancôme offers Free Shipping for Auto-Replinish orders. Lancôme offers ShopRunner 2-day Shipping on select items for ShopRunner members.