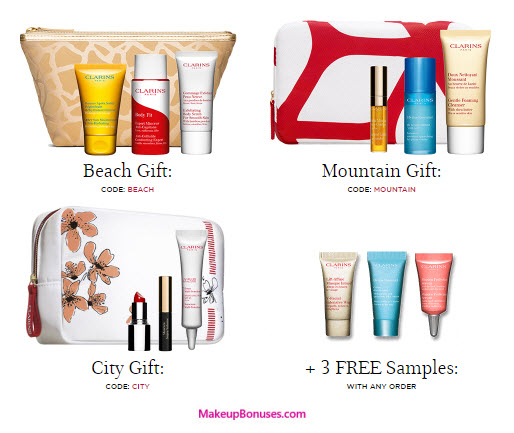 Beach Gift:

After Sun Moisturizer – Ultra Hydrating 1 Oz.
Body Fit Anti-Cellulite Contouring Expert 1 Oz.
Exfoliating Body Scrub for Smooth Skin 1 Oz.
Your Beach Pouch

Mountain Gift:

Instant Light Lip Comfort Oil – 01 Honey 0.09 Oz.
Hydra-Essentiel Bi-phase Serum Normal to Dry Skin 0.5 Oz.
Gentle Foaming Cleanser with Shea Butter – Dry or Sensitive Skin 0.5 Oz.
Your Mountain Pouch

City Gift:

Joli Rouge – Shade 742 0.05 Oz.
Supra Volume Mascara – 01 Black 0.1 Oz.
UV PLUS Anti-Pollution Sunscreen Multi-Protection Broad Spectrum SPF 50 0.3 Fl. Oz.
Your City Pouch

+ 3 SAMPLE CHOICES
Clarins offers Free Shipping on purchases of $75 or more. Clarins offers Free Shipping for Passport to Beauty (Ambassador Level) members.
*** Visit TODAY'S CURRENT OFFERS page for CURRENT LIST of ALL OFFERS ***