REPAIR:

Absolue Premium Bx Replenishing Cream (0.5 oz.)
Absolue Premium Bx Eye Cream (0.2 oz.)
Bi-Facil Double-Action Eye Makeup Remover (1.7 oz.)
Cils Booster XL Vitamin-Infused Mascara Primer (0.07 oz.)
Blush Subtil in Plum Charm (0.08 oz.)
Teint Idole Ultra Wear Camouflage Corrector in Peach (0.11 oz.)
Cosmetics Bag

HYDRATE:

Energie de Vie Moisturizing Cream (0.5 oz.)
Energie de Vie Eye Cream (0.2 oz.)
Bi-Facil Double-Action Eye Makeup Remover (1.7 oz.)
Cils Booster XL Vitamin-Infused Mascara Primer (0.07 oz.)
Blush Subtil in Miel Glace (0.08 oz.)
Teint Idole Ultra Wear Camouflage Corrector in Peach (0.11 oz.)
Cosmetics Bag

LIFT:

Rénergie Lift Multi-Action Moisturizer Cream (0.5 oz.)
Rénergie Lift Multi-Action Eye Cream (0.2 oz.)
Bi-Facil Double-Action Eye Makeup Remover (1.7 oz.)
Cils Booster XL Vitamin-Infused Mascara Primer (0.07 oz.)
Blush Subtil in Aplum (0.08 oz.)
Teint Idole Ultra Wear Camouflage Corrector in Peach (0.11 oz.)
Cosmetics Bag

with $70 add:

Advanced Génifique Serum (0.27 oz.)
Galatée Confort Comforting Milky Creme Cleanser (1.69 oz.)
Pure Empreinte Masque (1 oz.)
FIRM:

Benefiance Extra Creamy Cleansing Foam (1 oz.)
Ultimune Power Infusing Concentrate (0.33 oz.)
Bio-Performance LiftDynamic Serum (0.24 oz.)
Benefiance WrinkleResist24 Night Cream (0.33 oz.)
Benefiance WrinkleResist24 Intensive Eye Cream (0.17 oz.)
Cosmetics Bag

BRIGHT:

White Lucent Brightening Cleansing Foam (1 oz.)
Ultimune Power Infusing Concentrate (0.33 oz.)
White Lucent MicroTargeting Spot Corrector (0.3 oz.)
White Lucent MultiBright Night Cream (0.33 oz.)
White Lucent Anti-Dark Circles Eye Cream (0.17 oz.)
Cosmetics Bag

LIFTING:

Benefiance Extra Creamy Cleansing Foam (1 oz.)
Ultimune Power Infusing Concentrate (0.33 oz.)
Bio-Performance LiftDynamic Serum (0.24 oz.)
Bio-Performance LiftDynamic Cream (0.33 oz.)
Bio-Performance LiftDynamic Eye Treatment (0.24 oz.)
Cosmetics Bag

RENEW:

White Lucent Brightening Cleansing Foam (1 oz.)
Ultimune Power Infusing Concentrate (0.33 oz.)
Bio-Performance Glow Revival Serum (0.24 oz.)
Bio-Performance Glow Revival Cream (0.33 oz.)
Bio-Performance Glow Revival Eye Treatment (0.17 oz.)
Cosmetics Bag
Currently (while supplies last) at Nordstrom:
With your $165 Space NK purchase, receive a free 14-piece gift: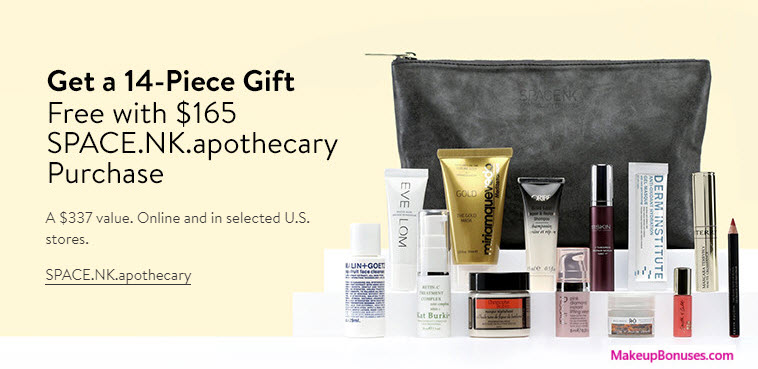 Malin + Goetz Grapefruit Face Cleanser (1 oz.)
EVE LOM Rescue Mask (0.49 oz.)
Kat Burki Retin-C Treatment Complex (0.25 oz.)
Miriam Quevedo Sublime Gold Mask (1.75 oz.)
Christophe Robin Regenerating Mask with Rare Prickly Pear Seed Oil (1.7 oz.)
Oribe Gold Lust Repair & Restore Shampoo (0.5 oz.)
Rodial Pink Diamond Instant Lifting Serum (0.2 oz.)
111SKIN Y Theorem Repair Serum NAC Y2 (0.34 oz.)
R+Co Badlands Dry Shampoo Paste (0.25 oz.)
Derm Institute Anti-Oxidant Hydration Gel Masque (two 0.1 oz. packets)
Smith & Cult The Shining Lip Lacquer in Her Name Bubbles (0.08 oz.)
By Terry Mascara Terrybly (0.14 oz.)
Kevyn Aucoin The Flesh Tone Lip Pencil in Cerise (0.024 oz.)
Cosmetics Bag
Combine these offers with Nordstrom's Sitewide / Multi-Brand Beauty offers for even more free gifts!
Nordstrom offers Free Shipping on all purchases. Nordstrom offers Free Returns on all purchases.
*** Visit TODAY'S CURRENT OFFERS page for CURRENT LIST of ALL OFFERS ***