Surprise a beauty lover with these affordable, budget advent calendars, that start at just $17! Offers are sorted below by price (high to low). Click to jump ahead for spoilers and offer details: Birchbox, Bomb Cosmetics, Mad Beauty (Bright Lights Set, Christmas Lights Set, ASOS Exclusive 12 Day, 12 Days of Christmas, Geometric 12 Days of Christmas), Oh-K!, TamBeauty / Revolution, Target, technic, & Ulta Beauty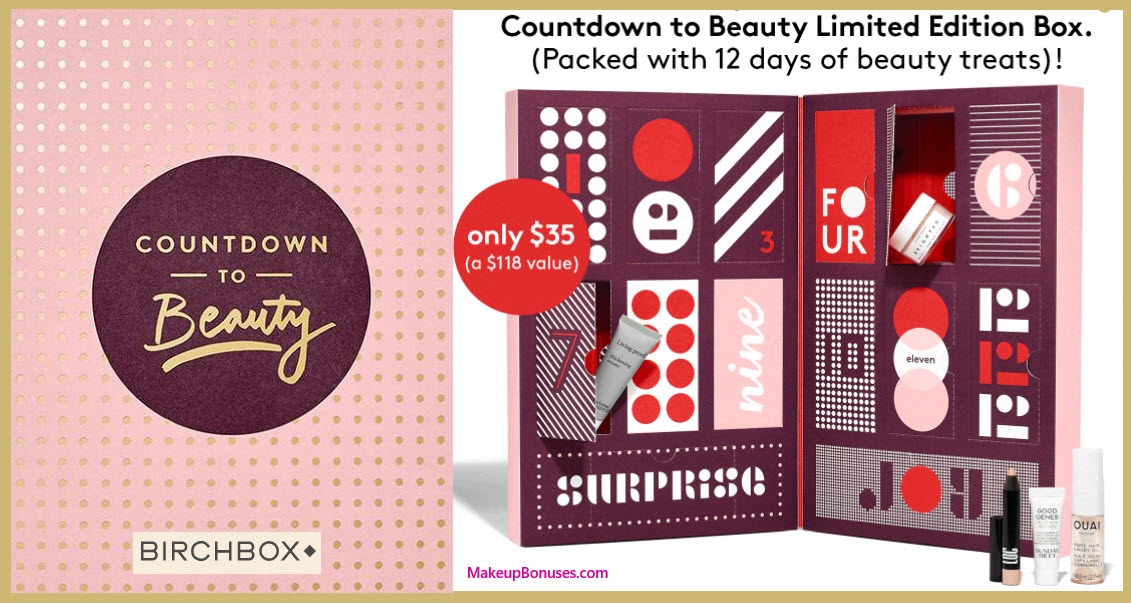 Limited Edition: Countdown to Beauty (14 pieces / $35) Birchbox, $35.
12 Benefits™ Instant Healthy Hair Treatment – Deluxe Sample
amika Touchable Hairspray – Deluxe Sample
Benefit Cosmetics Benetint Cheek & Lip Stain – Deluxe Sample
Dr. Jart+ Ceramidin™ Cream – Deluxe Sample
Eyeko Skinny Liquid Eyeliner – Deluxe Sample
Herbivore Botanicals Brighten Pineapple Enzyme + Gemstone Instant Glow Mask – Deluxe Sample
IPKN Twinkle Lips in Glow Coral – Deluxe Sample
Laura Geller New York Lip Strip Smoothing Sugar Scrub – Full-Size
Living proof.® Full Thickening Cream – Deluxe Sample
Love of Color One & Done Shadow Stick in Heavy Petal – Full-Size
Milk Makeup Ubame Mascara – Deluxe Sample
OUAI Rose Hair & Body Oil – Deluxe Sample
Sunday Riley Good Genes All-in-One Lactic Acid Treatment – Deluxe Sample
Vasanti® BrightenUp!® Enzymatic Face Rejuvenator – Deluxe Sample
Click to browse recent STORE offers at Birchbox

Makeup Revolution Advent Calendar 2017 (24 pieces / $30) TamBeauty.com, $30.
The Revolution advent calendar is back and better than ever. Designed to suit Revoholic's, this calendar contains products for eyes, face and lips! The most fun way to count down to our favourite day of the year, you will find a product behind every door. Perfect for the makeup lover and enthusiast this Christmas with this amazing array of products to expand your collection for 2018!
3 beautiful baked highlighters
1 bronzer
6 amazing lipsticks in various shades
4 makeup brushes
1 eyeshadow primer
1 liquid highlighter
1 Revoholic Travel Mirror
2 pressed highlighters
2 strobe balms
1 full size exclusive Revoholic Eyeshadow palette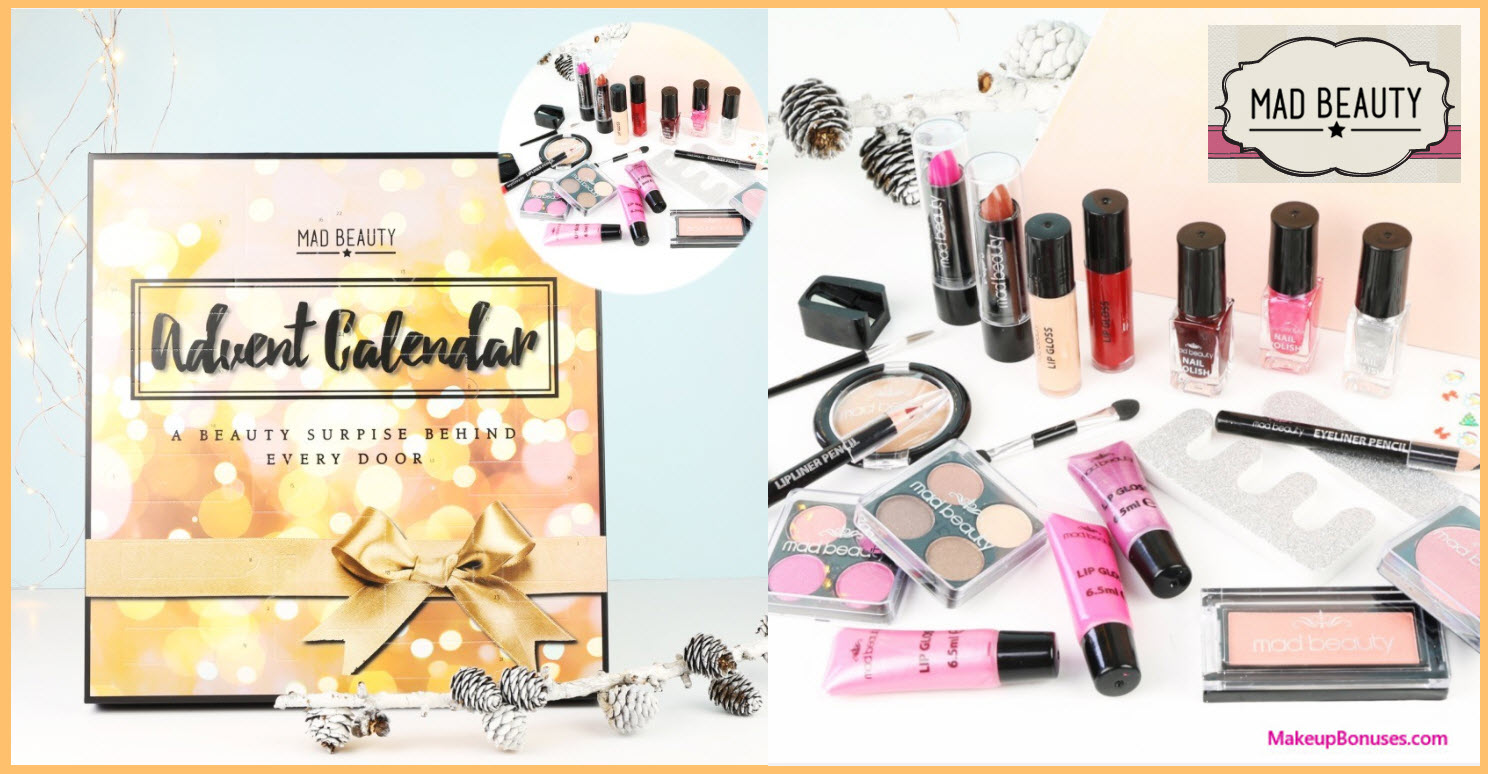 MAD Beauty Bright Lights Advent Advent Calendar (24 pieces / $28) Lisa Angel, $28
A beauty Christmas 2017 advent calendar with 24 beauty products. From lip sticks and eyeshadow, to face brushes, it's a great advent for a beauty lover. Box size – width 33cm x height 33cm x depth 3.5cm. Contains:
2 x 3.5g Lipsticks
3.5g Powder compact
3 x 5ml Nail polish
3 x 6.5ml Lip Gloss
2 x 2.5ml Lip gloss
2 x 3g Eyeshadow
0.5g Eyeliner
0.5g Lip liner
3.5g Blusher
2.5g Blusher
Sharpener
Toe Separator
Lip Brush
Blush Brush
Nail File
Applicator
Nail sticker sheet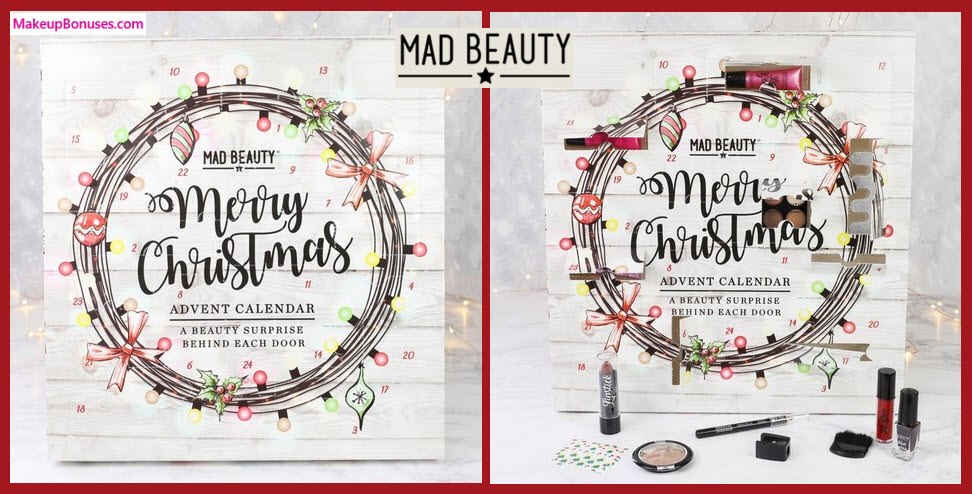 MAD Beauty Christmas Lights Advent Calander (24 pieces / $28) Lisa Angel, $28, Amazon ($40)
Trade your traditional choccy calendar for a fabulous beauty one! A 24 day calendar for 2017 with a cute beauty surprise behind every door. Including lipsticks, nail varnishes, eye shadow and more. With a fun festive Christmas lights wreath design on the front. The perfect pre-Christmas present for a beauty lover. From Mad Beauty. Calendar dimensions are width 33cm x height 35.5cm x depth 4cm and contains:
2 x 3.5g lipsticks
3.5g powder compact
3 x 5ml nail polishes
3 x 6.5ml lip glosses
2 x 2.5ml lip glosses
2 x 3g eye shadows
0.5g eyeliner pencil
lipliner pencil
3.5g blusher
2.5g blusher
sharpener
toes seprator
lip brush
blusher brush
nail file
applicator
sheet of nail stickers
Love Your Selfie Advent Calendar (24 pieces / $24.85) allbeauty, $24.85, Amazon ($29)
Nail Polish x 2
Eyeshadow Compact x 2
Lip Gloss x 2
Lip Liner Pencil
Eye Liner Pencil x 2
Lip Balm x 2
Lip Tube
Lipstick
Toe Separator
Pencil Sharpener
Nail File
Hair Clip
Hair Band
Nail Sticker Sheet
Nail Gem Sheet
Double Ended Foam Applicator x 2
Powder Brushes x 2
Click to browse recent STORE offers at allbeauty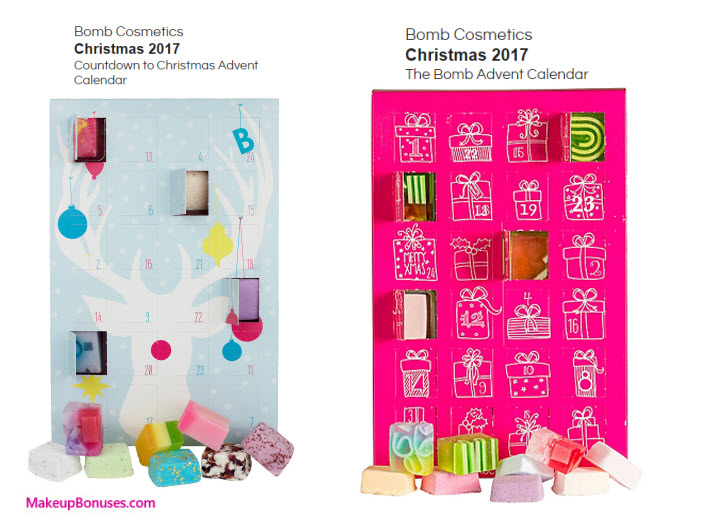 The Bomb Advent Calendar (24 pieces / $21.6) allbeauty, $21.6, Lisa Angel ($35)
You can now have 24 whole days of Bomb love with this Bomb Advent Calendar, filled to the brim with a mix of favourite soaps and blasters to get you in a fizzy festive mood ready for when Santa Claus comes to town. A beauty filled advent calendar for Christmas 2017 with 24 countdown windows, Filled with luxurious bubble bath goodies (soaps and bath blasters).
Countdown to Christmas Advent Calendar (24 pieces / $20.35) allbeauty, $20.35, Lisa Angel ($35)
Countdown the festive season with this 24 window Advent Calendar. Chock a block with blasters, mallows, creamers & soaps! Spoil yourself this December! Contains a whole 24 days of Bomb love!
Click to browse recent STORE offers at allbeauty
Oh K! 12 Days of Beauty Advent Calendar (12 pieces / $21) Lisa Angel, $21.
A box calendar with 12 hidden beauty treats for Christmas 2017. Open a door to reveal your gorgeous cosmetic treasure. Made from pink card with quirky patterns on each door. An exciting and shorter alternative to an advent calendar. Dimensions are width 19cm x height 26.5cm x depth 4cm. Oh K! advent calendar contains:
pair of false eyelashes
2 x wide hair ties
2 x mini hair spirals
2 x eyeliner sticker sheets
hair chalk stick
mini nail polish
mini glitter nail polish
eyeshadow pot
nail stickers sheet
lip gloss
mini nail file
lip balm ball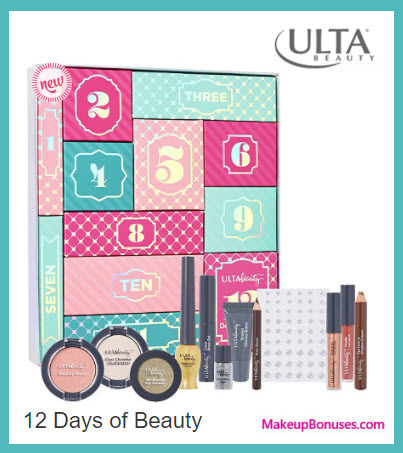 12 Days of Beauty (12 pieces / $18) Ulta, $18.
Ulta's 12 Days of Beauty is the perfect gift for yourself or any beauty enthusiast. Inside each box is a beauty surprise, featuring trendy and unique formulas designed to inspire your creativity! Unbox your kit online and tag @ultabeauty #UltaBeautyCollection
Tinted Glossy Balm (0.27 oz)
Duo Chrome Illuminator (0.11 oz)
Glitter Tears Eyeliner (0.27 oz)
Matte Lip Cream (0.04 oz)
Bouncy Blush (0.11 oz)
Gel Bounce Eyeshadow (0.06 oz)
Eyeliner & Shadow Crayon (0.05 oz)
Clear Brow Gel (0.17 oz)
Brow Pencil (0.03 oz)
Face & Body Glitter (0.06 oz)
Face & Body Gems (54 gems)
Metallic Lip Gloss (0.04 oz)
Click to browse STORE offers at Ulta or to browse BRAND offers from ULTA Beauty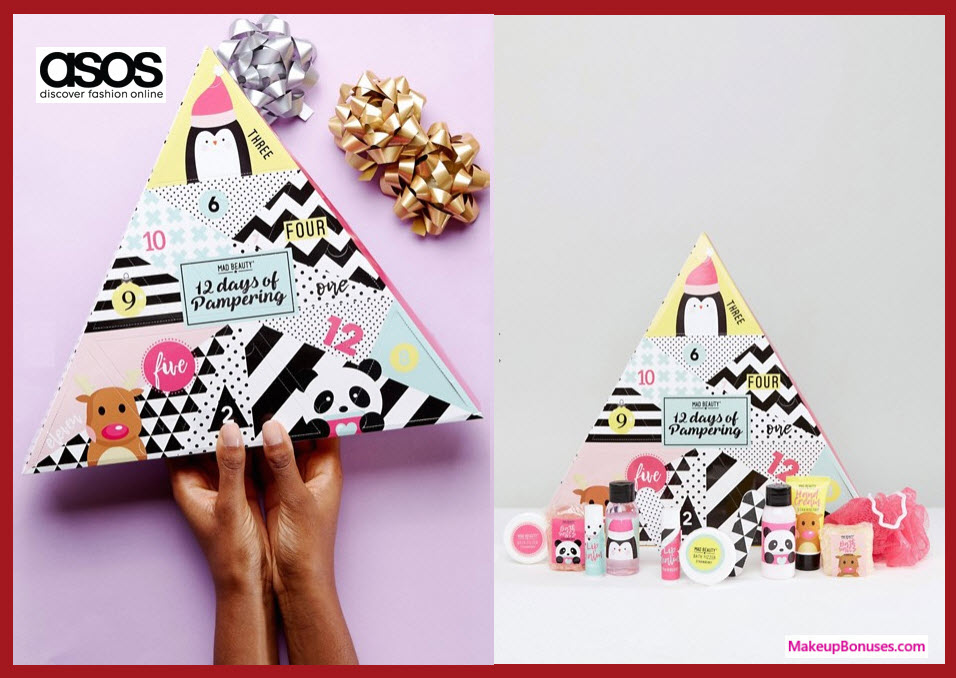 MAD Beauty ASOS Exclusive 12 Day Advent Calendar (12 pieces / $17.5) ASOS, $17.5.
MAD Beauty 12 Day Advent Calendar / 12 door MAD Beauty advent calendar. Behind each door is a surprise pampering gift that includes a range of hair, skin and nail products. Mixed print design calendar includes:
Shampoo and conditioner
Strawberry and vanilla lip balms
Strawberry and vanilla bath salts
Two strawberry bath fizzers
Strawberry hand cream
Delicate bath sponge
Two nail files
Click to browse recent STORE offers at ASOS

Mad Beauty '12 Days of Christmas' Beauty Advent Calendar (12 pieces / $17) Lisa Angel, $17, Amazon ($25)
A 12 days of Christmas 2017 beauty advent filled with hand creams, lotions and tools. The perfect calendar for a beauty lover from Mad Beauty.
Beauty products include lip balms, body lotion, nail files, bath salts and more!
Calendar made from card, features 12 opening doors and a festive design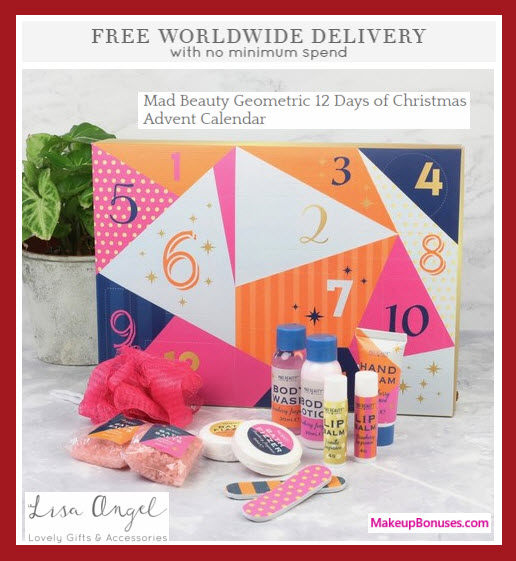 Mad Beauty Geometric 12 Days of Christmas Advent Calendar (12 pieces / $17) Lisa Angel, $17.
Calendar dimensions are width 29cm x height 21cm x depth 4.3cm and contains:
25ml strawberry hand cream
2 x 50g strawberry bath salts
2 x 20g strawberry bath fizzers
30ml strawberry body wash
30ml strawberry body lotion
4g strawberry lip balm
4g vanilla lip balm
2 x nail files
body puff
Target 12 Days of Beauty (12 pieces, $15) Target, $15
Get merry and bright with the 12 Days of Beauty Advent Calendar, a Target Exclusive! This unique curation is a great way to sample favorite items from some of our top brands to keep you looking and feeling festive all season long. An unbelievable value of $58 – for $15!
Acure Eye Cream- 1oz. Edelweiss extract and chlorella provide deep hydration to protect the skin's moisture barrier…you won't believe your eyes.
Pixi Glow Tonic- 0.5oz. Original 5% Glyolic Acid Formula with Aloe Vera and Ginseng. Gently exfoliates to remove dead skin cells, revealing healthy glowing skin. For all skin types. Clinically proven results.
Vichy Mineral 89 Face Moisturizer- 0.15 oz. Mineral 89 combines the highest concentration of Vichy Mineralizing Thermal Water enriched with 15 minerals and Hyaluronic Acid to enhance long term hydration, essential for healthy skin.
NYX Bright Idea Illuminating Stick- Full Size- 0.21 oz. Get your glow on with the NYX Professional Makeup Bright Idea Stick. This glitzy, shimmering cream cosmetic is perfect for highlighting and strobing, and brings just the right amount of sparkle to your look.
Nexxus New York Salon Care Humectress Ultimate Moisture Protein Complex Intensely Hydrating Masque- 1.5 oz. Nexxus Humectress Hair Masque for Dry Hair works by binding moisture deep within each hair fiber, distributing Elastin Protein, and creating a protective barrier of moisture.
e.l.f. Lip Exfoliator- 1 ct. A sweet sugar and smoothing sensation, infused with Vitamin E, Shea Butter, Avocado, Grape and Jojoba Oils to nourish and protect.
HASK Argan Oil Repairing Shine- 0.625 oz. This lightweight, alcohol-free oil absorbs instantly to provide frizz-free shine without leaving an oily residue. Argan Oil is rich in essential fatty acids and penetrates hair to restore shine and provide soft, silky results in dry, damaged hair.
Honest Beauty Everything Organic Facial Oil- 0.03 oz. Replenish moisture-depleted skin by amplifying its natural defenses for a supple, smooth and youthful look. Think antioxidant-dense, pure seed and fruit oils — each drop rich in the same fatty acids and vitamins known to feed your body.
Real Techniques Miracle Complexion Sponge- 1ct. The rounded sides of the sponge help blend large areas of the face with a repeated dabbing or stippling motion. The precision tip helps cover blemishes and imperfections, and the flat edge helps contour around the eyes and nose.
Pacifica Sea Foam Complete Face Wash 0.7 oz. 

Harness the power of the ocean with marine extracts. Coconut water and natural actives come together in our gentle sulfate-free foaming cleanser that removes daily toxins and make-up.

Maybelline Great Last Mascara- 0.15 oz. This mascara features a lash-doubling formula that glides on to build great-looking lashes. The lash-building brush makes it easy to get a full-lash look.
Eylure Flase Eyelashes Natural No.031- 1 pair 

Eylure Naturals No.031 is a loosely woven, compact lash that delivers extra length & fullness. The unique 'curve' of Eylure's lashes allows the lash to 'hug' the eye, making application easier and wear completely comfy. Handmade and reusable.
Click to browse recent STORE offers at Target
#advent   #adventcalendars
See more 2017 beauty advent calendars:
#christmas2017   #holidaygifts2017