Currently (while supplies last) at Ulta:
With your $50 skincare purchase, receive your choice of 7-pc gift: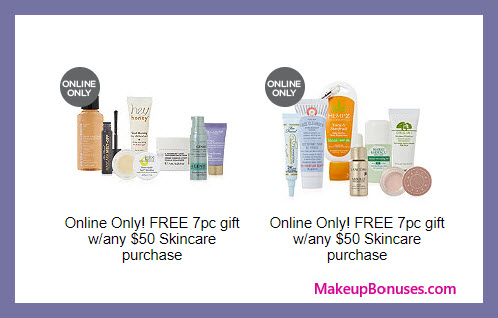 Set Choice 1:

Peter Thomas Roth Anti-Aging Cleansing Gel sample (1.0 oz.)
Clarins Extra Firming Mask sample (0.2 oz)
Genius Ultimate Anti-Aging Vitamin C Serum sample (0.17 oz)
StriVectin Tightening Neck Cream sample (0.25 oz)
Hey Honey Silk Facial Serum (0.34 oz) sample
Juice Beauty Green Apple Peel Sensitive sample (0.25 oz)
Too Face Mascara Melt Off sample (0.04 oz)

Set Choice 2:

Hempz Daily Herbal Body Moisturizer (1.69 oz)
Mario Badecu Enzyme Cleansing Gel sample
Lancome Nourishing Luminous Oil (0.16 oz)
Origins Modern Friction Nature's Gentle Dermabrasion (0.5 oz)
Too Faced Anti-Crease Eye Shadow Primer sample (0.17 oz)
First Aid Beauty Pure skin Face Cleanser sample (1.0 oz)
Becca Under Eye Brightening Corrector sample (0.08 oz)
Currently (while supplies last) at Ulta:
With your Platinum Member $150+ purchase, receive a free 27-piece gift: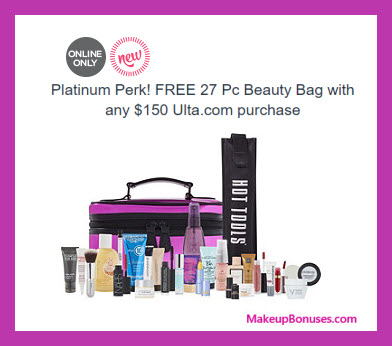 Alterna Travel Size Caviar Anti-Aging Miracle Multiplying Volume Mist (1.4 oz)
It's A 10 Travel Size Potion 10 Miracle Styling Potion (1.5 oz)
Drybar Travel Size Prep Rally Prime & prep Detangler (0.6 oz)
Ulta Beauty Travel Size Buttercream Cupcake 3-In-1 Smoothie (3.0 oz)
Vichy Travel Size Liftactiv Supreme (0.5 oz)
Clinique For Men Travel Size Face Scrub (0.5 oz)
Nars Travel Size Audacious Mascara in Black Moon (0.12 oz)
Clinique Travel Size High Impact Mascara (0.14 oz)
Anastasia Deluxe Sample Lip Gloss in Vintage (0.07 oz)
Deluxe Sample Mattifying Balm Oil Control Primer & Setter (0.07 oz)
IT Cosmetics Deluxe Sample Confidence In A Cream (0.169 oz)
Murad Deluxe Sample City Skin Overnight Detox Moisturizer (0.25 oz)
Becca Deluxe Sample Backlight Priming Filter (0.2 oz)
Japonesque Color Deluxe Sample Velvet Touch Primer (0.3 oz)
Tarte Deluxe Sample Poreless Mattifying Primer (0.23 oz)
Gucci Deluxe Sample Bloom (0.17 oz)
Clean Deluxe Sample Warm Cotton Eau de Parfum Rollerball (0.16 oz)
Rituals Deluxe Sample Black Soap (0.3 oz)
Dermalogica Deluxe Sample Age Smart Nightly Lip Treatment (0.14 oz)
Ulta offers Free Shipping on purchases of $50 or more. Sign up for Ulta's Loyalty Program and enewsletter to receive non-transferable unique coupons throughout the year.
*** Visit TODAY'S CURRENT OFFERS page for CURRENT LIST of ALL OFFERS ***