Currently (while supplies last) at Neiman Marcus:
With your $225 Multi-Brand purchase, receive a free 20-piece gift: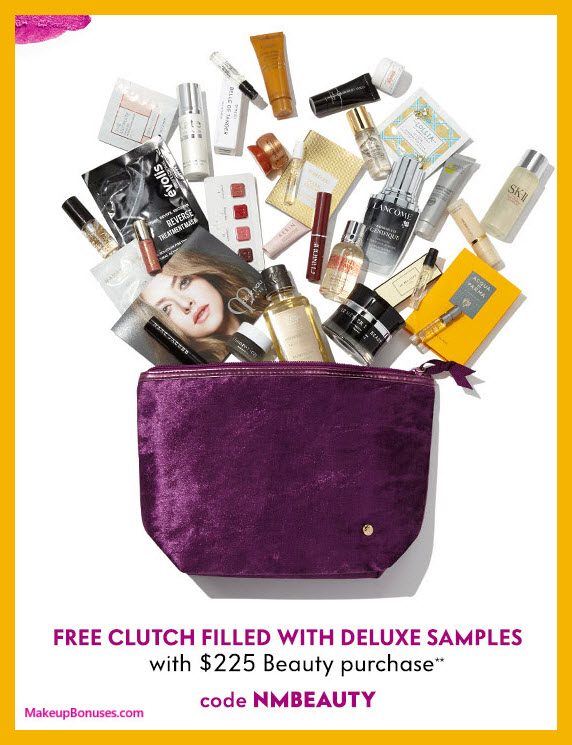 clutch + free samples (count estimate based on picture)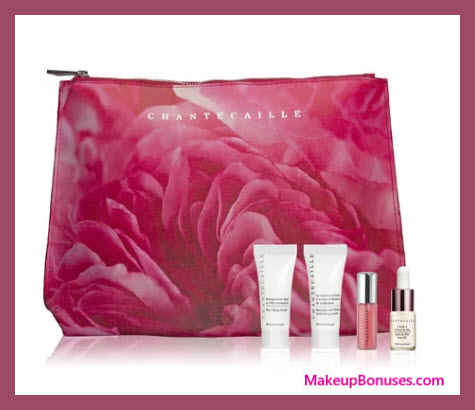 Bio Lifting Mask, 8 mL
Bamboo and Hibiscus Exfoliating Cream, 8 mL
Brilliant Gloss – Pretty, 1.5 mL
Rose de Mai Face Oil, 4 mL
New Rose Zipper Clutch

Chantecaille is a Cruelty Free brand.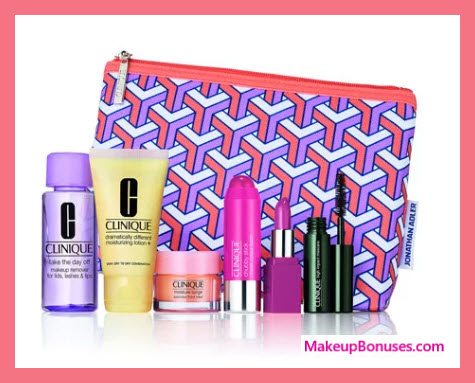 Repairwear Laser Focus Eye
Rinse Off foaming Cleanser
Smart Night Cream
Pop Lip Liquid
Quickliner Intense Black
Chubby Mascara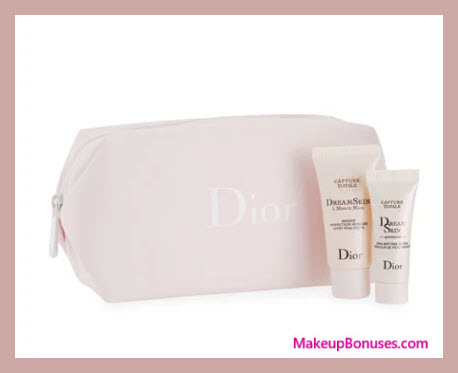 Capture Totale Dreamskin Advanced, 7 mL
Capture Totale Dreamskin Mask, 15 mL
bag
With your $125 Fresh purchase, receive a free 5-piece gift: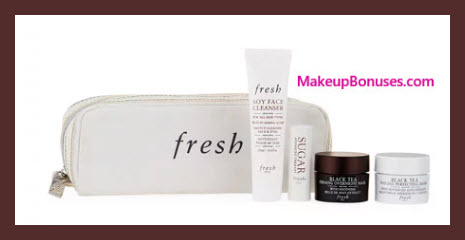 bag
Soy Face Cleanser, .67 oz./ 20 mL.
Sugar Lip Treatment Advanced Therapy, .07 oz./ 2.2 g.
Black Tea Firming Overnight Mask, 0.5 oz./ 15 mL.
Black Tea Instant Perfecting Mask, 0.5 oz./ 15 mL.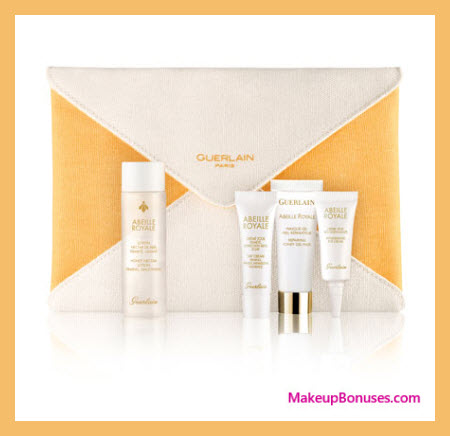 Abeille Royale Honey Nectar Toner – 0.5 oz.
Abeille Royale Day Cream – 0.10 oz.
Abeille Royale Repairing Honey Gel Mask – 0.33 oz.
Abeille Royale Replenishing Eye Cream – 0.16 oz.
Sustainable Cotton Pouch
Soin De La Mer™: reparative body lotion, 1.0 oz./30 mL.
Concentré De La Mer™: the eye concentrate, 0.1 oz./ 3 mL.
Crème De La Mer™: moisturizing creme, .24 oz./ 7 mL.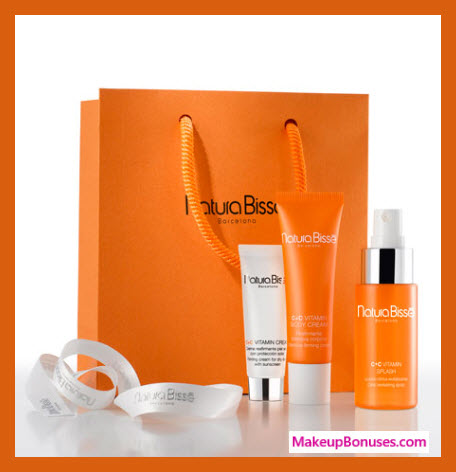 C+C Vitamin Cream, 0.03 oz.
C+C Vitamin Body Cream, 1.0 oz.
C+C Vitamin Splash, 1.7 oz.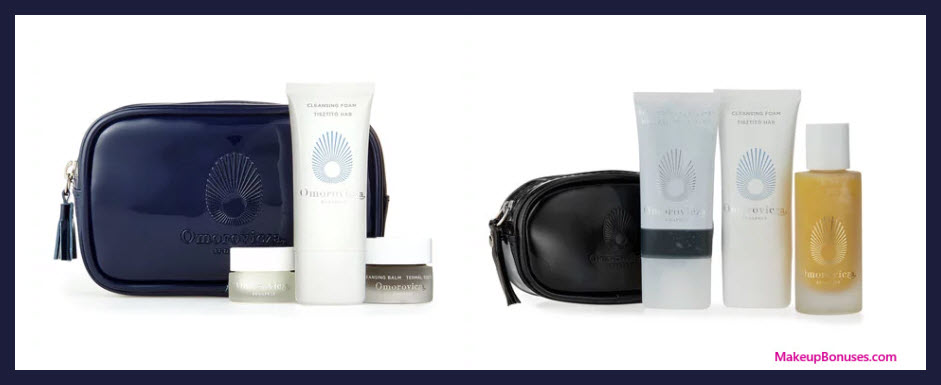 set 1:

Cleansing Foam, 30 mL
Thermal Cleansing Balm, 15 mL
Intensive Hydra-Lifting Cream, 5 mL
Navy Rectangular Bag

set 2:

Cleansing Foam, 30 mL
Refining Facial Polisher, 30 mL
Gold Shimmer Oil, 30 mL
Metallic Black polyurethane Gift With Purchase bag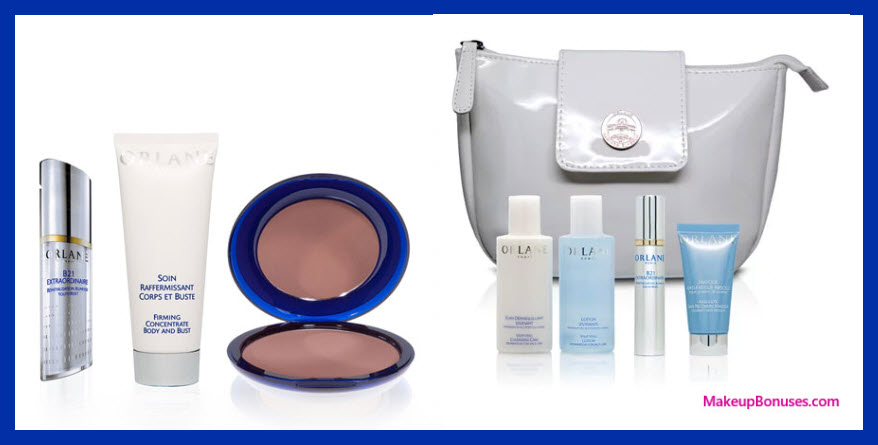 bag
Deluxe B21 Extraordinaire, 7.5 mL.
Ultra Deluxe Anti-Fatigue Masque, 30 mL.
Deluxe Vivifying Cleanser, 50 mL.
Deluxe Vivifying Lotion, 50 mL.
Set 2:

A signature Full Size Orlane Bronzer-Soleil Cuivre
An Ultra deluxe size of the Firming Body and Bust, 100mL
A packet sample of our New B21 Extraordinaire, 1mL
With your $250 SK-II purchase, receive a free 3-piece gift:
Ultimate Glow Set

Deluxe Facial Treatment Essence, 30 mL
1 Brightening Derm Mask
SK-II Red Pouch
Neiman Marcus offers Free Shipping on all purchases. Neiman Marcus offers ShopRunner 2-day Shipping on select items for ShopRunner members. Neiman Marcus offers Free Returns on all purchases.
*** Visit TODAY'S CURRENT OFFERS page for CURRENT LIST of ALL OFFERS ***