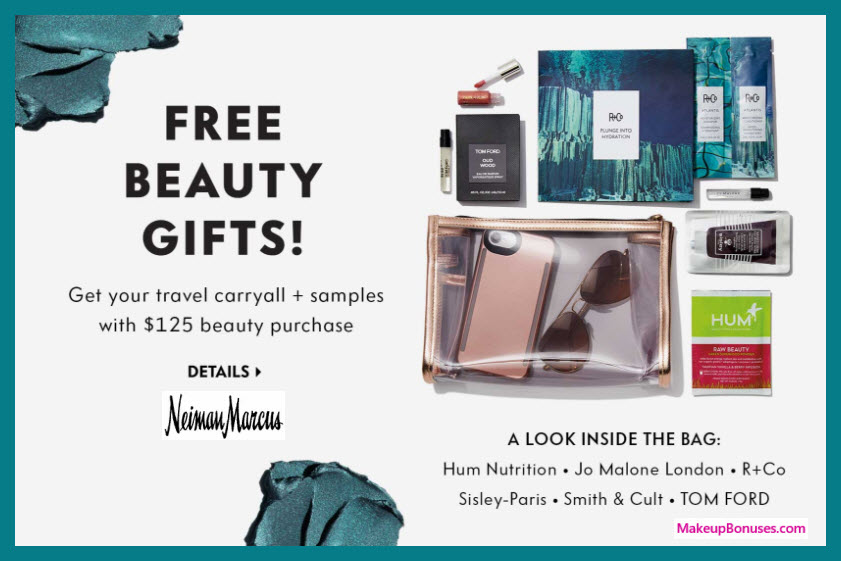 Hum Nutrition
Jo Malone London
R+Co
Sisley-Paris
Smith & Cult
TOM FORD

number pieces in gift estimated based on photo
Instant Long-Wear Makeup Remover, 30 mL
Crystal Lip Gloss
Pot Rouge
Everything Mascara
Mini Deluxe Age Defying Exfoliator
Mini Deluxe Crema Saponetta
Fango Active Packette
Signature Crested Tote
Trial Size Multi-Active Day Cream SPF 20, 15 mL
Trial Size Extra-Firming Day Cream, 15 mL
Trial Size Super Restorative Day Cream, 15 mL
Discovery Size Toning Lotion, 100 mL
Discovery Size Exfoliating Cleanser, 50 mL
Discovery Size Body Tonic Oil, 30 mL
Discovery Size Moisture Rich Body Lotion, 100 mL
Gold Bag
Cleanser Deluxe Sample 20 mL
½ Muslin Cloth
Rescue Mask Deluxe Sample 15 mL
With your any purchase, receive a free 4-piece gift:
Cocoa Body Exfoliant packette (35g)
Fresh Life Votive Candle
Sugar Lip Treatment Advanced Therapy Mini (2.2g)
Small fresh blue shopping bag
with $100:
with $300 add:

Abeille Royale Honey Nectar Toner – 0.5 oz.
Abeille Royale Day Cream – 0.10 oz.
Abeille Royale Repairing Honey Gel Mask – 0.33 oz.
Abeille Royale Replenishing Eye Cream – 0.16 oz.
Sustainable Cotton Pouch (yellow)

with $400 add:

Orchidée Impériale Eye Cream (5ml).
The Orchidée Impériale Serum (3ml).
Mini deluxe of our newest fragrance inspired by Angelina Jolie, Mon Guerlain.
Maxilash sample.
Mini KissKiss Sexy Coral Lipstick.
The new Orchidée Impériale Cream (7ml).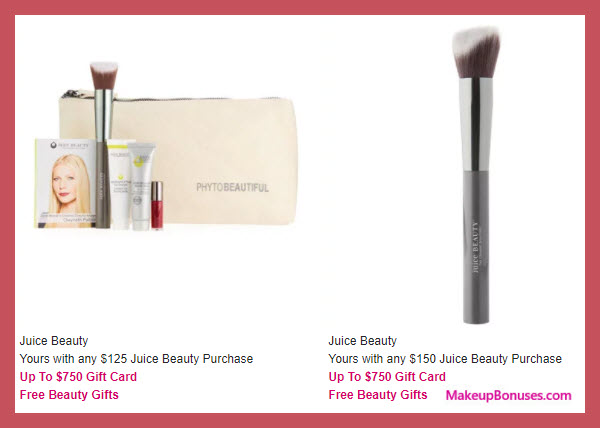 PHYTO-PIGMENTS Makeup Bag
PHYTO-PIGMENTS Liquid Lip 18 Gwyneth, 0.02 oz./ 0.7 mL
GREEN APPLE Peel Full Strength, 0.2 oz./ 7.8 mL
STEM CELLULAR Anti-Wrinkle Booster Serum, 0.2 oz./ 7.8 Ml
with $150 add:

PHYTO-PIGMENTS™ Sculpting Foundation Brush

Juice Beauty is a Cruelty Free & Vegan brand
Retinol Eye, 3 mL
DQ+Retinol, 0.5 oz.
Tan Towelette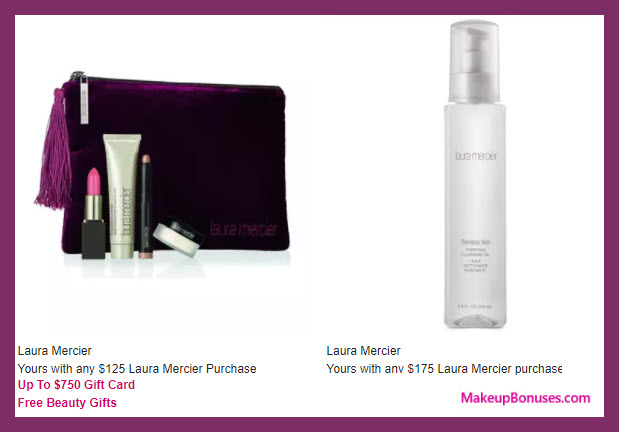 Foundation Primer
Translucent Loose Setting Powder
Caviar Stick Eye Colour
Velour Lovers Lip Colour
Laura Mercier signature bag
with $175 add:
Petite Velvet Noir Mascara, 5 mL
Mini Highliner in Blacquer, 0.4 mL
Petite Le Marc Lip Crème in Slow Burn, 1 mL
Black Patent Clutch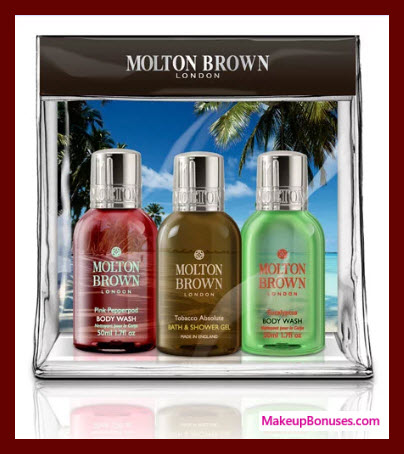 With your $300 Orlane purchase, receive a free 14-piece gift:
With your $200 Orlane purchase, receive a free 3-piece gift:
Full size All Over Highlighter Stick, 0.11 oz
Full size Eyelid Balm Sun Glow, #3 Gilt
Bronze, metallic Orlane Wristlet
PLUS with $300 add 3 gift sets:

SET 1:

Deluxe B21 Extraordinaire, 7.5 mL.
Ultra Deluxe Anti-Fatigue Masque, 30 mL.
Deluxe Vivifying Cleanser, 50 mL.
Deluxe Vivifying Lotion, 50 mL.
BAG

SET 2:

A signature Full Size Orlane Bronzer-Soleil Cuivre
An Ultra deluxe size of the Firming Body and Bust, 100mL
A packet sample of our New B21 Extraordinaire, 1mL

SET 3:

Full Size Mascara, 7 mL.
Full Size Eye Makeup Remover, 100 mL.
B21 Extraordinaire sample, 1 mL.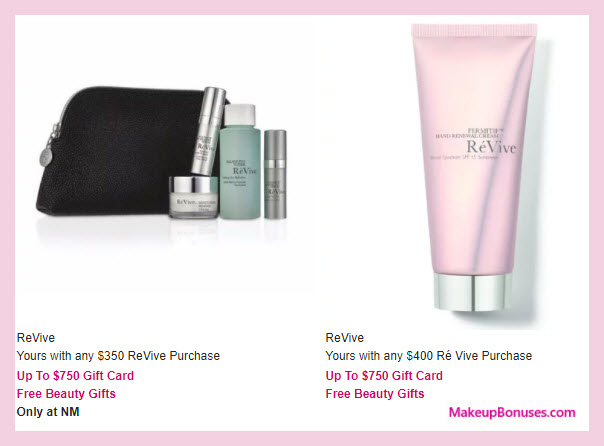 MSG Moisturizing Renewal Cream
Tonique
MSG Intensite Volumizing Serum
MSG Intensite MSG Line Erasing Eye Serum
bag
with $400 add:

Fermitif Hand Renewal Cream, SPF 15, 100 mL/ 3.4 oz.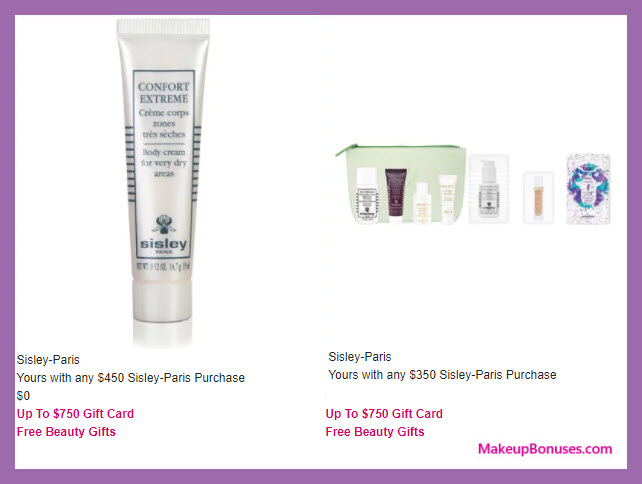 bag
Lyslait, 1.0 oz./ 30 mL
Floral Toning Lotion, 1.0 oz./ 30 mL
Black Rose Cream Mask, 0.3 oz./ 10 mL
Supremeya, 0.06 oz./ 2 mL
Sachets of: Phyto Teint Expert #2, 0.05 oz./ 1.5 mL
Soir de Lune Body Cream, 0.3 oz./ 8 mL
with $450 add:

Confort Extreme Body Cream, 0.5 oz./ 15 mL
Phyto-Blanc Buff and Wash, 0.3 oz./ 10 mL
With your $300 SK-II purchase, receive a free 4-piece gift: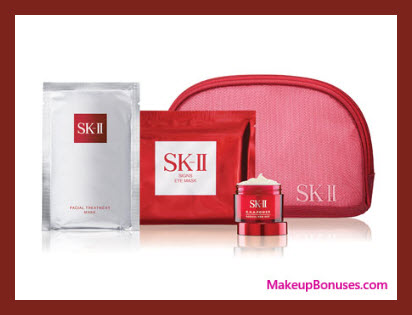 SK-II Mesh Bag
Facial Treatment Mask
RNA Power Cream Sample
Eye Sign Mask
Drawstring Pouch
Mini Rouge Pur Couture shade #9
Mon Paris Eau de Parfum Sample
Neiman Marcus offers Free Shipping on all purchases. Neiman Marcus offers ShopRunner 2-day Shipping on select items for ShopRunner members. Neiman Marcus offers Free Returns on all purchases.
*** Visit TODAY'S CURRENT OFFERS page for CURRENT LIST of ALL OFFERS ***