Find fun ways to spoil loved ones this year with these budget gifts and stocking stuffers – all priced $25 and under! Sorted below by price (highest to lowest).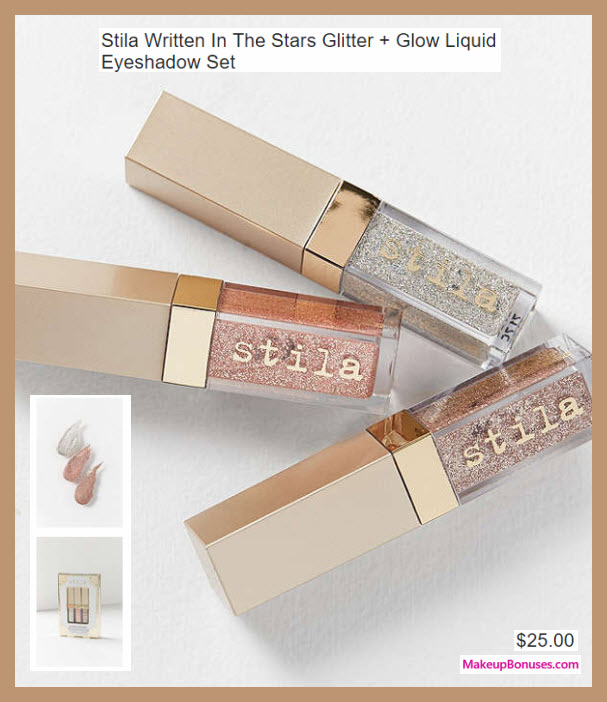 Stila Written In The Stars Glitter + Glow Liquid Eyeshadow Set – $25 at Urban Outfitters (act fast – has already sold out at other stores)
A PERSONAL FAVORITE! These glittery liquid eyeshadows from Stila add instant glamour and are perfect for the holiday and New Year celebrations. This sampler set of 3 liquid eyeshadows (0.07 fl oz each) has long-wearing formulas that dazzles and glimmers with glittery, sequin-esque luster:
Diamond Dust: Sheer silver and multicolor glitter
Kitten Karma: Champagne, silver and copper glitter
Smoky Storm: Light pewter and silver glitter
Click to browse STORE offers at Urban Outfitters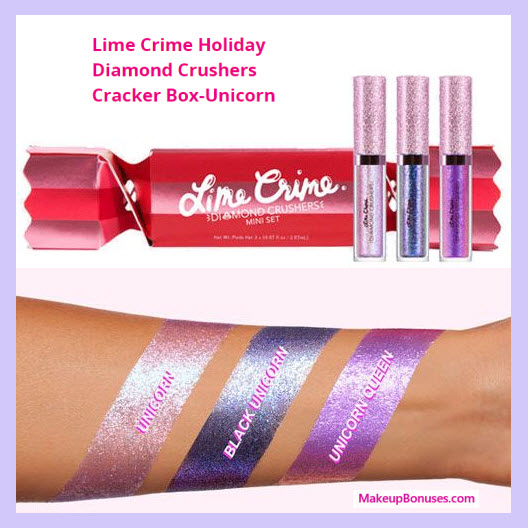 Lime Crime Holiday Diamond Crushers Cracker Box-Unicorn – $25 at Planet Beauty
Light up your holiday season with a gift of Diamond Crushers! Give as an amazing gift to the ultimate makeup lover or spread the love and give as three separate gifts to those you love. Each set includes 3 best-selling, mini lip toppers packaged in a festive box. Diamond Crushers Cracker Box in UNICORN:
Unicorn (lavender/rainbow sparkle)
Unicorn Queen (electric violet)
Black Unicorn (black rainbow)
Click to browse STORE offers at Planet Beauty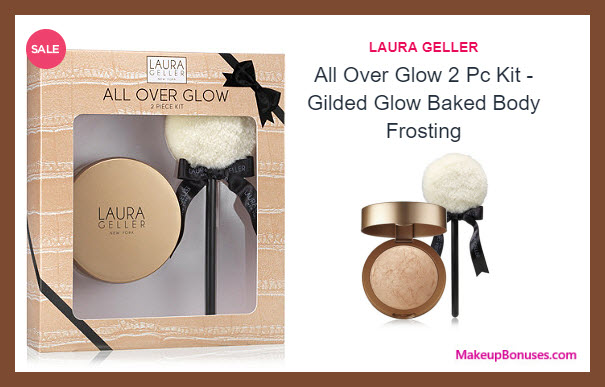 All Over Glow 2 Pc Kit – Gilded Glow Baked Body Frosting – $25 (value $45) at Ulta, SkinStore
Gild your glow from head-to-toe with this all-over frosting kit. With Laura Geller's limited edition Baked Body Frosting in Gilded Glow and a lollipop-inspired applicator, warm your Winter skin. Getting a sun-dipped glow has never been this fun and easy!
Baked Body Frosting in Gilded Glow (sparkling golden caramel) (0.71 oz)
Applicator
Click to browse STORE offers at Ulta or to browse recent BRAND offers from Laura Geller
Hello Kitty Eyelash Tonic & Hello Kitty Lip Cream – $24.90 at DHC
$14.95 – Hello Kitty Eyelash Tonic

Forget the falsies—limited edition Hello Kitty Eyelash Tonic helps your lashes look fuller on their own. This conditioning gel works like a leave-in treatment for lashes to help soften and strengthen them. Wear under mascara during the day and all by itself at bedtime.

$9.95 – Hello Kitty Lip Cream

Limited edition Hello Kitty Lip Cream is a holiday balm-shell. Its hydrating, long-wear formula keeps lips stay soft and supple. Made with vitamin E, olive oil, and aloe for that creamy—not waxy—texture we all love. Enjoy all-day comfort without chapping, peeling, or cracking.
Click to browse STORE offers at DHC or to browse recent BRAND offers from DHC Skincare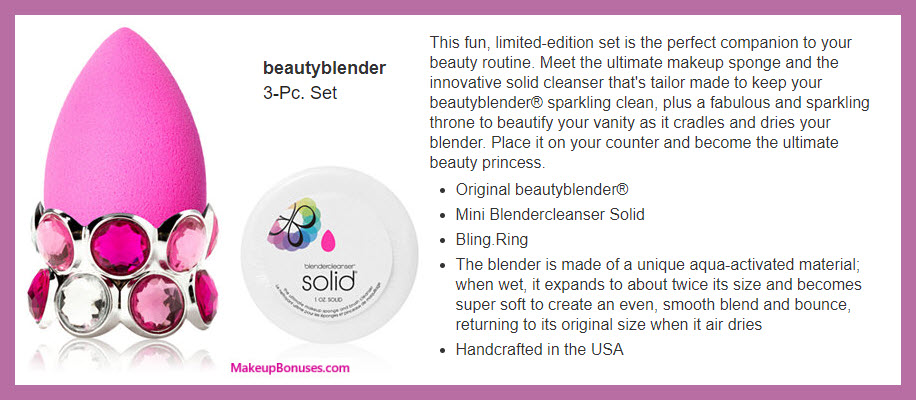 beautyblender 3-piece set – $20 at Macy's
This fun, limited-edition set is the perfect companion to your beauty routine. Meet the ultimate makeup sponge and the innovative solid cleanser that's tailor made to keep your beautyblender® sparkling clean, plus a fabulous and sparkling throne to beautify your vanity as it cradles and dries your blender. Place it on your counter and become the ultimate beauty princess. This set includes:
Original beautyblender®
Mini Blendercleanser Solid
Bling.Ring
Click to browse STORE offers at Macy's
Pastel Colorful Hair How-to-Book – $19.99 at claire's
Give hair a fun and colorful makeover with this booklet. Hair chalk, glitter pots, and hair gel come packaged in this how-to-book. A handy 4-step picture instruction guide is included on the inside flap showing you how to create two different styles. The pastel hair chalk pieces include one in each color: pink, green, and purple plus a black hair color brush. The glitter pots include one purple and one iridescent white plus a clear hair gel tube.
Click to browse STORE offers at claire's
Smith's Rose Bud Tin Set – $16 (value $25) at Urban Outfitters
Three cult favorites in a vintage-inspired tin! The super-sweet, pale pink Strawberry Lip Balm; classic and versatile Rosebud Salve, perfect for softening lips and hands; last, not least, the Fresh Minted Rose Lip Balm. The one and only rosebud salve is much more than a lip balm, it is history! First prepared, as legend has it, by a druggist in 1892, and patented in 1908, it's been a favorite the world over for over a century. Rosebud Salve can be used for all kind of things, including bringing relief to chapped skin, blemishes, burns or rough hands. It softens and soothes, and we are sure you're going to love it. Set of 3 plus collectible tin, made in the USA. 0.8 oz each.
Click to browse STORE offers at Urban Outfitters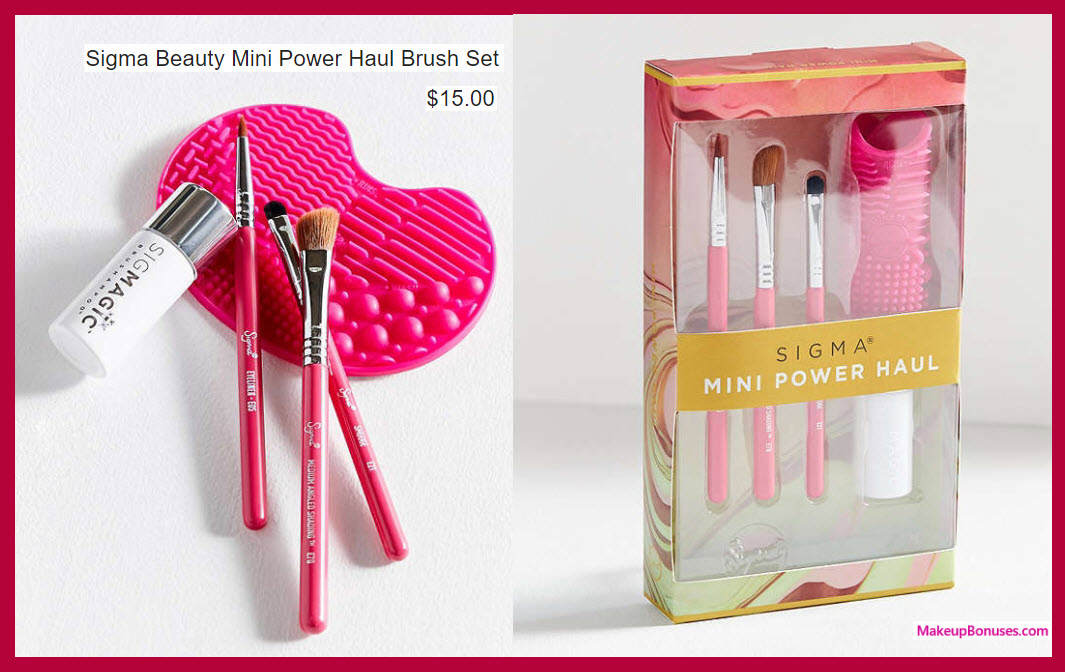 Sigma Beauty Mini Power Haul Brush Set – $15 at Urban Outfitters
Apply makeup like a pro and keep your brushes in tip-top shape with this mini set from Sigma Beauty. Featuring three of their essential makeup brushes, a mini version of their Sigma Spa® Express Brush Cleaning Mat, and a sample size of their SigMagic Brushampoo. The three makeup brushes will help you flawlessly apply eye makeup for a variety of looks that stun. Take care of your new tools with this handy brush cleaning mat featuring 5 inclusive textures to clean both face + eye brushes as well as suction cups on the underside for added stability. Apply water + cleaning solution and swirl brushes on mat. The Brushampoo will help cleanse gently + thoroughly. Your brushes will be clean in no time and you'll extend their lifespan so you can keep your favorite tools in rotation so much longer. Contains: Mini E05 Eyeliner Brush, Mini E21 Smudge Brush, Mini E70 Medium Angled Shading Brush, Sample Sigma Spa® Brush Cleaning Mat, & SigMagic Brushampoo sample.
Click to browse STORE offers at Urban Outfitters
Mini Makeup Mirror, Foldable with Lights – $12.99 at Amazon.com
PORTABLE, TOUCH SENSITIVE, MAGNIFYING MAKEUP MIRROR –Two-sided folding mirror, regular mirror for true image and 2 times magnifying mirror for close ups. Touch the circular button to turn on the mirror light, and LED lights brightness is adjustable, to adjust the intensity you touch the circle and keep touching it for several seconds, the lights will cycle brighter or darker. Great for travel, office, outdoor and even at home.
Click to browse STORE offers at Amazon.com
Glow on the Go Selfie Light – $12 at ELF Cosmetics
Turn your phone into an on-the-go photo studio to get that perfect selfie! Features 3 levels of brightness and 36 bulbs for the ultimate selfie! What's included:
Selfie Light
AAA Batteries
Click to browse STORE offers at ELF Cosmetics or to browse recent BRAND offers from ELF Cosmetics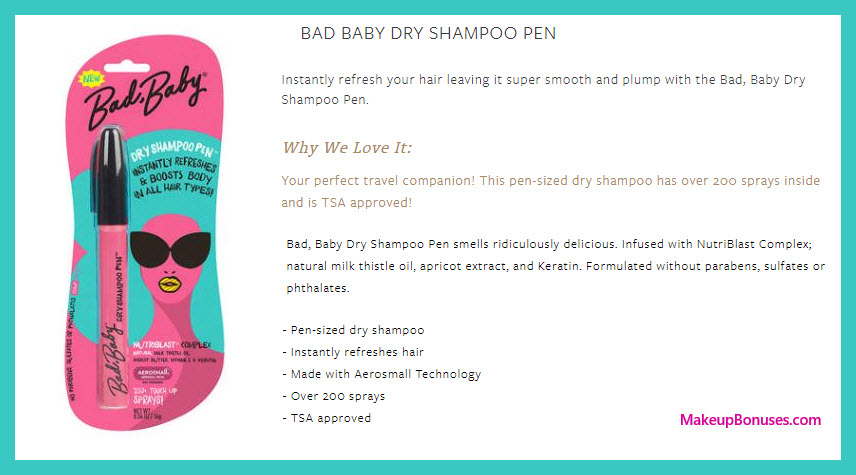 Bad, Baby Dry Shampoo Pen – $4.99 at Beauty Brands
Instantly refresh your hair leaving it super smooth and plump with the Bad, Baby Dry Shampoo Pen. This pen-sized dry shampoo has over 200 sprays inside and is TSA approved! Bad, Baby Dry Shampoo Pen smells ridiculously delicious. Infused with NutriBlast Complex; natural milk thistle oil, apricot extract, and Keratin. Formulated without parabens, sulfates or phthalates.
Click to browse STORE offers at Beauty Brands
See more beauty & grooming themed gift ideas: