Enjoy these ideas to gift gorgeous beauty finds to your friends and family – all priced between $26 and $49! Sorted below by price (highest to lowest).
NARS x Man Ray: The Kiss Velvet Matte Lip Pencil Set – $49 (value $98) at Sephora (currently on sale at Sephora for $39), JC Penney
A limited-edition, Sephora-exclusive set filled with four lip shades, sealed with a golden kiss of a cosmetic case. This Velvet Matte Lip Pencil set includes a rich gradient of NARS' award-winning, cult-classic Velvet Matte Lip Pencils, all sealed with a golden kiss in a covetable cosmetic case inspired by the electrifying art of modern master Man Ray.
This lip pencil set's versatile range of shades are ideal for creating statement-making lip looks that go from soft and neutral to bold and edgy and are wearable from day into the night. This set features four full-sized shades (two new, limited-edition and two existing): Wild Ways, Spellbound, Endangered Red, and Toundra.
Each jumbo pencil provides the application of a lipstick with the convenience of an artist pencil. The tapered end is perfect for lining, defining, and filling in lips. The non-drying formula is enriched with vitamin E and emollients for a creamy texture, while a combination of unique silicones ensures long-lasting, seamless matte color for hours. It also makes it easy to pair with another lip product for added dimension or as a tinted base. Formulated WITHOUT: Parabens, Sulfates, and Phthalates
Click to browse STORE offers at Sephora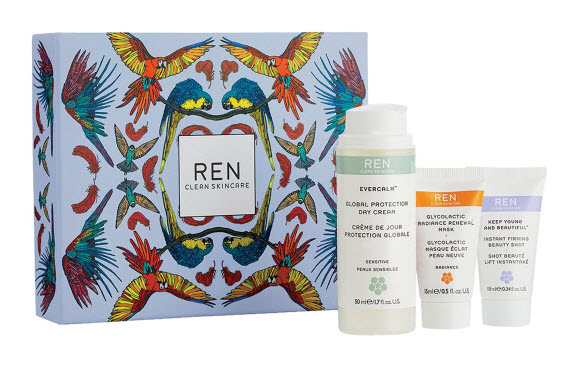 Evercalm™ Global Protection Day Cream 50ml

Omega 3 and 7 from Arctic Blackcurrant Seed and Arctic Seabuckthorn Berry Oil help to reduce skin inflammation and irritation
Bisabolol soothes and reduces redness -Global protection complex
Antileukine from Ochroleuca Seaweed, Tocotrienols from Arctic Cranberry Seed Oil, Kaempferol from Candle Tree Leaves and Leghemoglobin from Kudzu Zymbiozome are a powerful blend of anti-oxidants and free radical scavengers to protect the skin against UV induced damage and premature ageing

Glycol Lactic Radiance Renewal Mask 15ml

Natural fruit acids from passion fruit, lemon, grape and pineapple, along with
Papain from papaya exfoliate the outer layer of the skin, encouraging cell turnover and smoothing fine lines

Keep Young And Beautiful™ Instant Firming Beauty Shot 10ml

Hyaluronan 1 from Yeast Biofermentation instantly firms and smoothes lines and wrinkles
Hyaluronan 2 from Yeast Biofermentation firms and remodels over time
Phycocolloids from Microalga plump from within giving the skin lasting hydration and comfort
Click to browse STORE offers at REN Skincare or to browse recent BRAND offers from REN Skincare
Eye for Elegance Liquid Eye Set – $45 (value $72) at Stila, Sephora, JC Penney
Glamour-eyes this holiday season with six show-stopping shades of glow! Set Includes:
Three deluxe Glitter & Glow Liquid Eye Shadows – dazzling, ultra-sparkle finish

Glitter & Glow – Peachy Sheen (sheer warm peachy beige with silver and gold glitter)
Glitter & Glow – Smoldering Satin (deep tan and silver glitter)
Glitter & Glow – Next To Notte (deep red with pink glitter)

Three deluxe Shimmer & Glow Liquid Eye Shadows – NEW high shimmer, non-glitter shadows launching in the Spring!

Shimmer & Glow – Kitten (shimmering vibrant nude pink)
Shimmer & Glow – Grace (shimmering rose gold)
Shimmer & Glow – Twig (shimmering warm chestnut brown)
Click to browse STORE offers at Stila or to browse recent BRAND offers from Stila
Bar of Gold Illuminating Highlighter – $42 at Charlotte Tilbury
SO much more than just a highlighter! cult classic Bar of Gold features light-reflecting ingredients to lift dull skin and sculpt your cheekbones to perfection. You can get show-stopping glamour in an instant, but you'll have to be quick… My Bar of Gold is gold dust by nature as well as by name, so get it before it's gone! This magical highlighter is exclusive to CharlotteTilbury.com. WHAT MAKES BAR OF GOLD MAGIC:
This delicately-fine, gilded formula will give you the instant glamour of a Bond Girl, every day!
Luxurious Pure Gold Pearls illuminate the skin and soft-focus any imperfections for a lit from within glow.
Create a radiant, glossy complexion in just 5 gentle strokes across the cheekbones, temples, nose, cupid's bow and décolletage.
The light-reflecting highlighter slims and sculpts as it transforms.
Ideal for lifting dull skin, hiding imperfections and adding that red carpet-ready finish to your look.
Click to browse STORE offers at Charlotte Tilbury or to browse recent BRAND offers from Charlotte Tilbury
OASIS LIP SERVICE TRIO – $36 (value $60) at H2O+ Beauty
Pucker Up! These Lip Gels feature minty fresh flavor and provide rich hydration with their innovative gel texture. They smooth, add shine, and finish with a watercolor tint in blushing pink, cheeky plum, or sheer shine. Water lily extract helps to condition skin, while Sea Grass extracts help to promote skin's ability to retain moisture. Lip Cushion Technology helps to improve lips' texture, softness, and hydration. Made with NO PARABENS, MINERAL OILS, or PHTALATES. Set contains:
Oasis Lip Gel Blush Crush – Pink .13 oz
Oasis Lip Gel Cloud Wine – Plum .13 oz
Oasis Lip Gel Clear as Day – Clear .13 oz
Click to browse STORE offers at H2O+ Beauty or to browse recent BRAND offers from H2O+ Beauty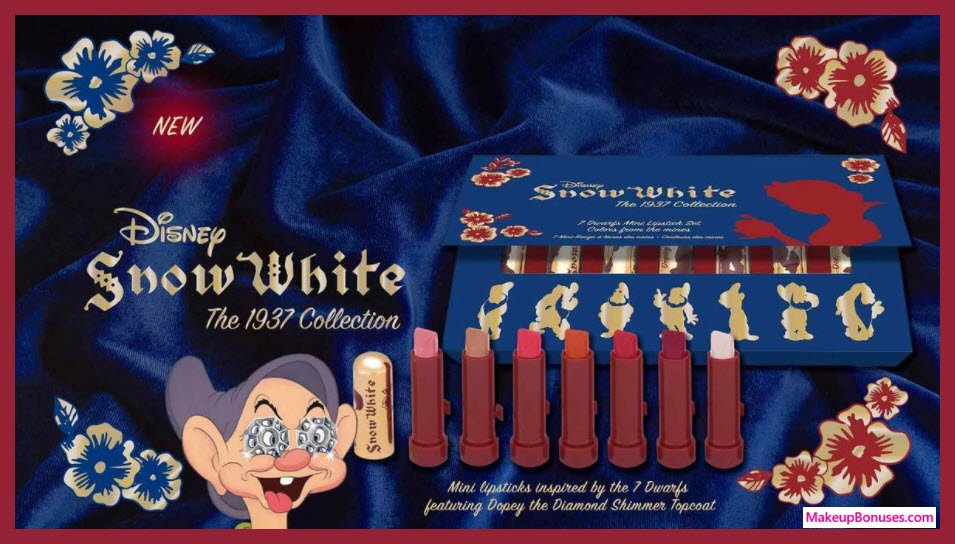 7 Dwarfs Mini Lipstick Set – $35 at Besame Cosmetics
To celebrate the 80th anniversary of "Snow White and the Seven Dwarfs", Besame collaborated with Disney to create this exclusive collection. Through extensive and careful research, Besame matched the colors from the original color palette provided by Disney's Ink and Paint Department to bring a beautiful and authentic recreation of the colors from the classic 1937 film. Experience the truly timeless and stunning beauty of the original animation in a brand new way! These seven little lipsticks may be diminutive in size, but will bring a smile and a song to your lips. Each of the 7 colors are inspired by the precious gemstones that the 7 Dwarfs carved out every day in the mines deep below the forest floor. Each lipstick is named for one of the Dwarfs who loved Snow White. Use the versatile diamond-sheen frost called "Dopey" as a top-coat to pearlize a deeper lip color!
Bashful Sweet tourmaline-pink
Doc Neutral, nude, cool padparadscha sapphire
Dopey Opalescent diamond frost
Grumpy Vibrant, warm coral carnelian
Happy Sunny terra-cotta
Sleepy Brilliant sapphire-pink
Sneezy Rich, glowing garnet with a bit of sparkle
Click to browse STORE offers at Besame Cosmetics or to browse recent BRAND offers from Besame Cosmetics
Snow Ball Pigment and Glitter Kit – $29.50 (value $38) at MAC Cosmetics
Holiday's tiniest darlings twinkle and glow. These on-fleek kits are the life of the party. Three mini Glitters and Pigments offer something a little more tinsellated. Whether you're feeling gold and champagne or copper and pink, swipe on something sparkly wherever you're craving shine. Outfitted in a rose gold sequin statement bag, complete with a mirror-balled tassel. Limited edition and simply to die for. 2.4 g / .08 US fl oz.
Click to browse STORE offers at MAC Cosmetics or to browse recent BRAND offers from MAC Cosmetics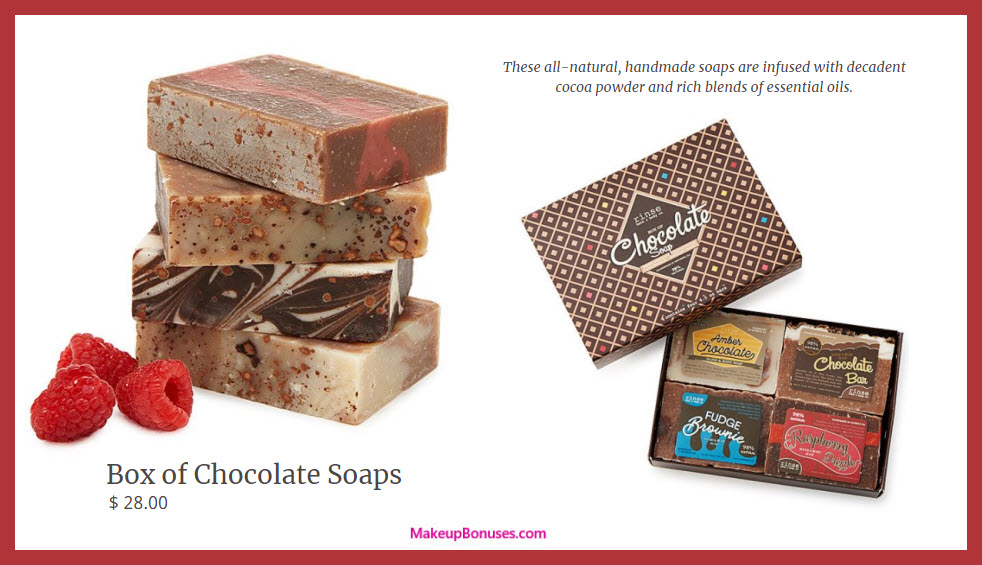 Box of Chocolate Soaps – $28 at Uncommon Goods
These all-natural, handmade soaps are infused with decadent cocoa powder and rich blends of essential oils. Each of the soaps in this set by Heather Swanepoel are made from pure, ingredients that soothe and satisfy your skin (a blend of olive, coconut, palm kernel, cocoa butter, shea butter, sunflower and refined sweet almond oils). Cocoa powder and fragrance oils are added to create four mouthwatering formulas. The soaps come in a presentation box perfect for gifting. Each soap is 98% natural & contains: Saponofied Oils of: Olive, Coconut, Palm Kernel, Cocoa Butter, Shea Butter, High Oleic Sunflower & Refined Sweet Almond along with Fragrance plus these additional ingredients per flavor:
Amber Chocolate – Cocoa Powder
Chocolate Bar – Titanium Dioxide & Cocoa Powder
Fudge Brownie – Cocoa Powder
Raspberry Drizzle – Cocoa Powder & Oxide
Click to browse STORE offers at Uncommon Goods
See more beauty & grooming themed gift ideas: