Surprise your sweetie this Valentine's Day with these Beauty-Inspired Valentine's Gifts. Choose from gift ideas that could inspire new beauty rituals (Tatcha luxe gold massager), makeup so gorgeous it can be worn as jewelry (Lip Colors from Christian Louboutin), or heart-shaped cosmetics to remind your love of their special place in your heart (Too Faced Sweethearts Perfect Flush Blush). Sorted by price (highest to lowest) below:
Akari Gold Massager – $195 at Tatcha
This gold-leafed Tatcha Akari Gold Massager has an elegant shape that was inspired by Japanese acupressure, and can be heated or cooled to maximize benefits to the skin. Use daily to awaken skin, release tension and visibly reduce puffiness, restoring a lifted, youthful look to skin. Ideal for all skin types. Try these routines as a luxurious daily ritual:
Asayake Face Massage: Meaning "morning glow" in Japanese, the Asayake Massage uses a chilled Akari Gold Massager to tighten and awaken skin.
Yuyake Face Massage: This "evening glow" massage uses a warm massager to release tension and detoxify through lymphatic draining.
Mezame Eye Massage: Meaning "awakening" in Japanese, the Mezame Eye Massage helps rejuvenate and refresh tired eyes.
Click to browse STORE offers at Tatcha or to browse recent BRAND offers from Tatcha
Best Of Spring Collection Kit – $175 (value $250) at Stila
Create endless looks with the "The Best of Spring" beauty bundle – a curated selection of Spring 2018 products and shades. Make a subtle statement or go bright and bold by mixing and matching eleven of our latest and greatest:
Glitter & Glow in Wanderlust
Glitter & Glow in Gypsy
Shimmer & Glow in La Douce
Shimmer & Glow in Kitten
Shimmer & Glow in Freedom
Stay All Day® Sheer Liquid Lipstick in Sheer Patina
Stay All Day® Shimmer Liquid Lipstick in Beso Shimmer
Stay All Day® Liquid Lipstick in Sogno
Glitterati Lip Top Coat in Embolden
Glitterati Lip Top Coat in Ignite
Smudge Kajal Eye Liner in Intense Black
Click to browse STORE offers at Stila or to browse recent BRAND offers from Stila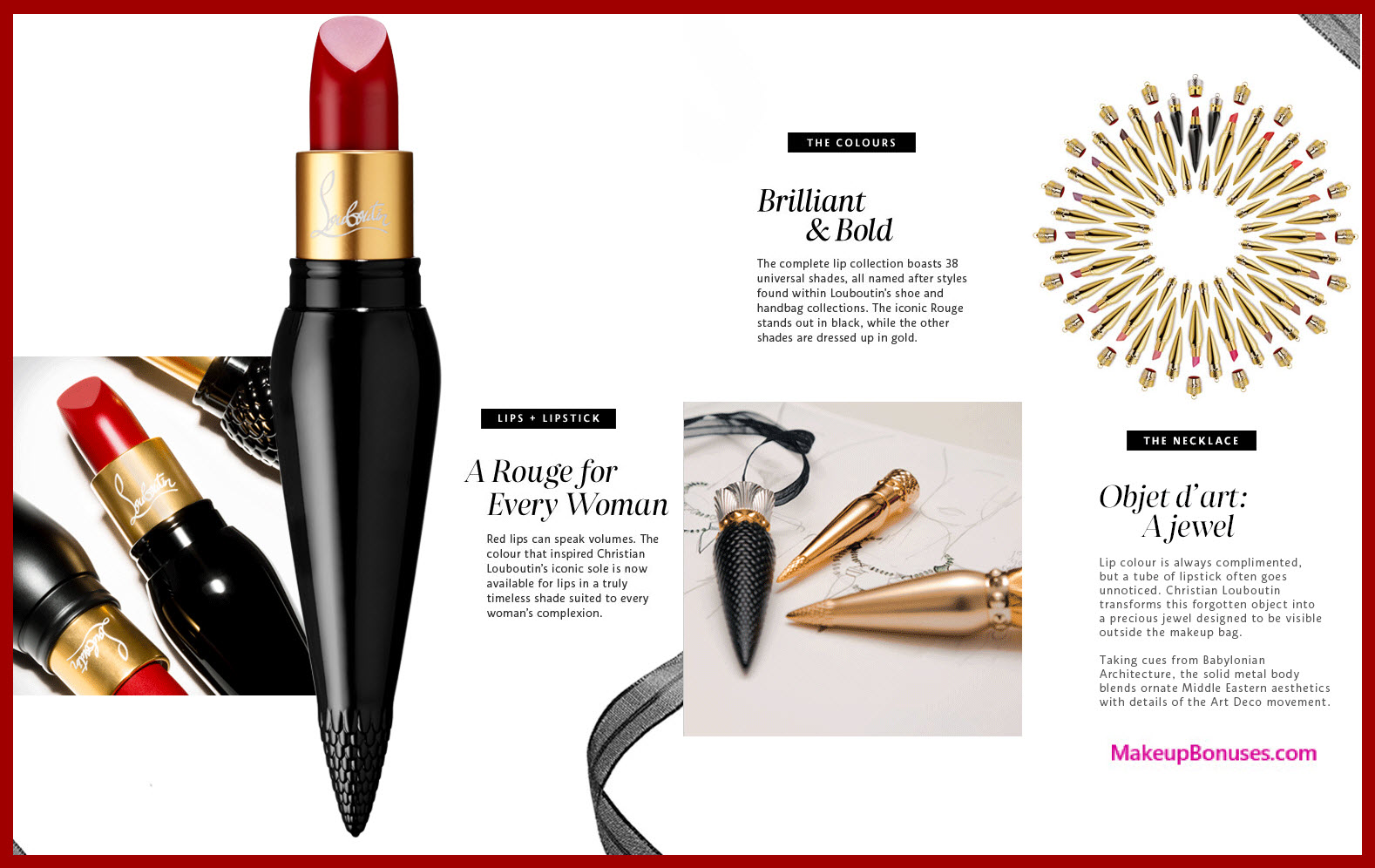 When Christian Louboutin captured the essence of his iconic Red Sole with Rouge Louboutin Nail Colour, he introduced to the world a new universe of beauty. With his innate sense of allure, playfulness and theatricality, his vision is to unveil women's femininity and amplify their assets, not to correct their imperfections. Rouge is a source of inspiration for "something beautiful" as Christian Louboutin launches his first collection of lip colors.
The Sheer Voile texture, tender in nature, offers equally optimal surface contact through the generous width of its bullet. Lightly accented, it offers impactful color enhanced by a luminous shine. It glides on lips with a creamy, smooth, nourishing sensation, accenting your lips' natural radiance with wet, luminous shine. A complex of natural oils and seed butters enhance moisturization and create a protective effect against dryness.
Each Lip Colour hue features a subtle scent evocative of the feminine and glamorous qualities of a woman who enjoys cosmetic products. All colors are inspired by iconic Louboutin shoes and handbags. The Lip Colour is sold with a black silk ribbon that turns the lipstick into a necklace and is enclosed in a black, lacquer-like effect reusable jewelry box. It also includes a carrying silk pouch. 0.12 oz. Shade Rouge Louboutin features a black case with a silver and gold top. Paraben-free; mineral oil-free; DEA-free; phthalate-free. Clinically tested.
Click to browse STORE offers at Nordstrom or to browse BRAND offers from Christian Louboutin

Inspired by the hypnotic colors of a psychedelic dream world, Yves Saint Laurent introduces the limited edition "Pop Illusion" Spring Collection. A limited edition lip palette featuring 5 iconic YSL shades with super creamy formula and radiant shine finish. Choose between shades of red, pink, and coral for intense color pay off and a variety of standout looks. Included in the palette is a YSL lip brush, perfect to pick up the shades and fill your lips with precision. The ultimate accessory for multiple looks on the go!
Click to browse STORE offers at Neiman Marcus or to browse recent BRAND offers from Yves Saint Laurent
Flower by Kenzo Miniature Fragrance Trio – $42 (value $82.99) at QVC and Jet.com ($49.99)
A beautiful set of three miniature bottles of Flower by Kenzo Eau de Parfum. It's a feminine, poetic, and contemporary fragrance for the modern woman. Perfect for any woman who looks to nature for inspiration and renewal. The iconic fragrance is housed in a modern, unique bottle, reminiscent of the red poppy flower – perfect for Valentine's Day!
Spray the fragrance at your pulse points (at the wrists, behind the ear, on the neck). The scent includes floral notes of rose, wild hawthorn, violet, and cassia; powdery notes of vanilla and white musk; and a vibrant note of incense. Set contains three 0.13-fl oz mini EDP bottles.
Click to browse STORE offers at QVC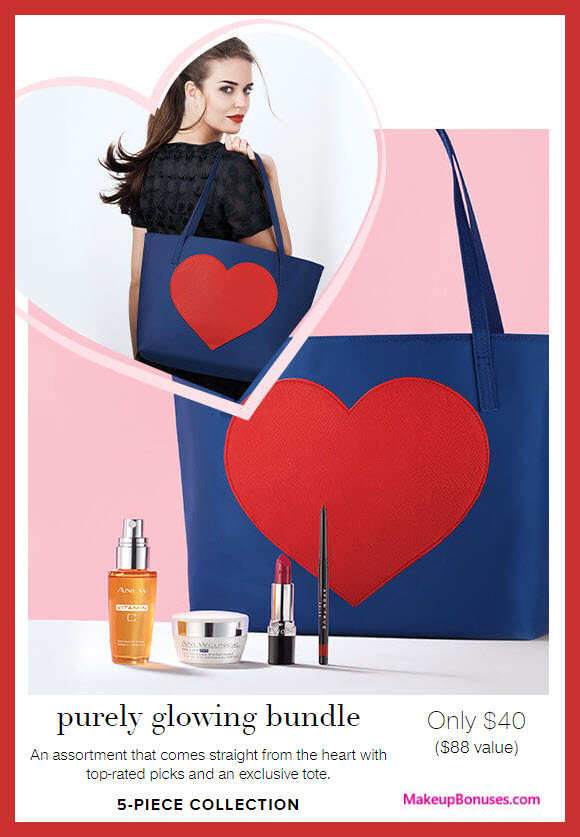 Avon Purely Glowing Bundle – $40 (value $88) at Avon
This bundle comes straight from the heart with top-rated picks and an exclusive tote. The Limited-edition 5-piece collection includes:
Valentine's Day Tote

Handle drop is 9"
Fully lined
17 ½" L x 3 ¾" W x 11 ½" H

Anew Vitamin C Brightening Serum
Anew Clinical Eye Lift Pro Dual Eye System
Avon True Color Glimmersticks Lip Liner in True Red
Avon True Color Nourishing Lipstick in Candy Red
Click to browse recent BRAND offers from Avon
Baked heart-shaped blush contains three individual color swatches that blend beautifully for multidimensional color in a gorgeously wearable, universally flattering peachy shade. Baked formula allows for a beautifully buildable flush. With three perfect swatches, you can just swirl the colors together and apply, or use more of one shade for a custom flush or highlight.
Blush works on all skin tones. Vegan Friendly. Paraben-Free.
Click to browse STORE offers at Too Faced or to browse recent BRAND offers from Too Faced

Stock these at-home bars in your shower and drink in the skin soothing benefits of wine-turned soap. Even if Sunday brunch is a whole week away, you can still start your day with a refreshing splash of bubbly. Stock these at-home bars in your shower or tub and drink in the surprising skin soothing benefits wine-inspired soap.
To craft these all-natural vegan and gluten-free soaps, notes from popular red and white wine varieties are blended with complementary scents and oils—such as citrus for "chardonnay" and berries, plums, and apples for "pinot noir"—resulting in a series of sublimely scented soaps that bear the distinctive shades and subtle fragrances of the vinos that inspired them. Redolent with the rich, layered notes one would expect from any full-bodied bottle, this effervescent collection is just the thing to turn your day-to-day wake-up routine into happy hour. Handmade in Monroe, Georgia, USA.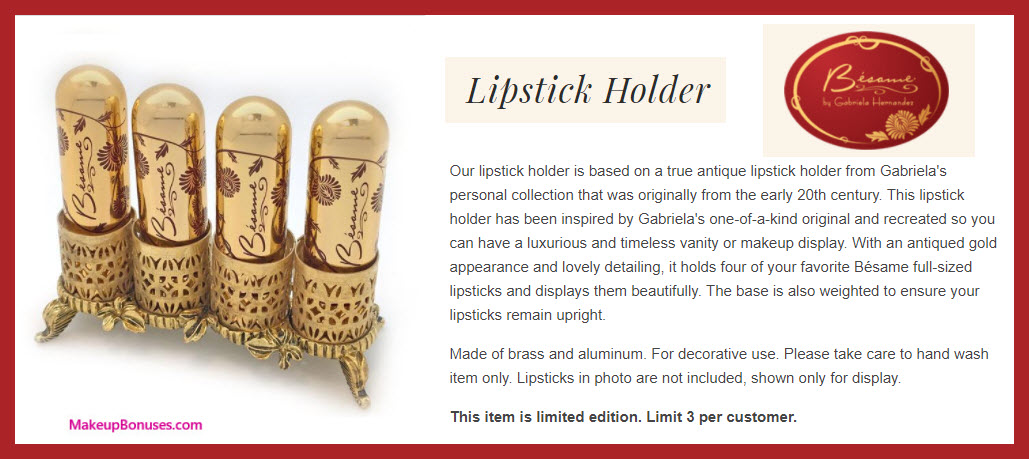 Bésame Cosmetics' lipstick holder is based on a true antique lipstick holder from Gabriela's personal collection that was originally from the early 20th century. This lipstick holder has been inspired by Gabriela's one-of-a-kind original and recreated so you can have a luxurious and timeless vanity or makeup display. With an antiqued gold appearance and lovely detailing, it holds four of your favorite Bésame full-sized lipsticks and displays them beautifully. The base is also weighted to ensure your lipsticks remain upright.
Click to browse STORE offers at Besame Cosmetics or to browse recent BRAND offers from Besame Cosmetics
Afterglow Natural Massage Oil Candle, Pink Lotus – $16.95 (value $29) at Amazon.com, Lucky Vitamin (reg $21.75 / currently $16.30 on sale), Walmart ($18.34)
These coveted candles from Jimmyjane engage all the senses. Light Afterglow to enjoy its illumination and scent, then drizzle the warm oil on the skin as the perfect start to an unforgettable massage – or a hydrating treat after a bath. Dimensions – 2.6″ x 2.6″ x 2.5″ and 4.5oz (128g) with burn time of up to 32 hours. 
Perfect Melting Point – Liquefies into a luxuriant massage oil at body temperature
Aphrodisiac Scents to engage the senses (Bourbon, Cucumber Water, Dark Vanilla, or Pink Lotus)
Pour Spout from Porcelain Container ensures easy application of oil
Proprietary Formulation includes Jojoba, Shea Butter, Vitamin E, Soy and Aloe.
Body-Safe and Paraben-Free – No phthalates, sulfates, petrochemicals, animal products or animal testing
Clean-Burning – Paraffin-free and lead-free, with natural cotton wicks
Click to browse STORE offers at Amazon.com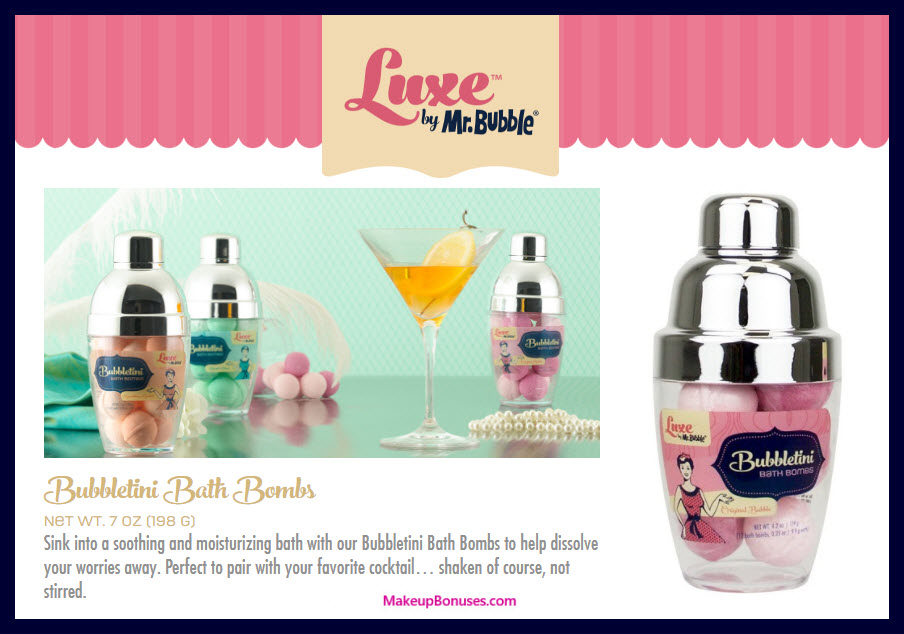 Luxe by Mr. Bubble® Original Bubbletini Bath Bombs – $8.99 at Target, Ulta ($10)
Relax and indulge in a soothing, moisturizing bath with Bubbletini Bath Bombs from Luxe by Mr. Bubble. Bubbletini Bath Bombs are traditional bath bombs that fizz in the bath. Just place a few under running water and let the day drift away as the classic bubble scent fills the tub, while nourishing ingredients like shea butter leave your skin feeling silky soft. Once you've given yourself some much needed "me time", use the shaker to mix up your favorite drink!
Click to browse STORE offers at Target or Click to browse STORE offers at ULTA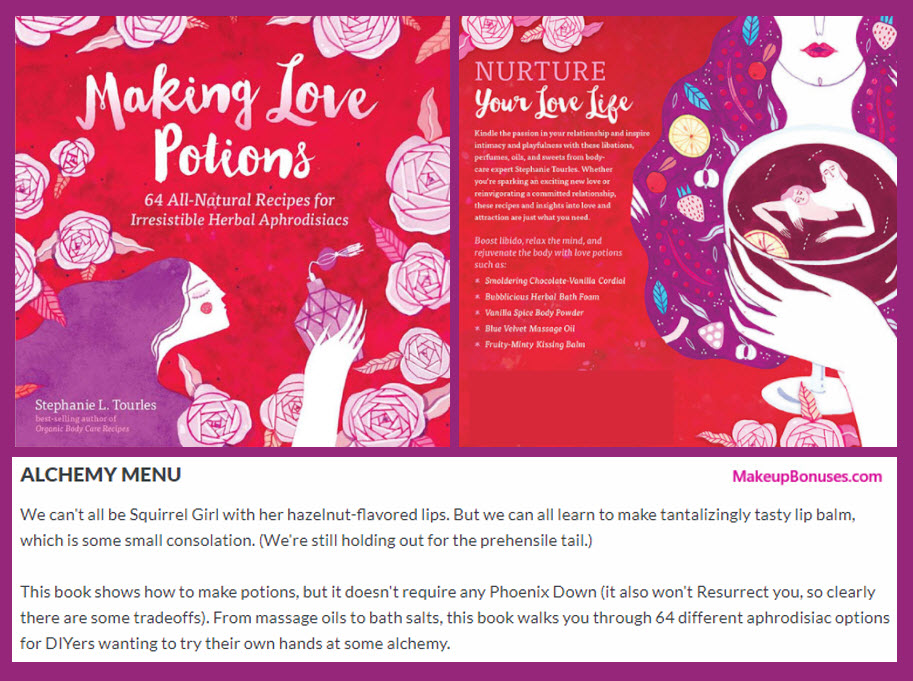 Making Love Potions: 64 All-natural Recipes for Irresistible Herbal Aphrodisiacs – $6.99 (value $16.99) at Think Geek, Amazon ($11.49), Barnes & Noble ($12.19), and Target ($11.52)
Herbs are hot! And in Making Love Potions, best-selling author Stephanie L. Tourles shows you how to bring that heat into your bedroom. Tourles playfully presents 64 easy recipes for natural body oils, balms, tonics, bath blends, and sweet treats to share with your special someone. This celebration of life and pleasure arouses the senses with such irresistible recipes as "Come Hither" Body Powder, Cocoa-Chai "Kiss 'n' Make Up" Lip Butter, and Vanilla Intrigue Massage Oil. Most recipes use simple, common ingredients, making them both simple and quick to prepare. With beautiful illustrations and engaging explanations of the power that herbs, flowers, and natural oils have over our physical bodies, Making Love Potions is the perfect gift for herb lovers — and all lovers — everywhere. 192 pages, paperback.
Click to browse STORE offers at Target
See more beauty & grooming themed gift ideas: