Congratulate your favorite Class of 2018 graduate with a beauty-themed gift that will help them maintain a youthful and stylish look as they step into their next life chapter. Skincare, sunscreen, haircare, and body care are essential – make sure they start with a solid foundation of good habits and the best possible products in their toolkit.
An exceptional triple-action tool that can create many different styling possibilities. Transition from spiral curls to mermaid waves, from tousled waves to flipped ends—the options are as endless as your imagination. Winner of the 2017, 2016, and 2015 Allure Best of Beauty Award! Includes a 1″ straight barrel, a 1.5″ straight barrel, and a 1.25″ – 0.75″ tapered barrel.
T3 Tourmaline and ceramic barrels seal the cuticle for a smooth, shiny finish – 5 heat settings
Digital T3 SinglePass™ technology measures and adjusts temperature for consistent, healthy results and one-pass styling
Interchangeable design with additional barrels sold separately
Auto world voltage (fantastic for someone who expects to be on the move!)
Purchase the WHIRL TRIO gift at T3 for $270.
Click to browse STORE offers at T3 or to browse BRAND offers from T3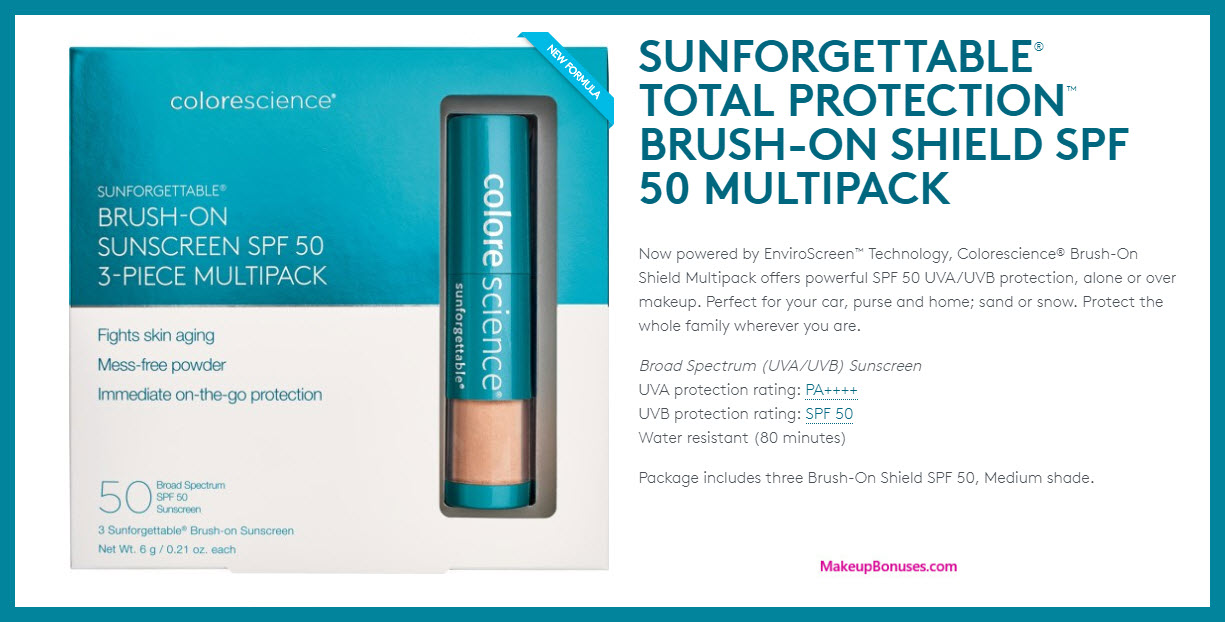 COLORESCIENCE Sunforgettable® Brush-On Sunscreen SPF 50 Trio – $128 (value $192) at Nordstrom ($128) and Colorescience ($130)
One of my personal favorites is this brush-on mineral sun protection that allows you to always be prepared for a day in the sun. Multi-pack allows you to use one for face, one for body, and keep one handy in your purse or car (doesn't melt!!). The powder formula goes on without greasiness or mess and the powder formula feels weightless. This sunscreen brush offers SPF 50 UVA/UVB protection alone or over makeup and provides the benefits of a finishing powder. Free of talc, dyes, synthetic fragrance, mineral oil, alcohol, and harsh chemicals. Made in the USA.
WINNER: 2016 InStyle Best Beauty Buys, 2016 NewBeauty Beauty Choice Award, and 2015 InStyle Best Beauty Buys!
Goes anywhere: SPF brush feels weightless & fits easily into purse
No-Mess powder: mineral sunscreen powder won't spill and is non-greasy
Worry-free physical protection: active ingredients are mineral-based & benzone-free
Self-dispensing brush: all-in-one brush applicator makes it easy to apply throughout the day
Healthy ingredients: active ingredients (titanium dioxie and zinc oxide) provide non-irritating, broad-spectrum UVA/UVB SPF 50 protection
Purchase the Sunforgettable® Brush-On Sunscreen SPF 50 Trio at Nordstrom for $128.
Click to browse STORE offers at Nordstrom or to browse BRAND offers from Colorescience
ESSENTIAL BRUSH KIT – MAKE ME CLASSY – $125 (value $228) at Sigma Beauty and Neiman Marcus 
Create a variety of eye and face looks from natural to punk with this set of 12 classic brushes in exclusive SigmaTech® fibers. This kit contains 12 best-selling brushes + a Brush Cup for storage and travel. Free 2-year warranty. Cruelty Free. Brushes are made of SigmaTech® fibers and include:
E05 – Eye Liner: Create smooth and even lines
E30 – Pencil: Soften and smoke out lines
E40 – Tapered Blending: Soft blended crease
E55 – Eye Shading: Even application of color
E60 – Large Shader: Uniformly cover the whole lid with product
E65 – Small Angle: Create precise lining
E70 – Medium Angled Shading: Soft application of color
F30 – Large Powder: Even powder application
F40 – Large Angled Contour: Cheek application
F50 – Duo Fiber: Creates an airbrush effect onto the skin
F60 – Foundation: Smooth foundation application
F70 – Concealer: Conceal small areas
Purchase the ESSENTIAL BRUSH KIT – MAKE ME CLASSY at Sigma Beauty for $125.
Click to browse STORE offers at Sigma Beauty or to browse BRAND offers from Sigma Beauty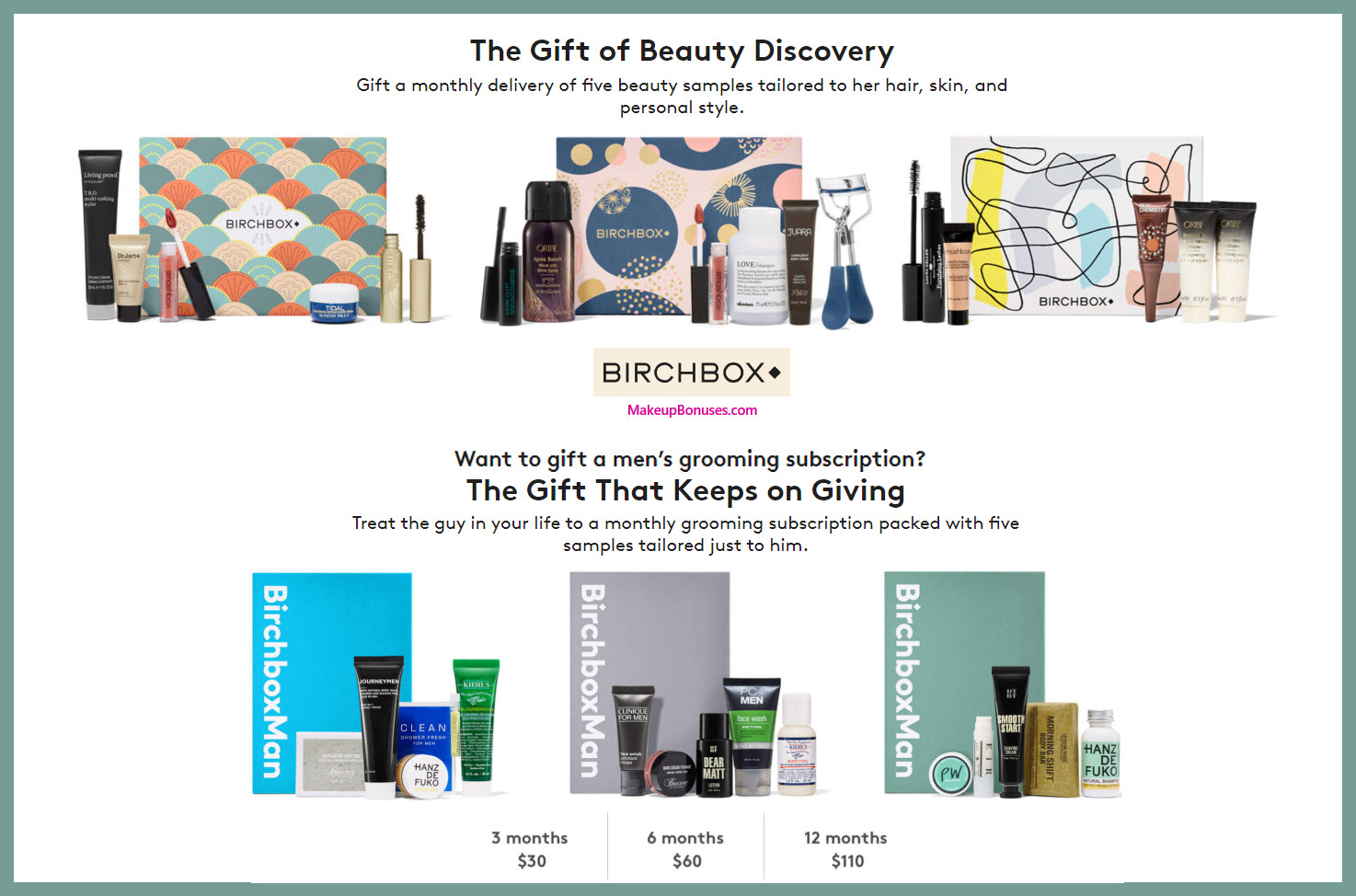 Birchbox 12-month gift subscription – $110 (value $120) at Birchbox
Birchbox is a beauty subscription box where you receive 5 tailored monthly samples to your skin, hair, and style preferences. You'll get to try all types of products (from haircare to skincare to makeup) with a helpful information sheet on why they're great and how to use them. Subscriptions are available for both men and women!
Purchase the 12-month Beauty Box Subscription at Birchbox for $110.
Click to browse STORE offers at Birchbox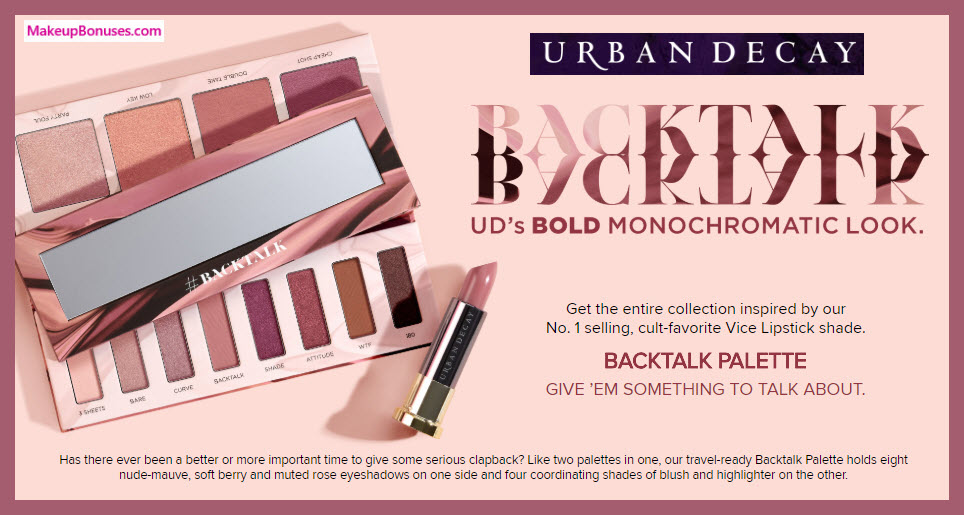 Backtalk Eye & Face Palette – $46 at Sephora
An exciting new eyeshadow and face palette from Urban Decay, inspired by Backtalk (their bestselling Vice Lipstick shade). This travel-ready case holds 8 nude-mauve, soft berry, and muted rose eyeshadow shades on one side and 4 coordinating shades of blush and highlighter on the other. Includes a double-sided, removable mirror that acts as a divider between the eyeshadow and the blush and highlighter shades. Shades feature UD's proprietary Pigment Infusion System™ for velvety pigments that blend easily, stay rich, and last for hours. Paraben-free. Urban Decay is a Cruelty Free Beauty Brand. Backtalk set contains:
8 Eyeshadows

3 Sheets (pale pink-nude matte), Bare (light pinky-peach satin), Curve (metallic rose shimmer with silver micro-glitter), Backtalk (soft rosy mauve matte), Shade (deep fuchsia satin), Attitude (metallic red-copper), WTF (reddish brown matte), 180 (metallic brown-red)

4 Blushes / Hightlighters

Cheap Shot (medium pink-nude), Double Take (rich mauve with slight shimmer), Low Key (pink-peach), Party Foul (light pink-nude shimmer)
Purchase the Backtalk Eye & Face Palette at Sephora for $46.
Click to browse STORE offers at Sephora or to browse BRAND offers from Urban Decay
SIGMA DRY'N SHAPE® SPA – $29 at Sigma Beauty, Amazon, ASOS, Belk, Bloomingdales, Dillard's, and Lord & Taylor 
Help the new grad get a good start to makeup brush hygiene with the Dry'N Shape Spa from Sigma Beauty. It's engineered to wash makeup brushes of all sizes and squeeze-dry them upside-down to restore their shape and function quickly. Featuring an easy-to-breakdown design so you can use the 7 brush cleaning textures (the nubby pink ridges in the middle of the tower), then snap on the Sigma Dry'N Shape® bases to hold up to 18 brushes of a variety of sizes. Made of high-grade silicone, includes a 2-year warranty. Formulated without latex, BPA, or lead.
Purchase the SIGMA DRY'N SHAPE® SPA at Sigma Beauty for $29.
Click to browse STORE offers at Sigma Beauty or to browse BRAND offers from Sigma Beauty
For more great grad beauty ideas, see the post on Customizable Gifts (lipsticks, makeup brushes, perfume, and more!) or the post on Beauty Box Subscriptions.
When you have found the perfect gift, remember to check for any additional Free Gifts with Purchase on TODAY'S CURRENT OFFERS page!