While supplies last, receive free skincare samples from No B.S. No B.S. NO HYPE. NO FADS. ALL CLEAN SH*T. The No B.S. brand has stripped away the hype to create better basics. They keep their natural skincare as clean as possible—no mysterious ingredients or questionable additives. All formulas are responsibly made in America. See below for details on how to request these free skincare samples.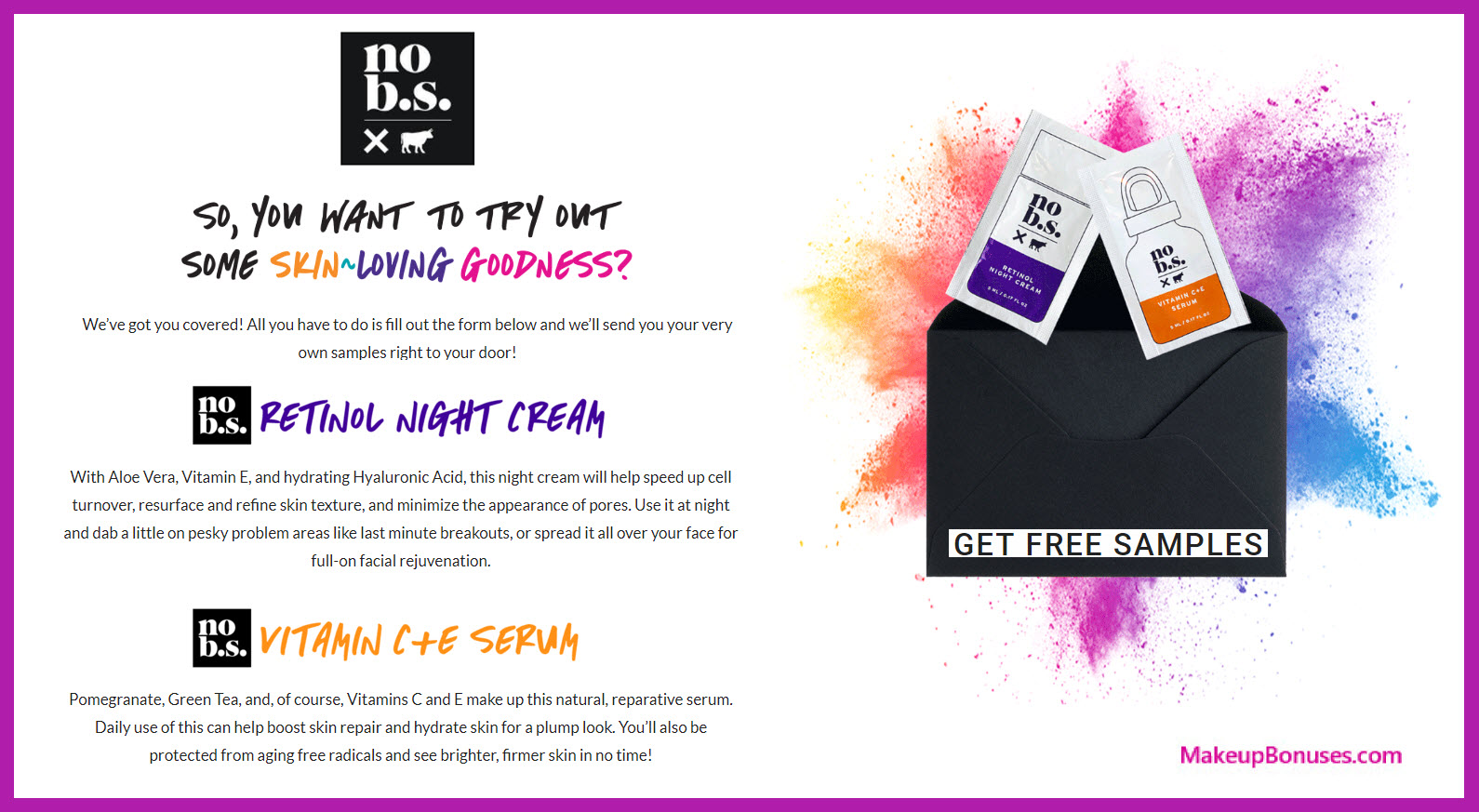 No B.S. is giving away 2 free samples from their skincare line: Retinol Night Cream and Vitamin C + E Serum!
Retinol Night Cream: with Aloe Vera, Vitamin E, and hydrating Hyaluronic Acid, this night cream will help speed up cell turnover, resurface and refine skin texture, and minimize the appearance of pores. Use it at night and dab a little on pesky problem areas like last minute breakouts, or spread it all over your face for full-on facial rejuvenation.
Vitamin C + E Serum: Pomegranate, Green Tea, and, of course, Vitamins C and E make up this natural, reparative serum. Daily use of this can help boost skin repair and hydrate skin for a plump look. You'll also be protected from aging free radicals and see brighter, firmer skin in no time!
To get the free samples, simply follow these quick steps:
No purchase required plus shipping is free!
Complete the online sample request form with your mailing address details (name & address)
USA addresses only
Act fast as offer is only available while supplies last
Be sure to share this great offer with your friends and family with the convenient share buttons (buttons are available on both photos and on each web page!)
***Explore more FREE BEAUTY on MakeupBonuses.com ***
***Visit TODAY'S CURRENT OFFERS page for a CURRENT LIST OF ALL BEAUTY OFFERS ***