While supplies last, receive a free foaming shower / bath product sample of your choice from Rituals. Inspired by the wisdom and ancient traditions of Asian cultures, Rituals created an extensive collection of luxurious yet affordable products for home and body. Enrich your life using unique signature fragrances that are carefully designed and composed by the world's finest perfumers. See below for details on how to request a free bath product sample of either The Ritual of Sakura or The Ritual of Ayurveda via Facebook.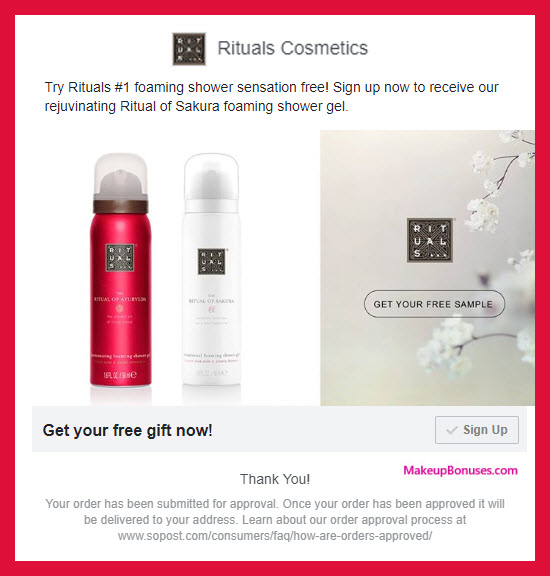 Rituals is giving away free samples of your choice of foaming shower gel. Choose between:
For centuries, the Japanese have celebrated the annual flowering of the Cherry Blossom, or Sakura. This marks an awakening of nature and symbolises that beauty is momentary and life must be enjoyed. Inspired by this tradition, The Ritual of Sakura collection blends the sweetness of Cherry Blossom with nourishing Organic Rice Milk, to make each day feel like a new beginning.
THE ANCIENT ART OF LIVING WISELY – Balanced living is the principle behind Ayurveda, the science of life. This ancient wisdom from India helps you to improve health and well-being by cleansing and nourishing your energy. The Ritual of Ayurveda has been carefully designed to support this philosophy and offers a collection of luxury home and body care products that help balance body, mind and soul.
Facebook required to sign up. Follow these steps to choose your freebie:
No purchase required plus shipping is free!
Visit Facebook page and scroll down until you see the offer
Complete the online sample request form with your mailing address details
Choose from

Ritual of Ayurveda Mini Shower Foam
Ritual of Sakura Mini Shower Foam

Act fast as offer is only available while supplies last
While you're on Facebook… like and follow the MakeupBonuses Facebook page!
Browse more promotional offers from Rituals (the brand) or at Rituals (the store).
***Explore more FREE BEAUTY on MakeupBonuses.com ***
***Visit TODAY'S CURRENT OFFERS page for a CURRENT LIST OF ALL BEAUTY OFFERS ***