TODAY ONLY (until 3pm ET) at Ulta: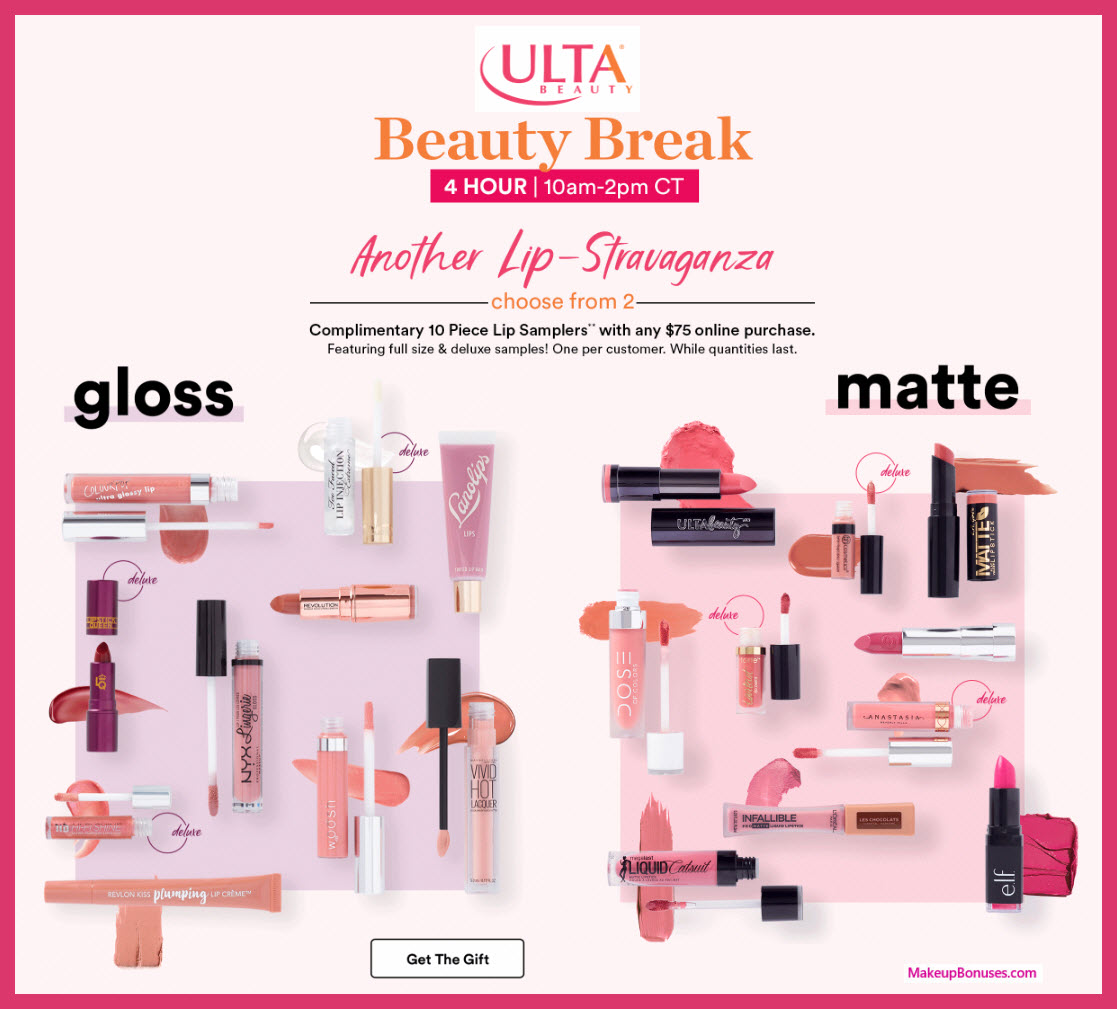 With your $75 Multi-Brand purchase, receive your choice of 10-piece gift:
GLOSS set:

NYX Full Size Lingerie Gloss in Honeymoon (0.11 oz)
Woosh Beauty Full Size Spin-On Lip Gloss in Peach (0.27 oz)
ColourPop Full Size Ultra Glossy Lip in Champagne Mami (0.11 oz)
Maybelline Full Size Vivid Hot Lacquer in Tease (0.17 oz)
Makeup Revolution Full Size Rose Gold Lipstick in Chauffeur (0.11 oz)
Lano Full Size Lanolips Lips Tinted Balm (0.44 oz)
Revlon Full Size Kiss Plumping Lip Crème in Nude Honey (0.25 oz)
Too Faced Lip Injection Extreme Mini (0.05 oz)
Lipstick Queen Medieval Lipstick Mini (0.05 oz)
Urban Decay H-Fi Shine Ultra Cushion Lip Gloss Mini in Naked (0.04 oz)

MATTE set:

ULTA Beauty Full Size Lipstick in Flushed Pink (0.14 oz)
Dose Of Colors Full Size Matte Liquid Lipstick (0.16 oz)
L'Oréal Full Size Infallible Pro Matte Liquid Lipstick in Les Chocolats (0.21 oz)
Wet N Wild Full Size Megalast Liquid Catsuit Matte Lipstick in Rebel Rose (0.21 oz)
e.l.f. Full Size Velvet Matte Lipstick in Fuchsia Fantasy (0.14 oz)
L.A. Girl Full Size Matte Flat Velvet Lipstick in Snuggle (0.1 oz)
Essence Full Size Matt Matt Matt Lipstick in Wow Effect 03 (0.13 oz)
Anastasia Travel Size Liquid Lipstick in Crush (0.08 oz)
Tarte Tarteist Lip Paint Mini in Delish (0.034 oz)
BH Cosmetics Liquid Lipstick Mini in Sophia (0.08 oz)
Ulta Daily Steals – these items ship free for Platinum & Diamond members
Ulta offers Free Shipping on purchases of $50 or more.
*** Visit TODAY'S CURRENT OFFERS page for CURRENT LIST of ALL OFFERS ***