TODAY ONLY at Ulta: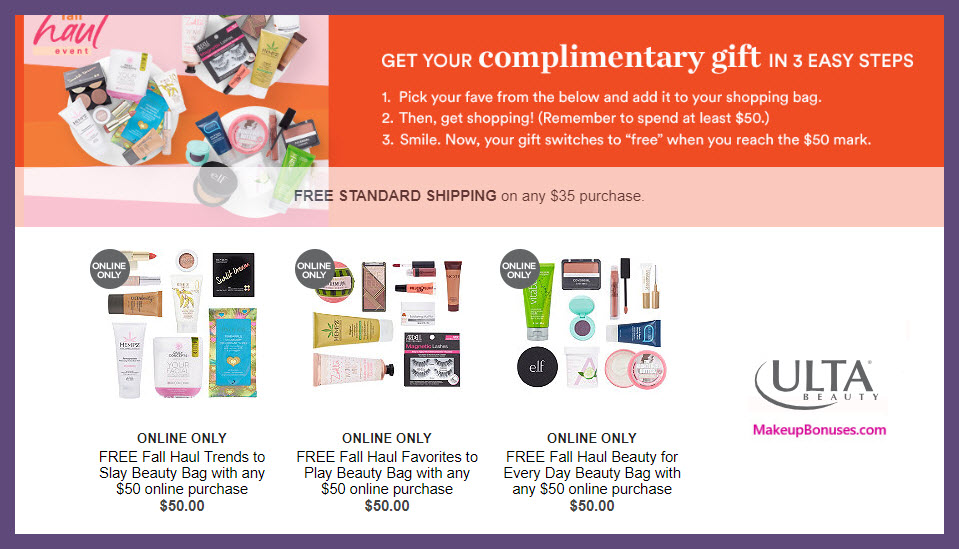 With your $50 Multi-Brand purchase, receive your choice of 9-piece gift:
TRENDS TO SLAY:

Revlon Full Size PhotoReady Sunlit Dream Highlighting Palette (0.5 oz)
Daily Concepts Full Size Your Facial Micro Scrubber (1 ct)
ULTA Beauty Liquid Illuminator (0.61 oz)
Milani Full Size Color Statement Lipstick in Matte Naked (0.14 oz)
ColourPop Full Size Super Shock Shadow in Ladybird (0.074 oz)
Hempz Travel Size Pomegranate Moisturizing Herbal Body Wash (3.0 oz)
Physicians Formula Travel Size Spotlight Illuminating Primer (0.28 oz)
Australian Gold Travel Size Botanical Sunscreen SPF 30 Mineral Lotion (1.0 oz)
Pacifica Travel Size Pineapple Underarm Deodorant Wipes (10 ct)

FALL HAUL FAVORITES:

Zoella Full Size Wonder Hand Moisturizing Hand Cream (3.0 oz)
Fizz & Bubble Full Size watermelon Artisan Bath Fizzy (1 ct)
Ardell Full Size Magnetic Lashes (2 pair)
L.A. Girl Full Size Eye Lux Mesmerizing Eyeshadow in Eternalize (0.18 oz)
Hempz Travel Size Original Herbal Shampoo For Damaged & Color Treated hair (3.0 oz)
Tree Hut Travel Size Exfoliating Mud Mask (0.7 oz)
Note Sunglow Foundation SPF 15 Mini in 10
Soap & Glory Sexy Mother Pucker Pillow Plump XXL Lip Plumping Gloss in Pinkwell (0.13 oz)
BH Cosmetics Mini Liquid Lipstick in Rose

FALL BEAUTY FOR EVERY DAY:

e.l.f. Full Size Shimmer Highlighting Powder in Bronzed Glow (0.28 oz)
CoverGirl Full Size Cheekers in Iced Cappuccino (0.12 oz)
Almay Full Size Oil-Free Gentle Eye Makeup Remover Pads (80 ct)
Maybelline Full Size Vivid Hot Lacquer in Charmer (0.17 oz)
Soap & Glory Travel Size The Righteous Butter (1.69 oz)
Vitabath Travel Size Original Spring Green Moisturizing Bath & Shower Gelee (2.0 oz)
Skinfix Travel Size Calm & Repair Sleeping Mask (1.0 oz)
Winkly Lux Mermaid Kitten Eyeshadow Mini in Ursula (0.05 oz)
L'Oréal Voluminous Primer Mini (0.05 oz)
Ulta offers Free Shipping on purchases of $50 or more.
*** Visit TODAY'S CURRENT OFFERS page for CURRENT LIST of ALL OFFERS ***